At this very moment the UK Parliament are debating whether or not to try and extend Article 50 to delay the rapidly approaching 29 March Brexit deadline.
A vote is expected around 5pm UK time, and it is highly likely the Brexit can will be kicked down the road again (subject to EU approval).
As an outsider looking in, the whole Brexit process has seemed a completely disorganised mess. Now days out from the possibility of the UK being bundled out of the EU without a deal, it's become a completely disorganised mess with an urgent series of parliamentary votes thrown in for good measure.
In case you lost track or interest on where this whole debacle now sits, the below diagram from the BBC explains it very nicely.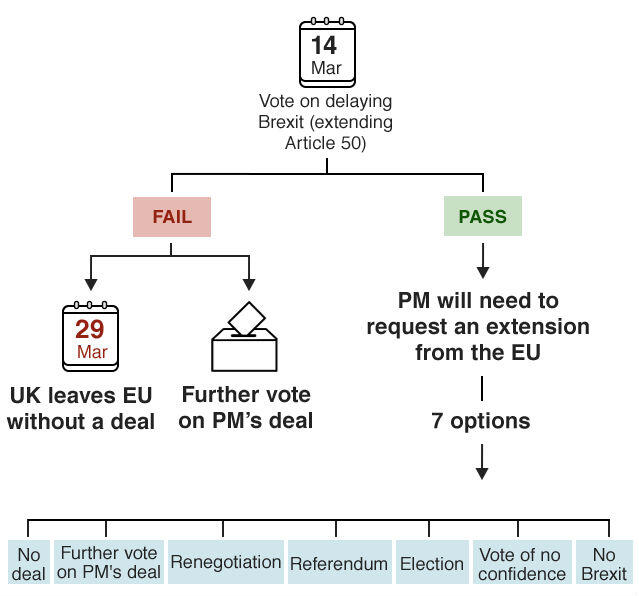 MPs are expected to vote in favour of a delay. A vote against takes them down the road of a no-deal Brexit (which they voted against yesterday), or another look at Theresa May's deal which they've voted down multiple times already.
UK bookies, possibly the only British businesses seeing some upside from the mess, are all running extensive lines on Brexit. Paddy Power are offering over 30 Brexit bets, some as obscure as odds of 12/1 that the UK government will introduce food rationing during 2019.
As for today's vote; NO (ie vote not to ask the EU for an extension to Article 50) is clearly the long shot…
Beyond today's vote, and looking at some of the possibilities presented in the above diagram, here is how the betting market currently see things unfolding (according to punters at Paddy's that is).
Odds of a…
No deal Brexit: 5 to 1
Second Brexit referendum taking place in 2019: 2 to 1
No Brexit (Article 50 revoked before end 2020): 5 to 2
I guess the only certainties in this whole process is that we will see plenty more parliamentary votes.
https://www.livedealer.org/dev/wp-content/uploads/2019/03/bollucksbrexit.jpg
283
350
LD
https://www.livedealer.org/images/Livedealer-logo.png
LD
2019-03-14 16:41:49
2019-03-14 16:53:23
What's the betting on Brexit?