Playtech's range of VIP Soirée tables is now complete, with the arrival of Soirée Baccarat.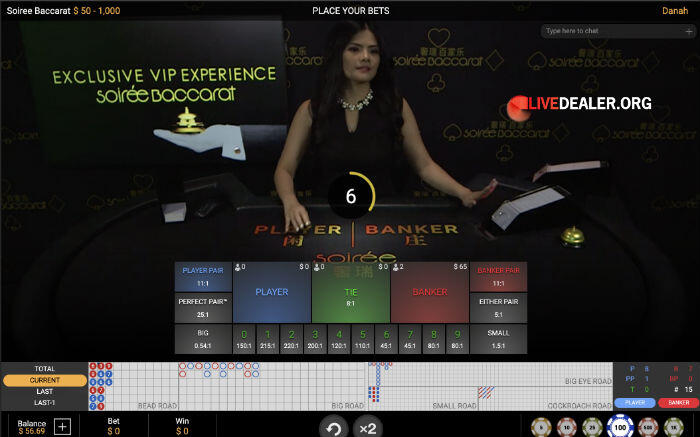 The VIP Baccarat Experience
Soirée Baccarat comes with all the visual cues of Soirée Roulette and Soirée Blackjack. Dark backdrop and the promise of an exclusive VIP experience.
On their blackjack Soirée tables this experience included the ability to request a dealer change or a shuffle on demand (subject to your playing balance). On Soirée roulette this experience was limited to a dealer/croupier change request.
The baccarat Soirée experience seems a little more limited again. Primarily to higher table limits than the regular live baccarat tables ($50 t0 $1,000 for Banker bet at bet365).
You may notice more regular visits from the pitboss, addressing questions, explaining bets and offering helpful tips.
An Asian Soirée
While Soirée Baccarat completes the set, it happens to be located on the other side of the world from the other tables in the set (which are in Playtech's Riga studio).
Soirée Baccarat is live streamed from Playtech's Asian dealer studio, located in Manila.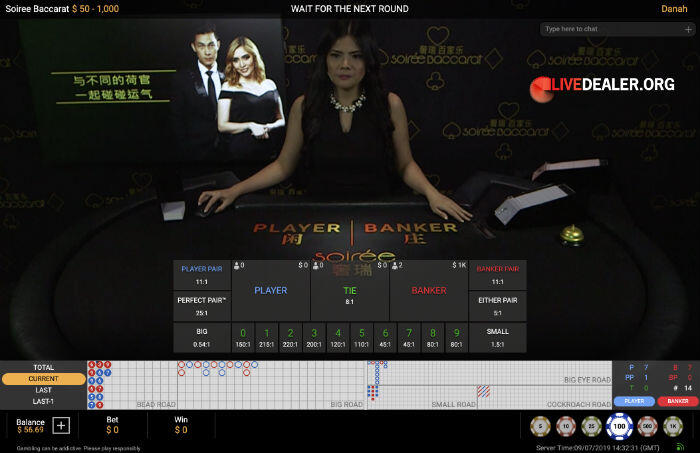 Rules, Payouts, Side bets
For the main game, you can play either the standard Soirée Baccarat table, or the No Commission version. Really you are playing the same table (and dealer), just with different payouts applying for the Banker bet.
Open the standard table and you will have standard Punto Banco payouts applying: Banker win bet paying 0.95:1, Player win paying 1:1 and the Tie 8:1.
Open the No Commission version and Banker bet pays 0.5 to 1 for wins where Banker value is 6, otherwise even money.
On both, standard third card rules apply.
Also, like other Playtech live baccarat tables, a large range of side bets are offered.
Banker or Player Pair (dealt to either Player or Banker position)
Perfect Pair (suited pair dealt to Player position)
Small (total of 4 cards dealt in round)
Big (total of 5 or 6 cards dealt in round)
Egalite (picking the value of a dealt Tie)
Payouts for these bets are clearly displayed on the bet selector.

Theoretical returns
Theoretical returns for all bets on this table mirror those applying on all Playtech regular baccarat tables. The Banker bet is your optimum play, returning 98.94%.
Here are the others: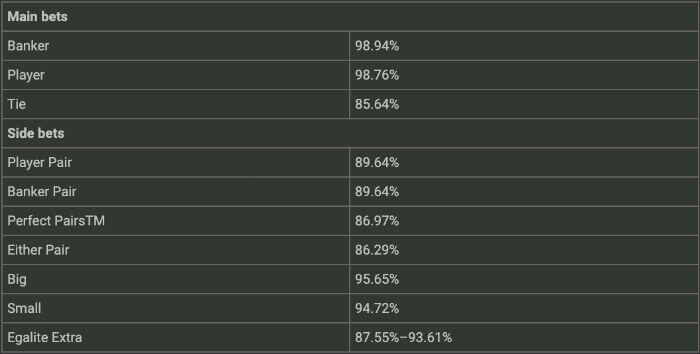 Play the side bets at your own risk!
Soirée Baccarat video
https://www.livedealer.org/dev/wp-content/uploads/2019/07/Soiree-Baccarat-vip-experience.jpg
437
700
LD
https://www.livedealer.org/images/Livedealer-logo.png
LD
2019-07-09 16:51:56
2019-07-11 14:27:07
Soirée Baccarat from Playtech