Evolution released their 2020 full year results last week.
In a year that delivered the unexpected, Evolution didn't really deviate from what they have delivered every year over the last decade or so. That is, significant year on year gains across the board.
Included in the numbers was a month of NetEnt results, following the completion of that deal on December 1. The month from NetEnt didn't account for the large increases on the previous year.
Group revenues were up 53% to €561 million. Operating profit almost doubled to just under €300 million.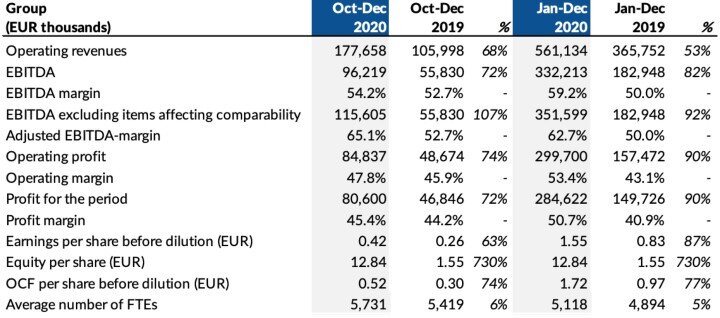 The 90% increase in operating profit is an acceleration on the increases in 2019 (76%) and 2018 (34%). The trend line here suggests operating profit north of €1 billion in 2022!
More interesting than the numbers, were some of CEO Martin Carlesund's comments accompanying the results.
He touched ever so slightly on an 'elephant in the room' – the abrupt NetEnt studio closure, only a couple of days after Evolution took position of the keys.
"We acquired NetEnt because we believe that we together can create something great. To maximise the potential of this acquisition it was essential that we discarded existing structures and rapidly rebuild ourselves in a joint version."
€40 million of annual run-rate cost synergies are still expected from the acquisition; €10 million more than first expected. Seems NetEnt's live tables/games/dealers were considered more superfluous than synergistic.
The acquisition was clearly about adding another vertical (slots) rather than bolstering the existing one.  In case the studio closure didn't make this clear enough, the CEO stated as much.
"Through the acquisition of NetEnt, we add a second vertical to our unrivalled Live Casino offer and two strong and fantastic new brands to our product portfolio. This makes us well-placed for our long-term ambition of taking a leading global position in online casino."
Normally by February, Evolution have already previewed a long list of new game releases at London ICE. No ICE this year. Also as yet, no new games from Evolution. But apparently they are on the way. There was a promise of, "releases being planned as I write this", that will, "further strengthen [Evolution's] Game Show segment."
Players' and providers love affair with live game shows is far from over it seems. Also mentioned as being well received during 2020 was the company's main release – Craps Live.
Developments in the America received quite a bit of attention. Both positive and negative.
The positive: the US remains a high growth potential market for Evolution. Expansion plans continue, including the construction of a new studio in Michigan scheduled to be launched late 2021.
The negative: "Challenges to work routines and impacted timelines for construction of new studios as well as the total operating capacity".  The delayed launch of the Pennsylvania studio would fall into this basket.
If I had to extract an overall theme from the CEO's comments, it would be this. No longer content to be a leader in live dealer gaming, Evolution now has its sights set on dominating the broader online casino industry.
https://www.livedealer.org/dev/wp-content/uploads/2020/04/evolutionlightningbaccaratvideo.jpg
249
400
LD
https://www.livedealer.org/images/Livedealer-logo.png
LD
2021-02-17 05:15:41
2021-02-17 05:15:41
A look at Evolutions 2020 results