We were first introduced to Betgames.tv a few years back when a few of their very different games popped up at Dublinbet.
These games are now popping up at more and more casinos, the latest being Leo Vegas.
Betgames produce a very different range of live games to what we are used to. Games like Bet on Baccarat and Bet on Poker which give you the opportunity to bet in-play during a baccarat or poker deal.
Betgames.tv's Bet on Baccarat
Five years ago when we first took a look at these games, the jury was out on their merits.
For one, your returns are not based on the random chance resulting from physical outcomes and set house rules. Instead you are at the mercy of house calculated payouts that change as the deal progresses.
A skeptic would say, the more a game is tweaked with added bet opportunities and computer calculated payouts, the worse the theoretical returns are likely to be.
Bet on Poker
This is the case with these games.
Turn over $10,000 playing Bet on Baccarat and you're likely to lose more of your cash than if you wagered the same amount on a regular live baccarat table (betting Banker or Player).
It takes more than a saucy dealer (and yes, they are saucy) to make you completely forget that you are losing more money than normal. Or does it?
Gimmick or engaging live game?
Five years ago I had Betgames in the gimmick camp. Now I'm not so sure, and here's why.
In the last few years as the live gaming industry has matured, as leaders have been established, and followers have unashamedly followed, things have become a bit same-same. Same games with the same house rules, delivered on similar UIs and with similar studio backdrops. Even dealer attire has been copied in some cases.
Betgames have boldly gone where no providers have gone before, with their own unique games. One of their recent efforts, Rock Paper Scissors is a classic example of standing out from the crowd.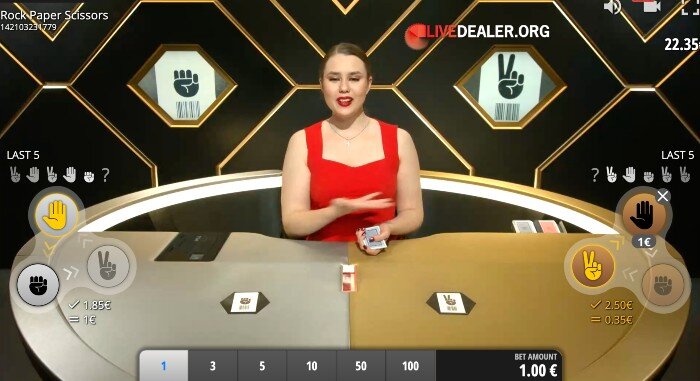 Very different games, that might find a  loyal following amongst some players.
This is what a growing list of casinos like Leo Vegas and Betway (who also recently added them) think anyway.
Think they could be right.
https://www.livedealer.org/dev/wp-content/uploads/2021/03/rock-paper-scissors.jpg
360
474
LD
https://www.livedealer.org/images/Livedealer-logo.png
LD
2021-03-25 01:28:30
2021-03-25 01:28:30
Leo Vegas now with Betgames.tv games