Power Up Roulette from Pragmatic Play has just gone live.
It's another roulette based live game show. You know what that means – multiplied payouts added to the mix. This time, it's all about the randomly selected PowerUp numbers which trigger bonus spin rounds. It's during these rounds the big payouts are on offer.
What is Power Up Roulette?
Each spin after bets close, 3 to 5 PowerUp numbers are selected. If the little white ball lands on one of these numbers, all Straight Up bets remain on the table for the PowerUp bonus spin. For this spin all Straight Up bet payouts are elevated – up to 500x.
If the PowerUp bonus spin lands on a PowerUp number again (new PowerUps are selected for bonus spin rounds also), a second PowerUp bonus spin is triggered. PowerUp spins can be re-triggered up to 4 times and payouts increase across the board each time – up to 8,000x on the 4th PowerUp.
The theoretical max payout for a single Straight Up bet is 15,525x (your number is hit on all 4 bonus spins, and with top multiplier applied each time).
Playing Power Up Roulette
Let's run through an example bet round to illustrate this game's key components.
Step one, as always is getting your bets on. Place your chips on the table, or use the racetrack for neighbours bets to get started. You can bet inside or outside, but remember it's only Straight Up bets that count for the PowerUp bonus spin.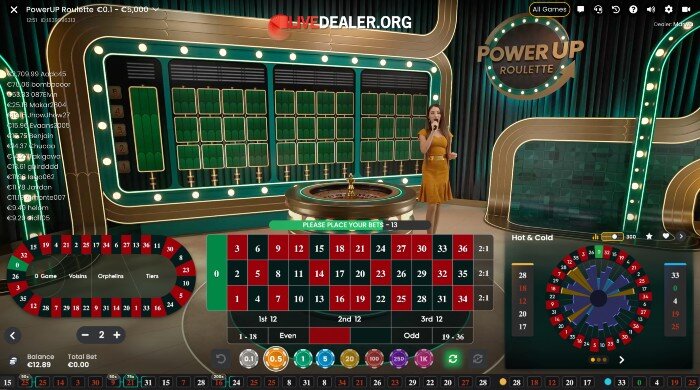 Power Up Numbers
Once bets close, the 3 to 5 randomly selected PowerUp numbers are revealed – 3, 15 and 21 this round.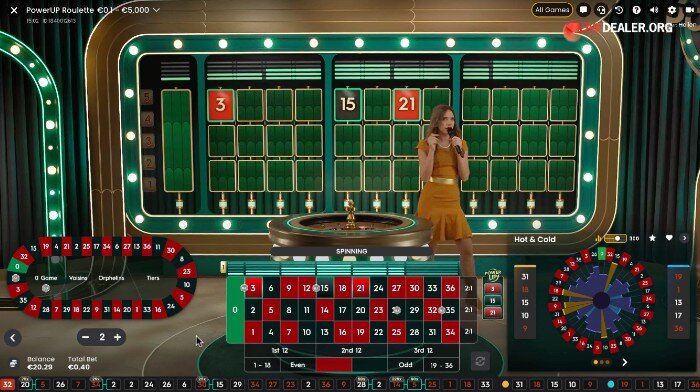 With the ball drop on number 3, a PowerUp bonus spin is triggered.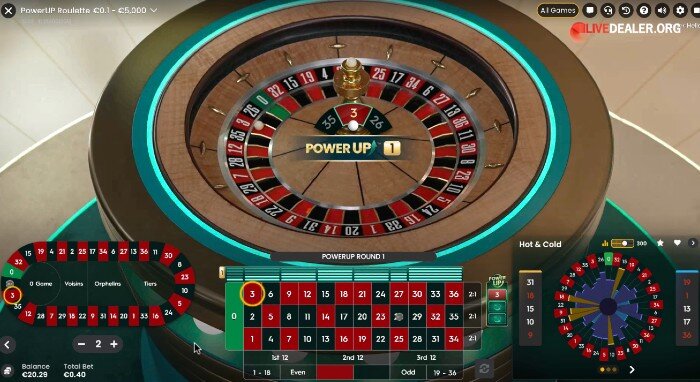 As it happened there was also a bet on number 3, so there's a collect before the bonus round starts. A win at this point is not needed to be in with a chance for bonus round wins – all Straight Up bets remain in place.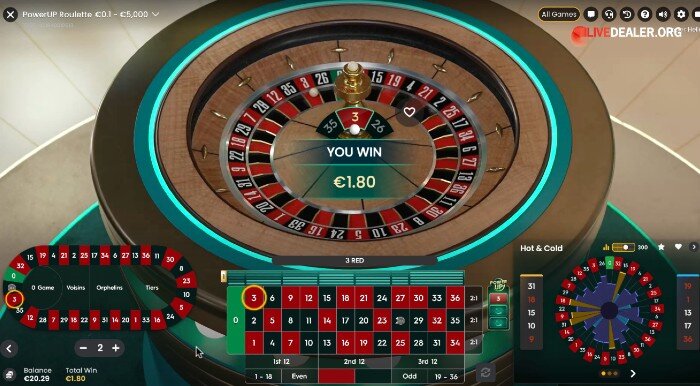 Now for the PowerUp spin.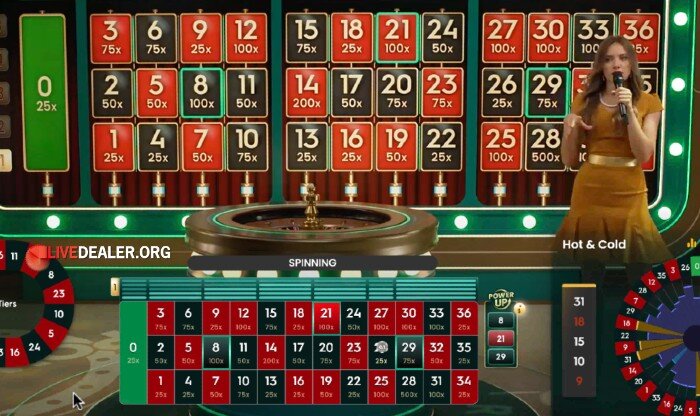 Few points to note here:
all my Straight Up bets originally placed remain on the table (in this case the chip on 26 Black). Split and Corner bets have been lost.
new payouts have been applied to all possible outcomes (including top dollar 500x for 28 black), and
a new set of PowerUp numbers are selected for the bonus spin – 8, 21 and 29 highlighted, which if hit would trigger a second PowerUp spin.
The result is 23 red which would have earned a 75x payout. Not for me unfortunately. No further Power Up spins and escalated payouts either.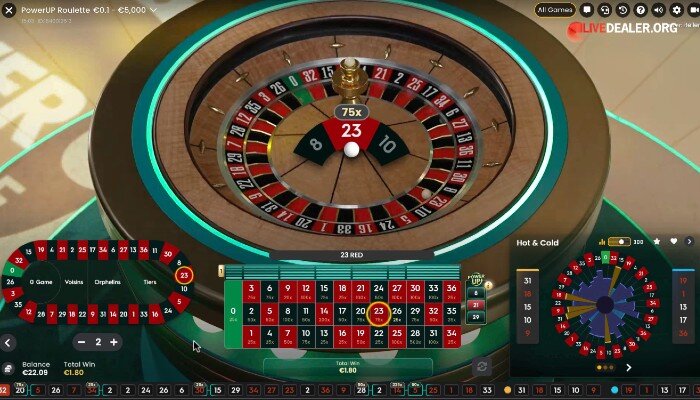 Payouts
Speaking of payouts, below is the game's pay table. For all bets other than Straight Up, payouts are identical to regular European Roulette.
For Straight Up bets, a regular round win earns 24:1. Substantially less than the 35:1 you would win playing regular roulette. This reduced payout helps fund all those PowerUp round multiplied payouts, while still preserving the house edge.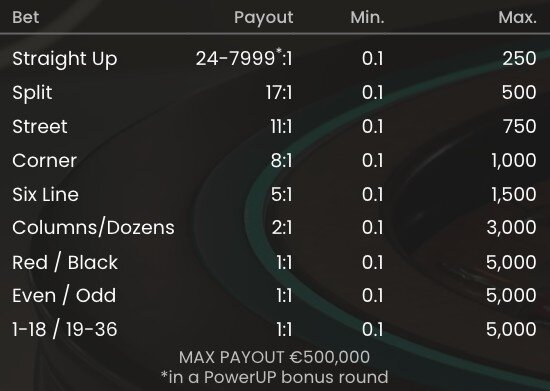 https://www.livedealer.org/dev/wp-content/uploads/2022/10/PowerUpRoulette-feature.jpg
362
475
LD
https://www.livedealer.org/images/Livedealer-logo.png
LD
2022-10-04 21:41:06
2022-10-04 21:41:06
Power Up Roulette live from Pragmatic Play