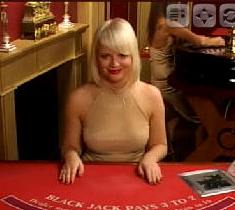 I spent a lot of time playing Evolution Gaming casinos over the last couple of weeks.  The games are great, the dealers are very professional and very attractive but one thing that did occur to me was that, for the most part they are very serious.
Not sure if its a Latvian thing, but smiles did seem a little hard to come by.  That was until we came across Jekatarina on one of the Gold blackjack tables.  Inspired by her warmth and bubbly personality, and a smile that seemed to be a permanent fixture on that very pretty face, the 'Dealer of the Week' award was born.
And inaugural winner…Jekatarina of course!
Congrats and keep on smiling!
LD
https://www.livedealer.org/images/Livedealer-logo.png
0
0
LD
https://www.livedealer.org/images/Livedealer-logo.png
LD
2010-01-21 20:39:51
2010-01-21 20:39:51
Jekatarina - Our live dealer of the week