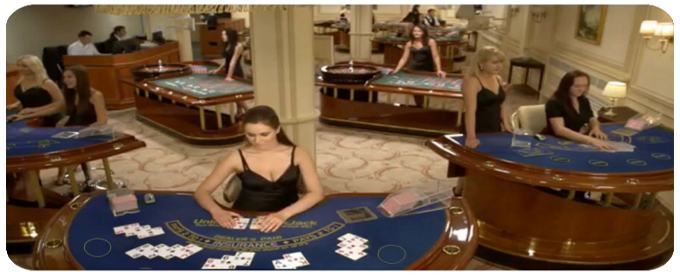 Playtech's latest feature is a 'LIVE CLICKABLE LOBBY' window. In a press release they make the audacious claim it "creates transparency for players which results in trust and loyalty"
So what exactly is this new exciting feature you ask?
Put simply, nothing groundbreaking. Indeed, you will probably be familiar with part of the feature If you have ever used Playtech's download client software.
When you visit the casino in a browser window, and on your mobile/tablet device you now see a live image of the Euro studio lobby. To be more precise, what you actually see is less than half of the general floor.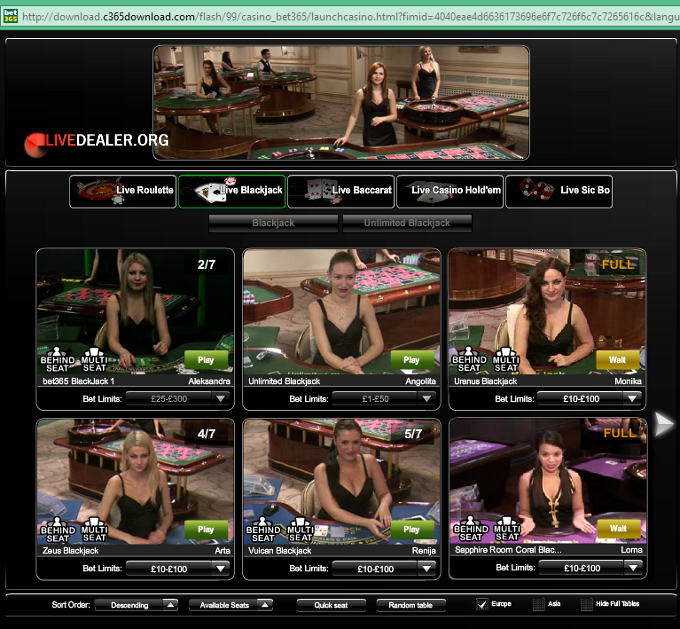 The live image is the same camera feed that you already see when using the download software. Or, if you are playing at a casino with a dedicated private area at Playtech you see their branded area instead of the regular floor (not Ladbrokes, nor the new enlarged bet365 area currently).
Also, cue drum roll, … a minority of tables, at some casinos can be selected by clicking on them.
Betfair's live lobby has 3 clickable tables.

When you mouseover a table in the live lobby the table name is displayed. Then click the table to join. Unless all the seats are taken. Which you could have seen by using the table list(boxes) below the lobby stream. Hmmm, … so not the most useful feature ever then!
Curiously Paddy Power's lobby has just 3 of its 5 branded tables visible. If you want to play at the other 2 dedicated tables you have to select them the 'old fashioned way'.

Winner players also get their own live clickable lobby, but based on my past experiences I wouldn't expect their customer support to know anything about it, or Playtech tables.

bet365's iPad App also has a live lobby stream, but no clickable tables.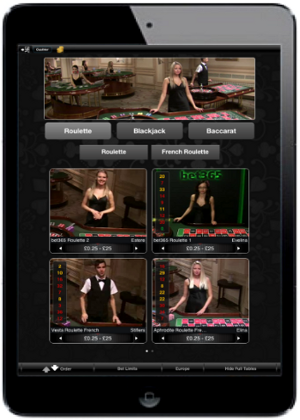 Impressed or not?
It's interesting to see the comings and goings of dealers, shufflers and so on, before the novelty factor wears off.
But I was underwhelmed with the clickable element. You get more information from the boxes below the lobby window, and you see a full list of tables available to you, not just the 3 or so that are clickable.
Transpareny and trust
So does Playtech's latest feature make them more transparent and invoke trust?
According to Aviv Nankin, Playtech's Head of Live Games,
Playtech is thrilled to bring the Live Clickable Lobby Stream feature to market…. The authenticity of this feature creates transparency for players which results in trust and loyalty.
Transparency is not a word I would use to describe the way the Euro studio operates. The most transparent things I have seen recently are the card shoes and glasses that dealers are now allowed to wear.
Either Aviv Nankin doesn't know the inner workings of the Euro studio company that Playtech recently purchased, or else he is trying to gloss over everything with a very broad brush.
This is the studio where dealers are taught to say "they get their tips in line with the company policy".
This is the same studio where its dealers are taught so many things to say, or imply that simply are not true.
And, this is also the same studio where dealers are told they are not allowed to talk about the operation of the studio floor, but somehow showing a fraction of the tables available in the studio in a live lobby window demonstrates transparency.
https://www.livedealer.org/dev/wp-content/uploads/2014/04/PlyBlueLobby.png
275
680
Unclefester
https://www.livedealer.org/images/Livedealer-logo.png
Unclefester
2014-04-08 01:11:53
2015-03-25 14:18:58
Playtech's clickable lobby: transparency & trust