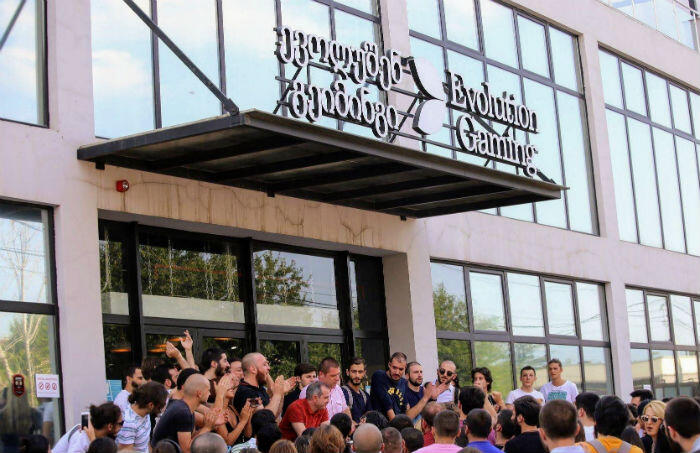 Tables inside Evolution's Tbilisi, Georgia studio only went live just over a year ago.
Now, with more than 1,500 staff Tbilisi has grown to become Evolution's second largest site, behind only their headquarters in Latvia. If reports emerging over the last few days are accurate not all of them are happy campers.
Shufflers in particular are not content with their work and pay conditions. A number of them went on strike and staged a protest outside their workplace at the end of last month. A pay increase was at the top of their list of demands, reportedly wanting a rather optimistic 50% raise. Other issues protested included offices not being clean enough and faulty air conditioning.
Shortly after the strikes, there was another issue to add to the list – reinstating workers who had been sacked for not turning up for work because they had been busy protesting.
According to local labour laws, the initial strikes hadn't been conducted strictly by the book. The Georgian Labour Code  says employees can only go on strike 21 days after notifying the Labour Ministry and their employer of grievances and requesting a mediation process.
Disgruntled shufflers have since formed a union and lodged their formal request for mediation. They are now counting down the time until they can legally strike, which will be a couple of weeks from now.
So it seems the battle lines, or rather picket lines are being drawn. If Labour Ministry mediators can't restore the peace, we could see more industrial action before the end of August.
I can see the placards now…
"United we stand, shuffling the next hand". Or, "Evolution are mean, we're better than a shuffle machine".
Hopefully all can be resolved amicably before too long.
It would be a shame to see shuffle machines pop up on the Georgian tables.
https://www.livedealer.org/dev/wp-content/uploads/2019/08/evolution-tbilisi.jpg
453
700
LD
https://www.livedealer.org/images/Livedealer-logo.png
LD
2019-08-12 06:54:38
2019-08-12 06:54:38
Growing pains in Tbilisi, Georgia