Who Wants to be a Millionaire (Live Roulette) is Playtech's latest game show.
It's a game of live roulette, jazzed up with randomly selected Millionaire Numbers to which either multiplied payouts, or the chance of playing the Who Wants to be a Millionaire bonus round are applied.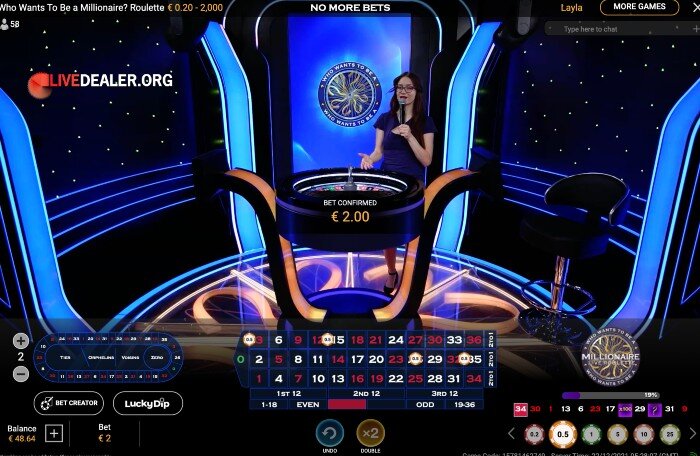 How to Play Who Wants to be a Millionaire
To begin with the game feels like regular old live roulette. Front and centre is a standard single zero roulette wheel, and Playtech's familiar roulette betting interface – racetrack included. Just select your chip(s) and place your bets. But…
Bet Inside
The first thing you need to know about this game, is that the multipliers and bonus round triggers only apply to inside bets (Straight Up, Split, Street, Corner, Basket or Line).
Betting outside you will only ever win the standard payouts (identical to regular European Roulette) and you won't take part in the bonus game. So if outside bets are your thing, pick another roulette table. This one will only annoy you with bonus game interruptions – which can be lengthy!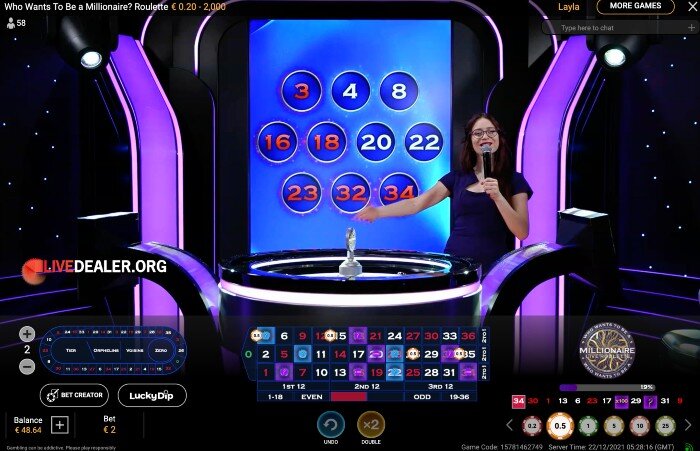 The Millionaire Numbers
Once bets are closed, up to 10 numbers are randomly selected, as above. These numbers are then assigned either of the following:
100x – this becomes the new Straight Up win payout (Splits, Streets, etc diluted proportionally)
Millionaire logo – if you have a winning bet on this number you play the Millionaire bonus round for the chance of a multiplied payout up to 2000x.
? icon – if you have a winning bet on this number you get to choose to play the Millionaire bonus round or take a fixed multiplier.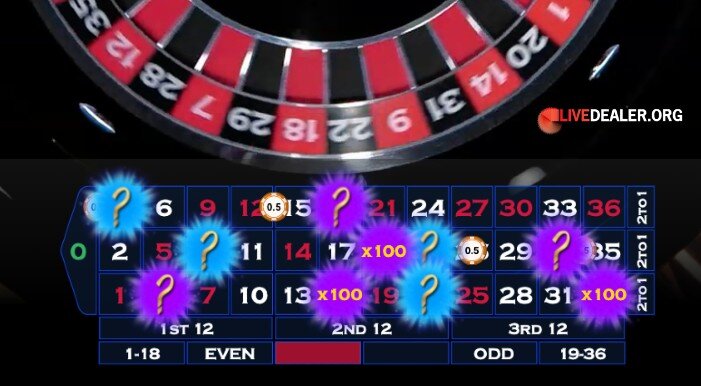 Here are the full descriptions of Millionaire Number options from the game's help section.

Regular payouts
Below are the payouts for regular winning bets (ie no Millionaire Number multipliers applied).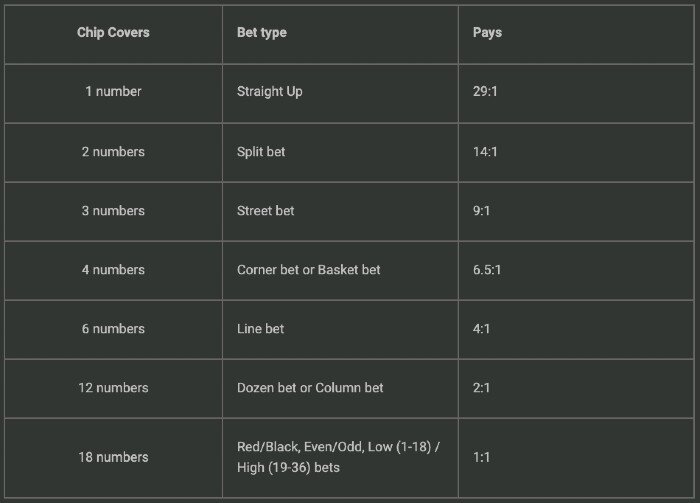 Note that for all inside bets, these payouts are lower than the corresponding European Roulette payouts (12 and 18 number outside bets are the same).
For example you'll get 29:1 on a Straight Up win in this game, compared to 35:1 on European Roulette. The Split pays 14:1 compared to European Roulette's 17:1.
All necessary to fund those multiplied payouts while still preserving the game's house edge.
The Millionaire Bonus Game
The Millionaire Bonus game begins when either a number marked with the Millionaire or ? icon is hit. From here you're playing the bonus game if it was a winning bet for you. You're spectating if it wasn't (or if you won on a ? and took the fixed multiplier option).
Like the TV game of the same name,  you're presented with multiple choice questions at each level. Pick right and move up a level. The higher the level, the bigger your multiplier.
They've also managed to work the lifelines in to help a little. Although, in the absence of lifelines you're only a 1 in 4 chance of guessing correct at each level. Making level 10 and the 2000x multiplier will be an achievement!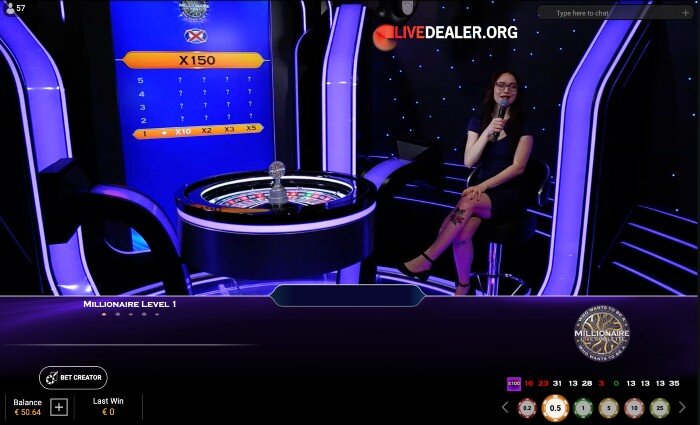 Explanatory vid and game round
https://www.livedealer.org/dev/wp-content/uploads/2021/12/WWTBMillionaire-feature.png
366
482
LD
https://www.livedealer.org/images/Livedealer-logo.png
LD
2021-12-23 05:00:22
2021-12-23 05:00:22
Who Wants to be a Millionaire Live Roulette