The number crunchers at Credit Suisse have released their annual Global Wealth Report for 2022.
It's a snap shot of global wealth as at the end of 2021, sliced, diced, tabulated and charted. These reports always make for interesting reading. This latest report, which accounts for impacts of the global pandemic and associated government stimulus measures is even more interesting.
You can download the full 150 page report here. Or read some of the key take outs below.
First key takeout: 2021 was an exceptional growth year for global wealth, which totalled an estimated USD 463.6 trillion at year's end. Smoothing for exchange rate movements this represented a 12.7% annual increase – the fastest rate recorded in these reports.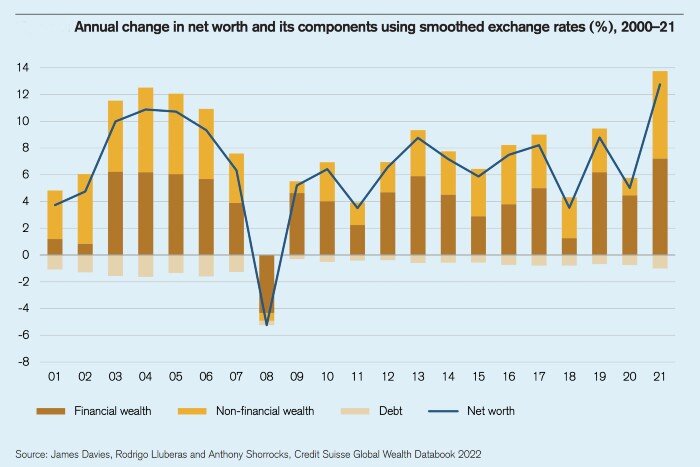 Pandemics are excellent wealth generators it seems!
Geographically, North America lead the charge, with China and India also doing very well.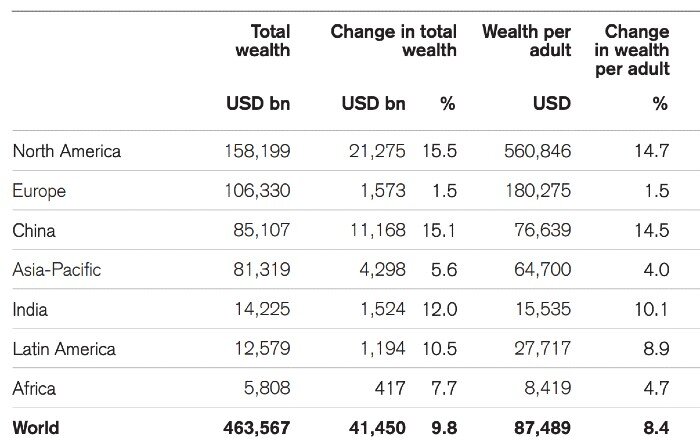 Already low interest rates were slashed further. Cash handouts were given out. Banks offered mortgage repayment holidays. The resulting sugar hit put a rocket under both sharemarkets and house prices in many countries.
Of the G20, the biggest gains in equities were seen in India where the Sensex rose 31%. Stocks in France
(up 28%), the United States (up 23%), Italy (up 23%) and Canada (up 22%) weren't far behind.
The house price story was even more bullish. Remarkably, no country experienced house price falls during the year. Some of the gains were enormous, lead by Turkey (60%), Saudi Arabia (34%), Australia (31%) and New Zealand (25%).
Wealth of Nations
Few countries saw a fall in (average) wealth per adult. Belgium and Japan were notable exceptions. Switzerland once again topped the charts in this measure.
Median wealth is arguably a more relevant measure as it isn't skewed by the billionaires and multi-millionaires. By median wealth Australia comes in at number one. The US sits a lowly 18th in this list highlighting considerable wealth inequalities there (their high average wealth is due in large part to the massive wealth of the mega rich).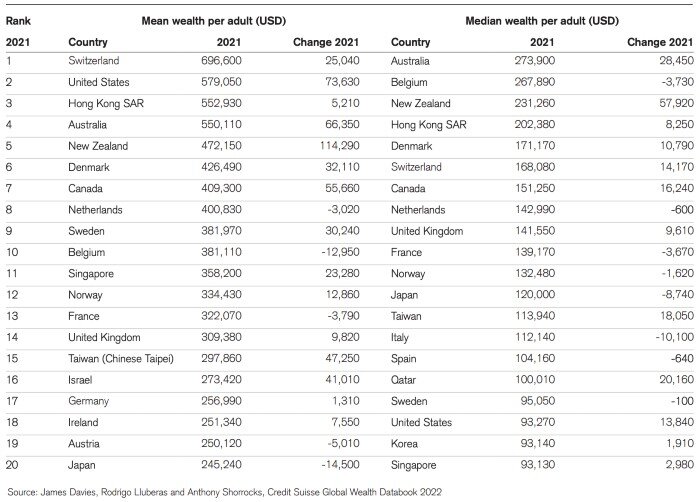 We now know that 2022 has seen inflation return with a vengeance and reserve banks around the world are committed to stamping it out with aggressive interest rate rises that have already eroded a good chunk of the above gains. The 2023 report will make for very interesting reading indeed.
Where all the millionaires are
Returning to the good times of 2021, the year saw 5.2 million newly minted millionaires. By new year's eve 2021 there were 62.5 million millionaires around the world. That's equivalent to the entire population of France.
Some countries did shed (net) millionaires, as shown in the below table. But the gains were far bigger than the losses.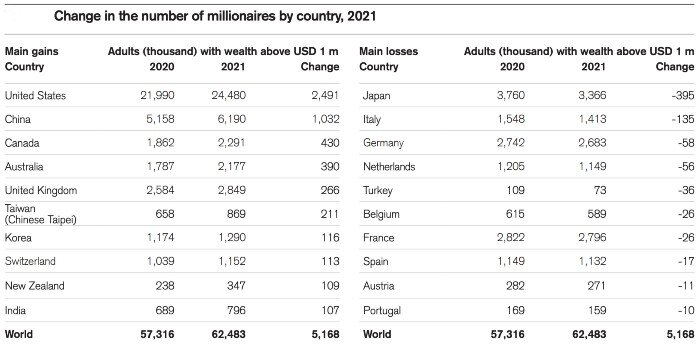 Australia stands out with 2,177 USD millionaires. That's more than 10% of the adult population! You can put that down to the rampaging property prices (which are now retreating).
The wealth pyramid – where do you sit?
Want to know where you sit relevant to the global population? Pretty well more than likely.
You need a USD net wealth (total assets less total liabilities) of just:
$8,360 to be among the wealthiest half of world citizens
$138,346 to be a member of the top 10%
$1,146,685 to belong to the top 1%
And if you happen to be in that top 1%, then you're part of a cohort that accounts for 45.6% of total wealth. That's up from 43.9% in 2019.
While overall wealth has grown, but so has the concentration of wealth. To put it simply, the rich got considerably richer.
Here's the pyramid. At the top sits 62.5 million millionaires, accounting for almost half of global wealth. At the bottom sits over half the world's population owning just 1% of total wealth.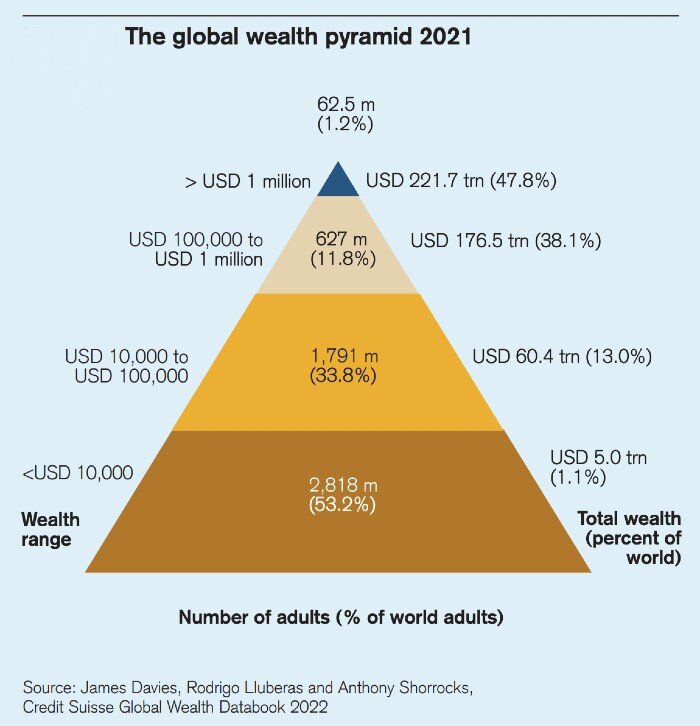 Looking closer at the top of the pyramid we find the group that did best during the pandemic. The number of ultra high net worth (UHNW) individuals, valued at over $50 million, grew to 264,200. That's 46 thousand up on 2020, which was 43 thousand up on 2019.
This means the $50 million+ club grew by more than 50% over those 2 years.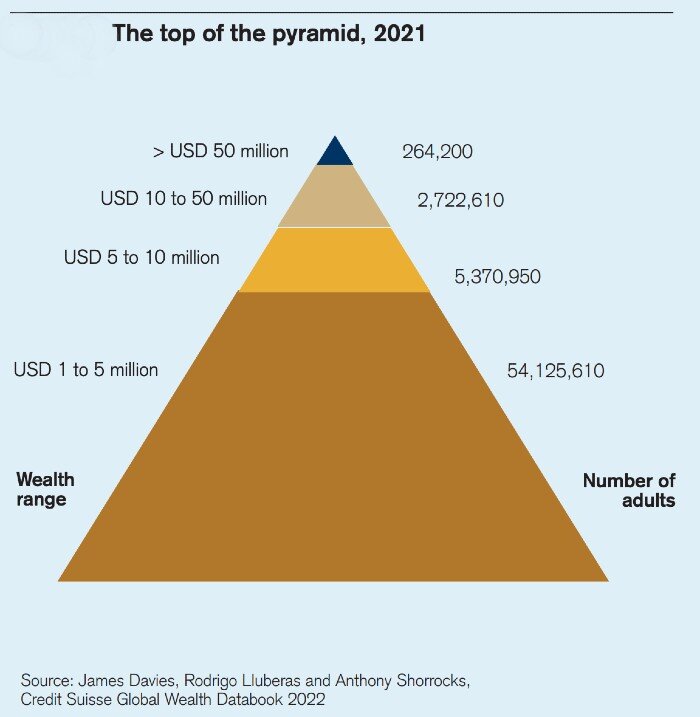 As to where all these super rich folk live…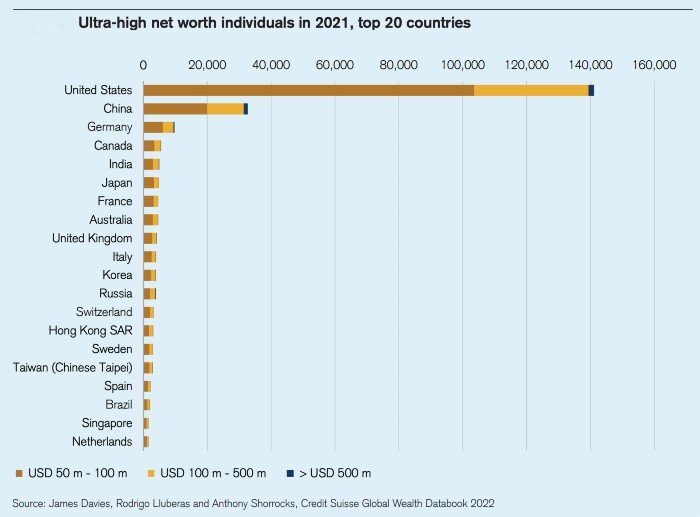 https://www.livedealer.org/dev/wp-content/uploads/2022/09/wealth.jpg
308
295
LD
https://www.livedealer.org/images/Livedealer-logo.png
LD
2022-09-21 23:36:55
2022-09-21 23:36:55
Global Wealth 2022: Where do you rank?