OnAir Entertainment now have a live dealer Dragon Tiger table. Blazing Dragon Tiger they call it.
Unsure where the Blazing comes from as there are no fire animations. But there is, on the whole a pretty nicely presented live Dragon Tiger table.
Quick rule recap
The main game offers the same card order, bets and payouts we're familiar with across other platforms. For those unfamiliar with Dragon Tiger, it goes like this:
single card dealt to Dragon position, then single card dealt to Tiger position (from 8 deck shoe)
highest card wins, with cards valued in order (lowest to highest) as A, 2, 3, 4, 5, 6, 7, 8, 9, 10, J, Q, K (suits don't matter on the main game…relevant for some of the side bets)
winning bet on Dragon or Tiger pays even money.
losing bet on Dragon or Tiger sees:
– for a loss, entire bet lost
– for a Tie, half bet lost
winning bet on Tie pays 11 to 1.
That's pretty much it. You're betting on a single high card draw.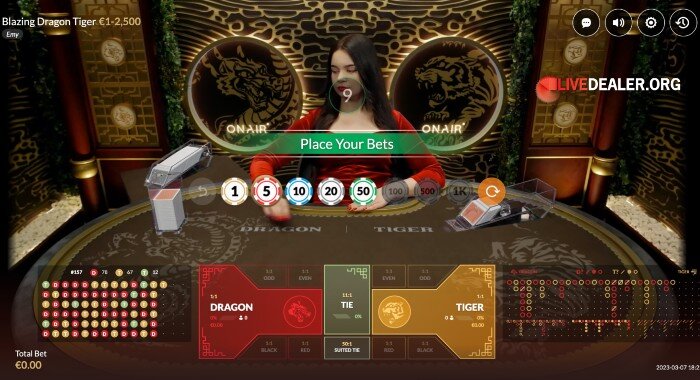 As already mentioned, OnAir have presented a nice looking table. Plenty of gold of course. This is an Asian favourite game after all. Not quite as much red as some of the other Dragon Tiger tables.
And as we've come to expect from OnAir, all betting prompts and other buttons are intuitively displayed. Video and audio are very good.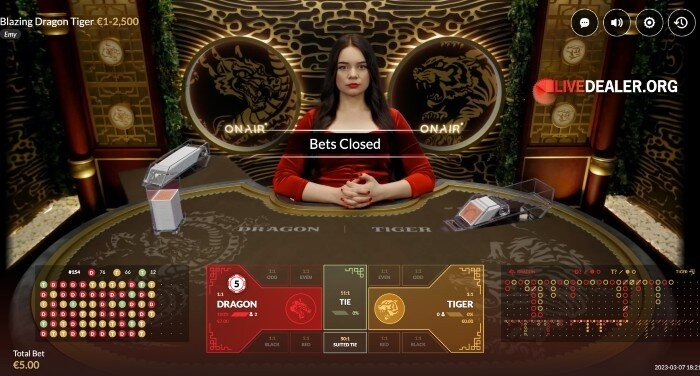 All that's left to do, is play a few rounds.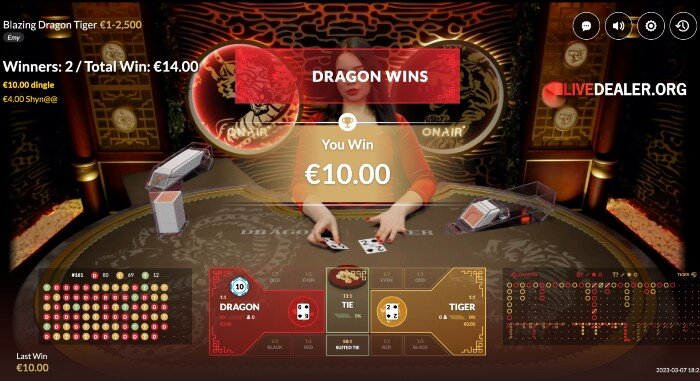 And hopefully grow the bank balance, which 6 Dragon wins in a row helped achieve (see video below).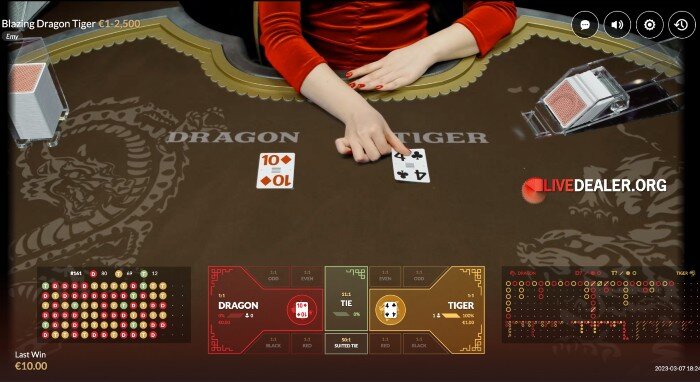 Payouts and side bets
We've covered off the main game payouts – Dragon, Tiger and Tie, shown again below.
The game pay table also displays payouts for the 5 optional side bets offered on this table:
Suited Tie: same value, same suit dealt to Dragon and Tiger (ie identical card).
Winning bet pays 50:1
Odd: odd card dealt to that (Dragon or Tiger) position (A, 3, 5, 7…)
Winning bet pays 1:1
Even: even card dealt to that position (2, 4, 6, 8…)
Winning bet pays 1:1
Red/Black: red or black card dealt to that position
Winning bet pays 1:1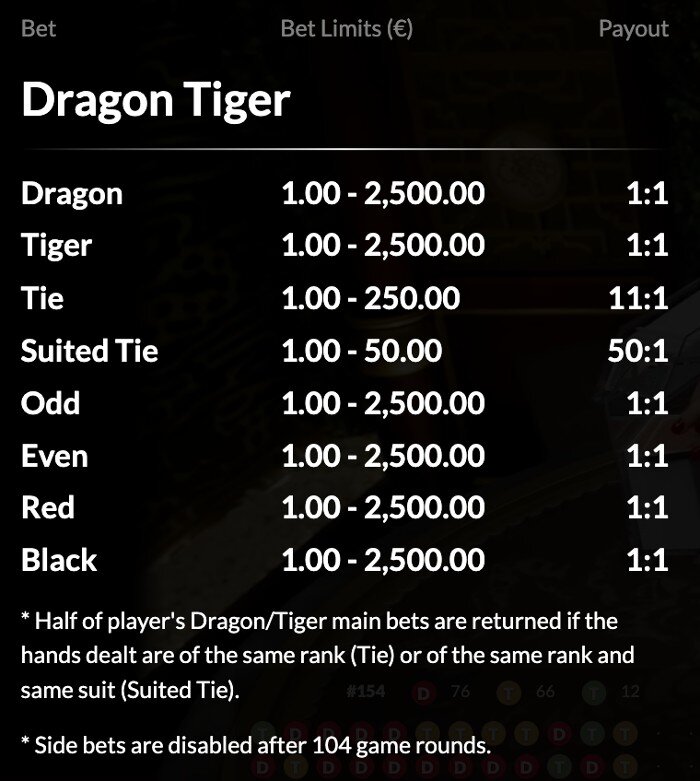 Word of advice on the side bets – DON'T TAKE THEM. Reasoning here is self evident from the below RTP rates.
Return to Player Rates
RTP rates for:
Main game bets
Dragon or Tiger: 96.27%
Tie: 89.63%
Side bets
Suited Tie: 86.02%
Odd or Even: 92.31%
Red or Black: 92.31%
It should also be said that even the best bet on this game (Dragon or Tiger) offers poor returns compared with games live baccarat, blackjack and even roulette.
Catching a streak (6) of Dragon wins
https://www.livedealer.org/dev/wp-content/uploads/2023/03/OnairDragonTiger-betsclosed.jpg
376
700
LD
https://www.livedealer.org/images/Livedealer-logo.png
LD
2023-03-07 19:10:25
2023-03-07 19:39:18
OnAir launch live Dragon Tiger