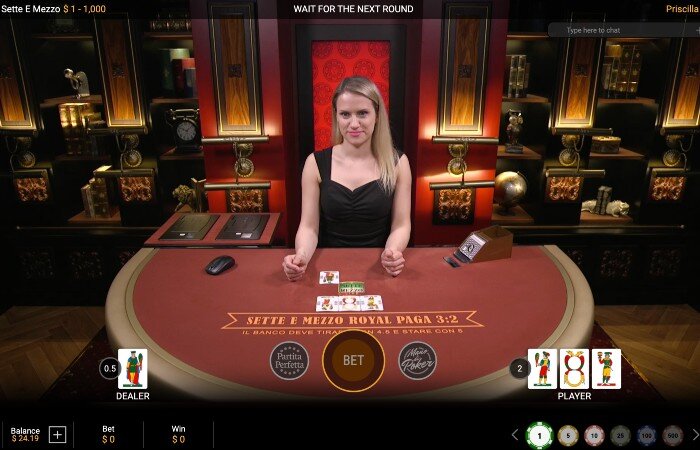 There's a new live dealer game to play: Sette e Mezzo.
It's comes to us courtesy of Playtech. It's not another Game Show. Nice to take a breather from these.
In fact it's not even a new game. Rather a beautiful old card game. Italy's version of Blackjack, no doubt played in casinos there for many, many years.
How to Play Sette e Mezzo
The premise of the game is simple. It's you versus the dealer; closest hand to 7½ without busting wins (Sette e Mezzo translates to seven and a half).
That's the simple part. Getting there is a little more complicated. The complications start with the fact that the game is not played with traditional playing cards! Ever heard of, or played with Neapolitan cards?
Neapolitan Cards
Fester does a great job of illustrating the Neapolitan cards used to play Sette e Mezzo here. In a nutshell this deck consists of 40 cards as follows:
10 cards: Ace, 2-7, Jack, Cavalier, & King
In 4 suits: Clubs, Swords, Coins, Cups
For Sette e Mezzo these cards are valued a follows:
Ace = 1
2-7 = face value
Jacks, Cavaliers, & Kings = ½
Except, King of Coins which is Wild (ie given value that takes the hand to 7½)
Some peculiarities of the deal
Once you've wrapped your head around this completely different deck of cards  (single, fresh shuffled deck used each deal by the way), you'll need to come to terms with a few other little rules absent from the game of Blackjack.
First, the deal opens with only 1 card to player and 1 card to the dealer (both face up). Simple enough, and altogether expected given the lower target value. But it gets a bit confusing from here with a few rules that see the player automatically drawing another card BEFORE having the choice to Hit or Stand.
You automatically receive another card where:
Your first card is the King of Coins, OR
Dealer's first card is the King of Coins (in this case, you auto-Hit until 7 or more), OR
Your score is lower than the dealer's (auto-Hit until you're equal to or exceed dealer), OR
It's a 5, 5 tie
Collectively, these aren't exactly rare exceptions (particularly 3.). So what you will find happening quite often, is your hand is played for you. You win or bust without really getting involved in the action. It's particularly disconcerting when you bust without seemingly having a chance to be in the game. At least with Blackjack your loss comes on the back of a decision!
You get a chance to Hit or Stand (the Action round) when your first card is higher than or equal to the dealer's (apart from 5/5).
Dealer stands on 5 or more.
Payouts
A regular win pays even money. Tied hands push (only possible 5.5 or above).
The Blackjack hand equivalent is Sette e Mezzo Royal, paying 3:2 and comprising:
King of Coins + 7, or
King of Coins + picture card.
A Sette e Mezzo Royal will never push (as a Blackjack can) since there is only 1 King of Coins in the deck.
Here are all the payouts, including those for the side bets which are explained below.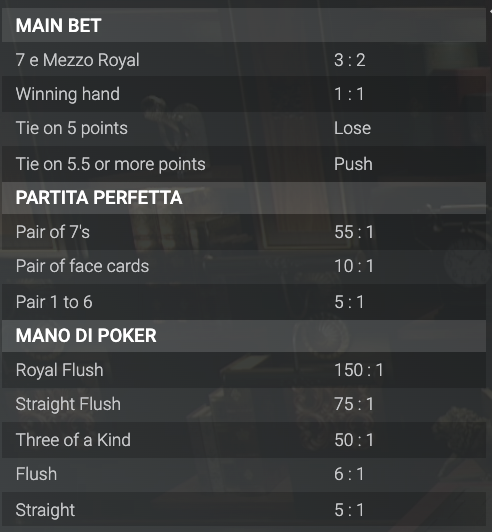 Side Bets
These are never a good bet. Don't take them. But if you must, know that both will pay out irrespective of the outcome of the main game.
Partita Perfetta is based on pairing the player and dealer's 1st dealt cards.
Mano di Poker is based on the dealer's 1st card, and the players' first 2 drawn cards.
Pretty solid return to player
If you stick with the main game that is. Assuming you employ optimal playing strategy (good luck with that!) you can expect to get 99.31% of your wagers back in the long term.
The side bets, as always more expensive, return closer to 96%.
Where to play Sette e Mezzo online
William Hill were one of the first adopters (you'll need to select their Playtech tables obviously). At time of writing you could also play it at Betfred, bet365 and EuroGrand.
Also worth knowing…
Italian dealers
It's also worth mentioning that if you like to chat with the dealers, you'll need to brush up on your Italian at this table. Italian favourite game. Italian speaking dealers.
1 to Many deal
There is only a single player position on this table. But many players can take part in any game round. Don't worry, cards will be attributed to you based on your Hit/Stand decisions (should the game make it to the Action round that is).
So for example, if you Stand, other players Hit, the card they draw won't be added to your total.
If you want to read the complete house rules
They are here.
Some live dealer Sette e Mezzo video action
https://www.livedealer.org/dev/wp-content/uploads/2020/05/Sette-e-Mezzo.jpg
450
700
LD
https://www.livedealer.org/images/Livedealer-logo.png
LD
2020-05-02 09:58:14
2021-09-06 02:51:24
Ever played Sette e Mezzo?