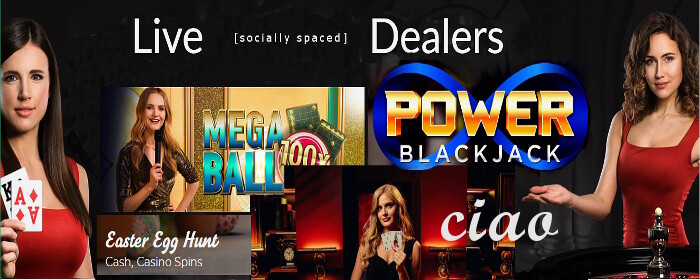 The new normal was interrupted in April with the launch of a couple of new games, Easter and other morsels to keep our spirits up. Into May casino lockdown restrictions began to lift and we were treated to another new game.
Easter goodies
Evolution Gaming private casino tables were the main purveyor of Easter treats over the promotion period in April.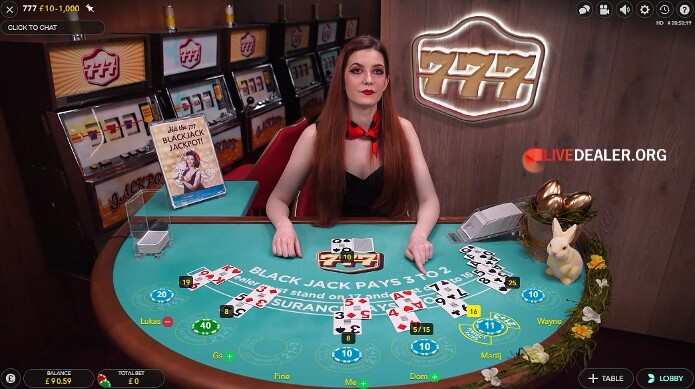 Often more trimmings per table, than actual tables open in the ongoing era we're living through.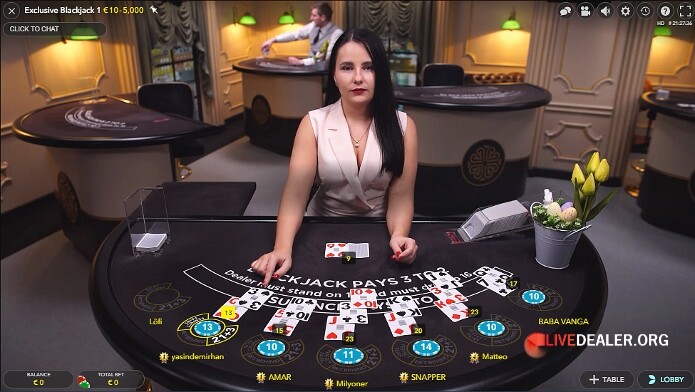 As we all know less is sometimes better. No, I'm not referring to the present day lack of umpteen multiple live blackjack tables we'd become accustomed to for several years. More uniquely, intentional on her part for Easter or not, I caught one of Evolution's Dream Catcher game presenters simply wearing a fetching egg yolk coloured dress.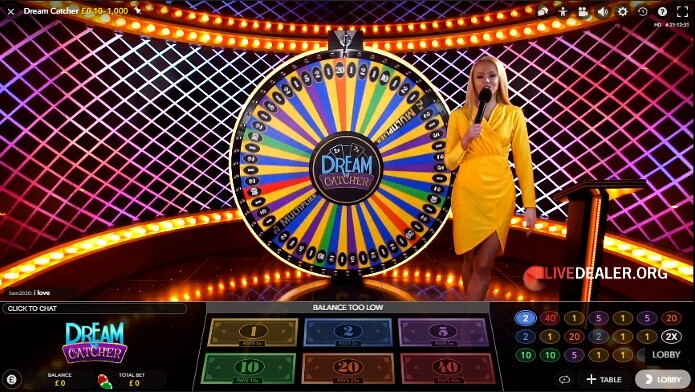 Saying that I thought her yellow dress one of the highlights of Easter seems a poor state of affairs. Not sure if that says more about me or about 2020. No ifs ands or buts about it though, I've seen bigger and better looking Easter promotions.
Lastly for Easter, just when I assumed Playtech does Playboy was well and truly consigned to history. Betfred sourced some bunny ears from the rubble strewn corridors of Playtech's old studio building (or from wherever else).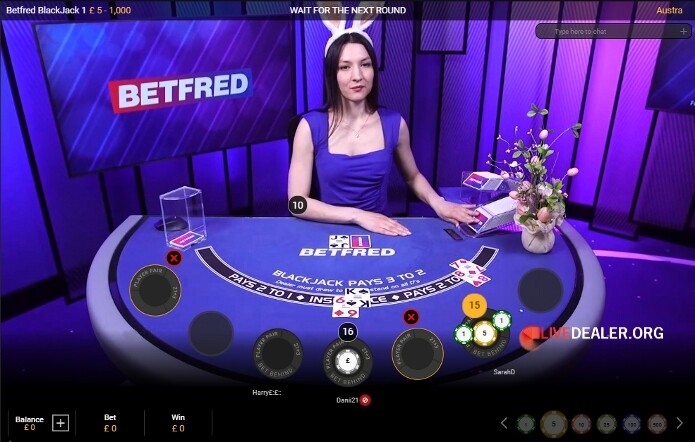 ---
Hopefully not the new everlasting normal
The state of play, or in numerous instances, lack of it carried on as dealers and shufflers observed social spacing.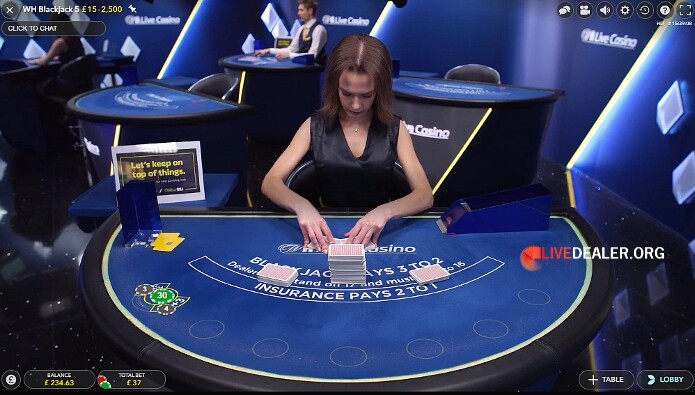 With swathes of tables, particularly private ones at Evolution, still out of action. The studios continued to adapt their way of going about business.
William Hill dealers were called into action to work on the nearby Speed Baccarat tables (not the majority of baccarat though which are in Georgia now….that would be too much of trek 😛 ).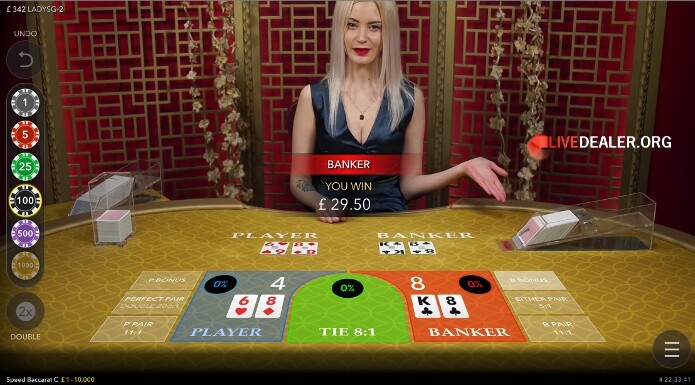 When Hill dealers weren't moonlighting on general access tables they also were dealing for the influx of Mr Green players allowed access all areas (not only just the new look green lit Vegas table area as was the case previously).
Further afield, Playtech's Asian studio baccarat tables did return to action. Except and it's a very big except, in random number generator mode.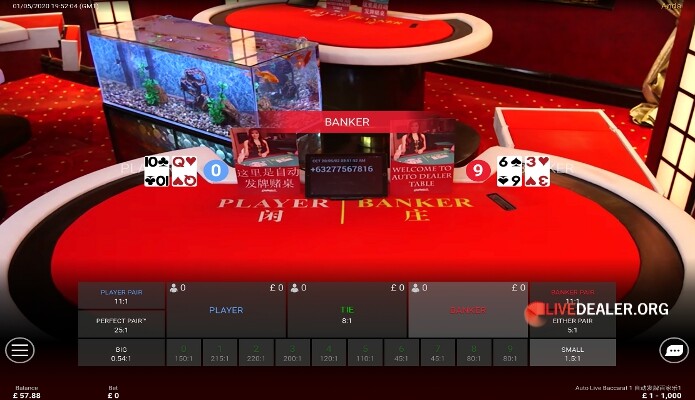 "Hope this doesn't last too long."
Almost the perfect embodiment of the opposite of everything why we as players prefer live dealer games over RNG delivered games. No dealer, no live cards, just a desolate table, in an empty studio barring a few fish swimming around in the Emperor Room tank. Combined with overlaid RNG cards.
Okay, I know they are trying, but why bother having multiple baccarat tables 'operational' in RNG. Are baccarat loving players so enamoured with the game? Well at least it saves some electricity having the studio lights and cameras on I suppose …. not!
Perhaps they should have covertly transferred dealers from Manila to work a few tables in Playtech's crumbling old studio building. After all, it wouldn't be the first time, this time socially distant and free from any dealer them and us undercurrents 😉 .
If all you want is the simple pleasures of seeing a beautiful female dealer. The Real Roulette tables from Microgaming in collaboration with Real Dealer Studios have a recorded dealer to smile and wink at players between RNG game rounds.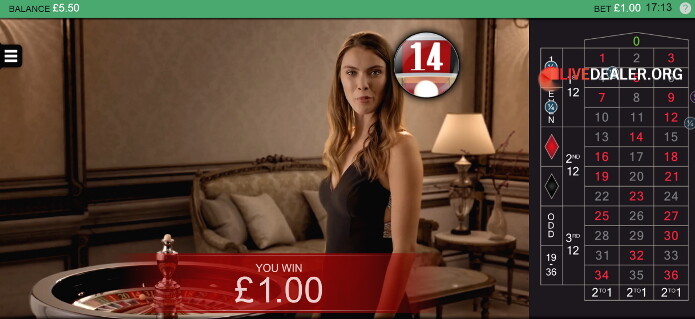 In a much more welcome state of affairs cameras were also switched back on in Evolution's Georgia studio. Dealers more used to wearing a mask at Halloween with an altogether more pressing reason to wear them now.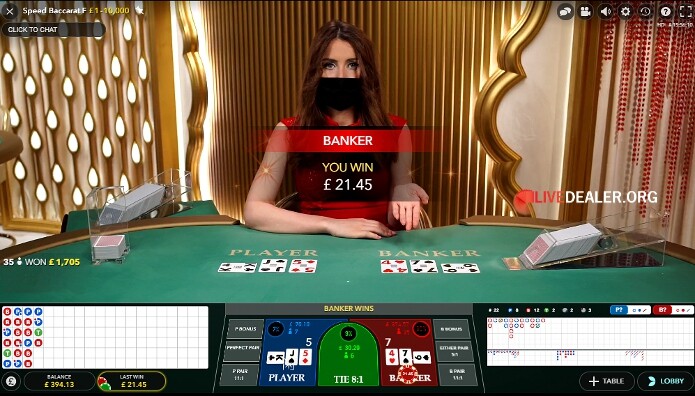 ---
Mega Ball
Evolution's live Mega Ball made its appearance in April.


Having correctly sensed Mega Ball was to be announced at this years ICE event. The first of 5 genuinely new for 2020 games (or 12 games if you're from Evolution ). We just weren't later sure how game launches might be affected with everything else currently going on.
"(5 new live) + (2 existing live) + (5 RNG) = 12 new games"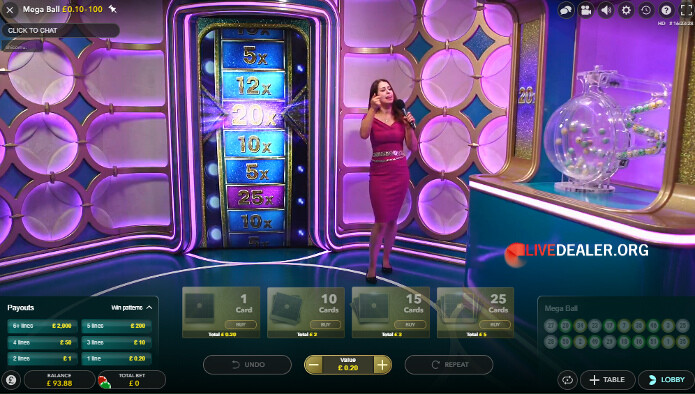 LD's review of Mega Ball covers everything you need to know about the live game – choose a stake amount, buy as many bingo card entries into the next game round as you want. Then sit back and watch your cards fill up, or not, whichever the case maybe.
Visually I don't find the Mega Ball contraption very impressive. It looks like a generic product they bought from casinosuppliersdirect. Very much like a compact version of what Ezugi were using on their Keno ball game many years ago. Not quite the high quality contraptions (and set designs) we come to expect from Evolution.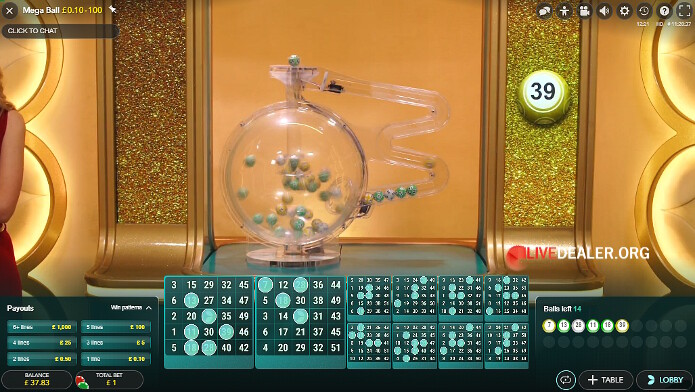 Who knows, maybe that's the real reason why Evolution completed the acquisition of Ezugi at the start of 2019 …. to get hold of their balls and contraptions 😀 .
There's also a RNG 'Frst Person Gaming' version of the game also, but why you would want to play it is beyond me. Only if you are addicted to the live game and there's a technical hiatus is the best I can offer. That and boosting the number of new games Evolution could announce at ICE.
Obviously Mega Ball continues the trend by Evolution to develop Game Show type games clearly aimed at specific players, with a distinct 'soft gambling' feel.
With major rival Playtech seemingly keen to follow that path, except for the occasional treat when they pull the Easter rabbit out of the hat and surprise us with a new traditional casino game………….
---
Sette e Mezzo
Well this was a pleasant turn-up for the books. Sette e Mezzo, a honest to God new live game from Playtech. Not another inferior copy product, or even an old game given a Quantum/Deluxe boost.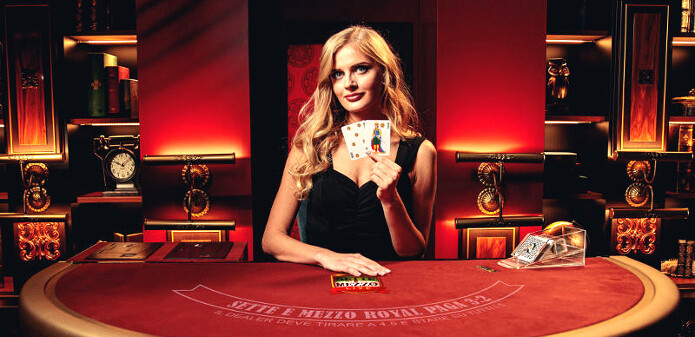 Everything about the game no doubt new to the majority of players stumbling across the table for first time in their casino lobby. Well almost everything, except for the familiar and less well known Italian speaking dealers working the Riga based table (more of which below)
Yes that's correct, Italian speaking dealers for a traditional card game popular in Italy. Shocking!. But don't let that be your excuse for not trying the game.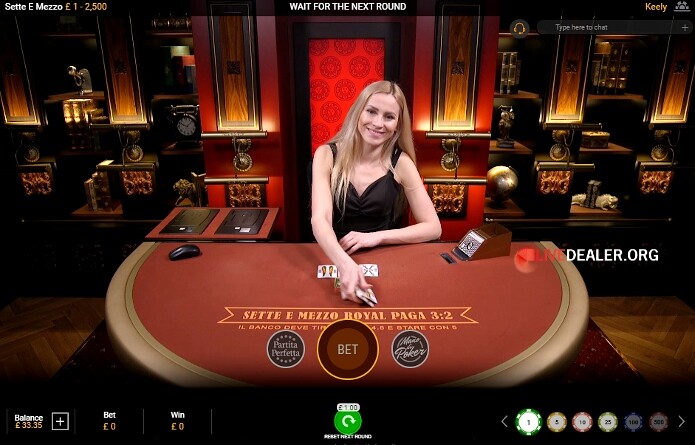 Sette e Mezzo, or to give it its English name 'Seven and a Half' is similar in concept to blackjack but with key differences. Basically you're gunning to beat the dealer with a hand closest to 7½ without busting.
LD's review of Sette e Mezzo covers the other elements of the game that make it more fascinating to play.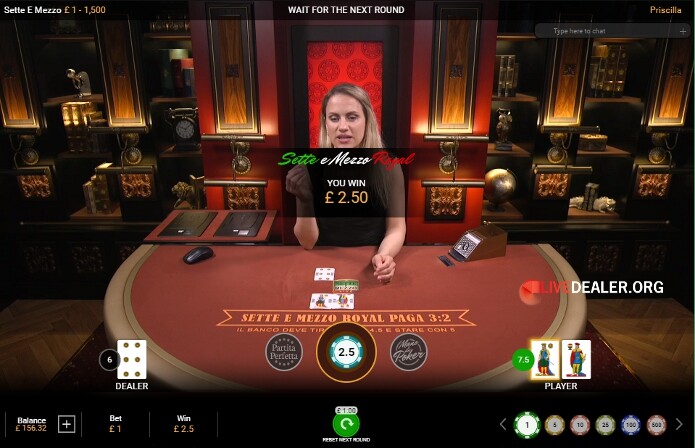 As LD points out. There's a lot of automation of game rounds played-out without any input. I can see this putting new players off, especially coupled with strange looking Neapolitan cards and Italian speaking dealers.
You certainly feel like you're being pushed in at the deep end. Game rounds frequently over before you know anything about it, a new game, unfamiliar cards and realistically can't ask the dealer. It's a shame about the deep water learning curve, because I like the game and I hope other players stick with it until they grasp what's going on.
On the plus side, the automation aspect of the game does speed up the game rounds. If you missed hitting on a lower value card you would lose anyway. So there's no reason not to have another card given to you automatically, maybe it should just be a little slower automatic process.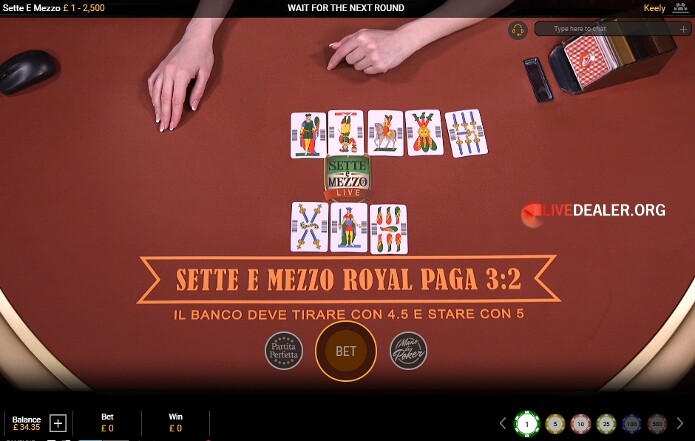 Normally I avoid traditional 1-to-many deal blackjack tables, I'm just not a fan. Largely because of the aspect of players taking extra cards when you wish they hadn't, in doing so changing the card the dealer receives. Of course that also occurs to a lesser degree on 7-seat blackjack.
Nevertheless, so far,  perhaps because of all the new feel to Sette e Mezzo it doesn't stop me enjoying the game. The only thing that really bothers me is the added background music. I know some players don't mind it, but it's always a major bugbear of mine. If I wanted background music, I'd play something at home.
Sette E Mezzo is available to play at Bet365, Betfred, EuroGrand, Sky Casino, William Hill,….. & even Italian casinos! 


---
Italian tables belatedly from Playtech
So then, years after their inception, Playtech's Italian speaking live dealer tables finally became available to a much wider casino audience at the start of this year.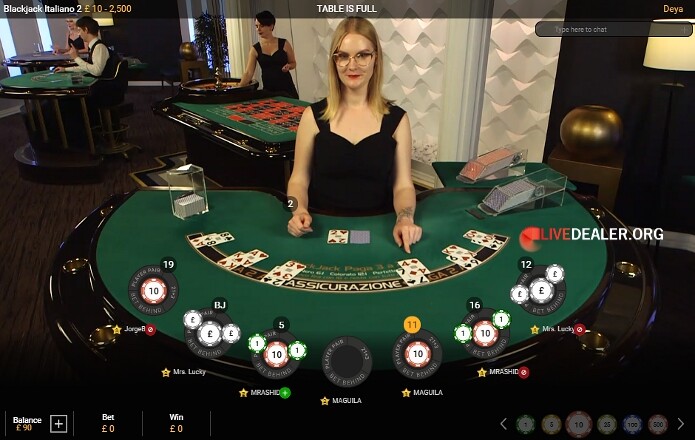 From my long personal experience, the way Playtech first switched on Italian tables at the start of 2012 shone a spotlight on how the company and the Euro studio in particular (at the time they were separate organisations) operated. Demonstrating what little regard they held for players and the lengths they would go to to keep players coming back to the studio day after day.
To put it in context, at that time rules for dealers were more strict than nowadays. With dealers pretty much prohibited, or scared to say anything about anybody or anything at the studio.
So when many popular dealers were tutored in basic Italian for a couple of months and bearing in mind it was a much smaller operation back then, so involving quite a large percentage of dealers. Then quite literally overnight transferred en masse to newly opened Italian speaking tables invisible to players outside of Italy. Regular Playtech players naturally wondered where favourite dealers had disappeared to suddenly without any explanation.
Yes we know the line about dealers being there just to do a job, not be online friends. But this was Playtech, the studio where dealers had a bonus pay system that basically rewarded dealers who kept players chatting at tables, even if they weren't betting. Further to which, their download casino client software also had the feature to mark your favourite dealers, so as to be notified when they were at the tables ie. more so fueling player attachments to dealers.
I don't know how many players lost favourite dealers without ever knowing they had moved to other inaccessible tables, or a chance to say thanks for all the table time together. But the studio certainly played it's part in keeping forlorn players coming back everyday looking, without knowing the truth.
Since that time I've heard different excuses for the secrecy, for not allowing non Italian resident players to join Italian tables, etc. And yes, it was rankling when Italian players then gained access to English tables.
Rather unexpectedly, out of the blue, after all these years, Bwin and PartyCasino players new to Playtech tables (that's another story ) were allowed on to Playtech's Italian speaking tables in 2019. Followed by several more established Playtech casinos this year.
Well it only took 8 years to play on Italian tables legitimately, and for almost all of the 'good old days' favourite dealers to have moved to other positions, reverted back to English tables at rival Evolution, retired and so on. So overall not bad going from Playtech then 🙁 .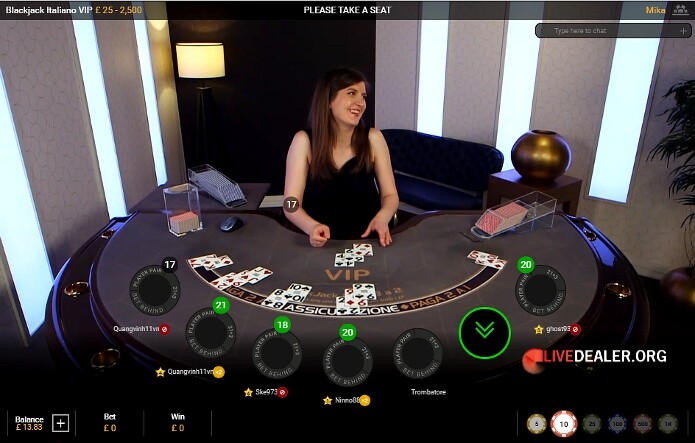 The tables are nice to be able to access when you're looking for a spare blackjack seat or change of roulette scenery. But best of all, after all this time, the real highlight is being able to play the new Sette e Mezzo table.
---
Bet Creator & Lucky Dip
Playtech recently added a couple of new in-game features to live roulette.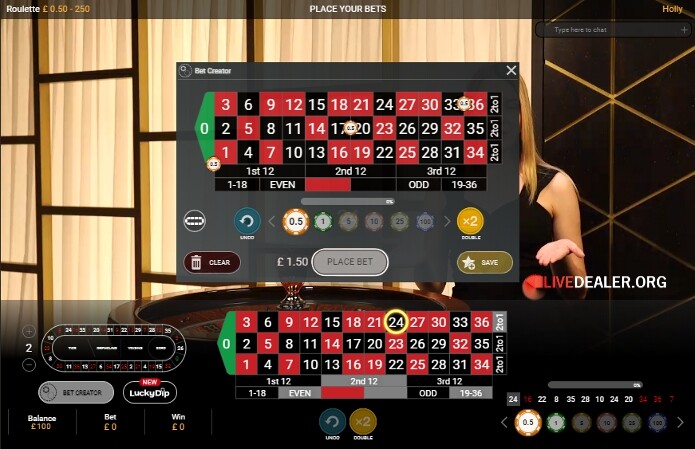 Bet Creator is a nifty new roulette feature to have at your fingertips. Particularly so at your fingertips, less game changing if you're clutching a mouse but useful all the same.The feature allows you to create your own custom bets (anytime) without betting round time limitations. Select the Bet Creator button, choose exactly where you want to bet and for how much. Then when you're ready place them on the next betting round, or save them as one of your favourite bets.

It's precisely the kind of feature I always felt playing roulette on small mobile screens was crying out.

Lucky Dip takes the "arduous" decision making process where to place bets out of your hands.Simply press the feature button – located on the Special Bets panel on mobile or under the Racetrack on desktop. Chips are then placed at random on different straight-up positions on the wheel.

Selecting Lucky Dip also removes any other bets from the betting map, which you may find not so useful
Collectively the new in-game roulette features had a slow roll-out first appearing at the likes of Coral casino on mobile and desktop. Elsewhere (eg. Betfair) initially just on mobile where arguably the features serve most purpose.
---
Live tables & games merry-go-round
Betfair opened a private Spin A Win game in the Playtch studio. Only for the wheel to disappear soon after, much like Playtech's original computer controlled Spin A Win wheel.
The game came with a randomly generated bonus round. Frankly, I didn't find it so entertaining or relaxed atmosphere as big wheel games at Evolution.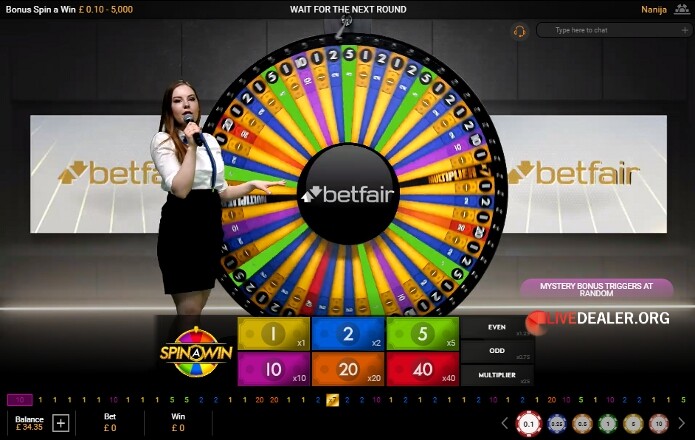 Bwin casino, previously known for their private Evolution tables now have a seat at Playtech, in more ways than one. Following on from some key personnel comings and goings, parent company GVC Holdings entered into a new partnership with Playtech last year resulting in the Elevation shared tables .
That's not all though, with the addition of a Bwin private All Bets Blackjack table in Playtech's Riga studio.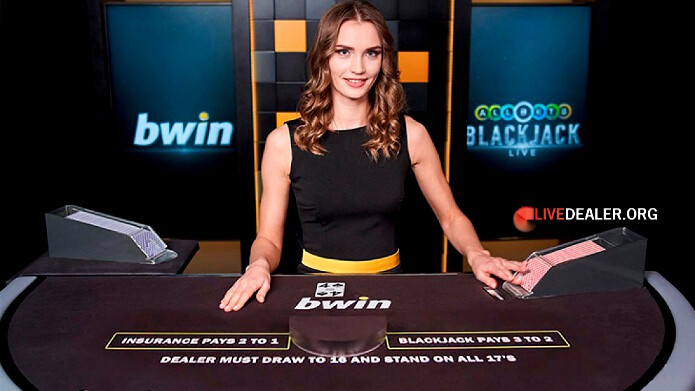 Although if you are playing at Bwin from the UK you don't get to see any live games from Playtech. Presumably the reasons behind their current UK omission are all interconnected with GVC Holdings acquisition of Playtech casino brand Ladbrokes Coral and its bigger UK customer base.
Subsequent to my earlier Spring blog, Playtech gave the Riga studio Dragon Tiger table another makeover!. Not sure why they felt for the need to change it again so soon. Perhaps keeping the previous background foliage watered (does plastic need watering?) and in good health was deemed non essential labour in these challenging times 😀 .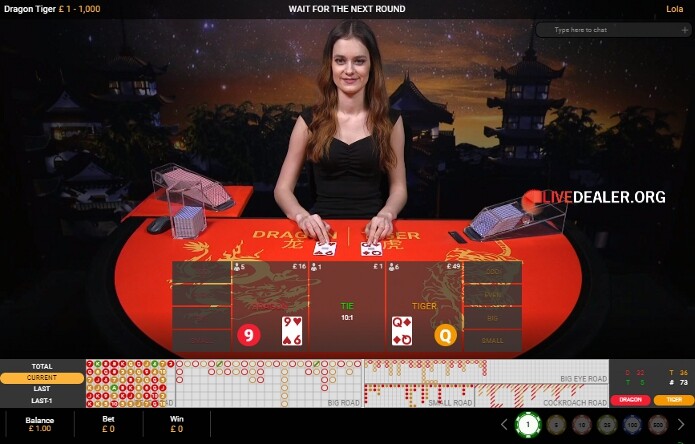 In recent months several language tables at the big two platforms had makeovers. Not a minute too soon I'd say for some. Especially when you look at tables new competitors such as Pragmatic Play were bringing to market.
But then the full ramifications of social spacing kicked in. With some of the less in demand tables, and/or those with a more limited depth in numbers of dealer language skills succumbed to temporary closure, or given another use so that more cramped together tables could be taken offline.
Playtech's Deutsches Blackjack table has remained open albeit its another table from the provider with a short half-life, having already changed backdrop. No more hexagon tiles with starburst effect, now an altogether more basic look.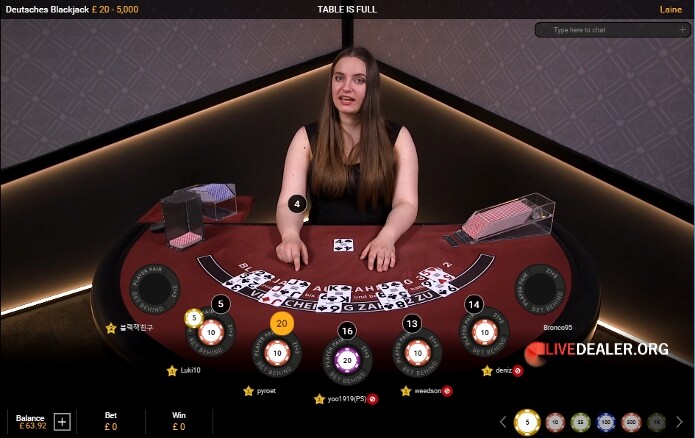 By way of contrast, Betway's Hindi speaking Bollywood tables at Evolution Gaming are a visual treat. Comprising of a couple of blackjack tables and roulette. Lots of colourful decoration yes, but all in keeping with what you'd expect for tables aimed at Indian players.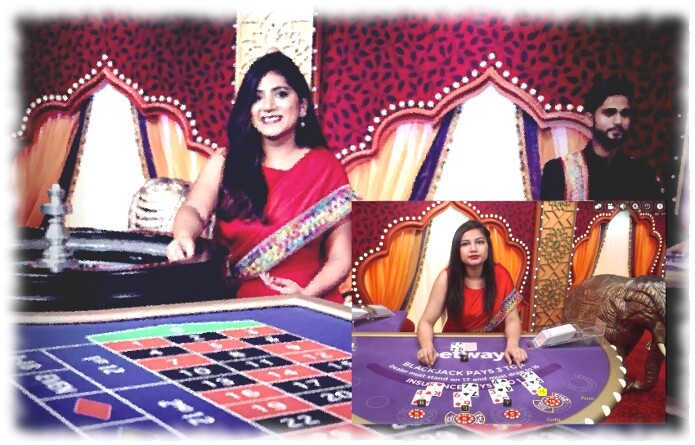 ---
Power Blackjack
By the middle of May it was time for Evolution to unleash another title from its lineup of live game goodies for 2020. A rather tasty goody as it happens, much better than anything else we had over Easter from Evolution.


The new Power Blackjack is blackjack (minus 9's and 10's) multiplied. But not another traditional casino game with random multipliers applied. This time the player gets to decided if they want to quadruple, triple or double their initial bet on the new 1-to-many blackjack table.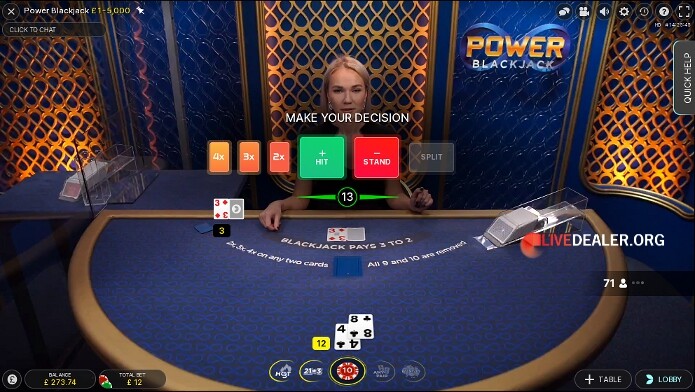 LD's review of Power Blackjack provides you with all the relevant information (including a new optimal playing strategy).
As I've already stated above I mainly stay away from 1-to-many deal blackjack tables.
Given the large number of players already at the table and that's set to increase as the table is rolled out to more casinos. It's often the case you're left waiting around for a few players to eventually confirm they are going to keep on hitting come what may (ie. on hard 17,18,19!) until reaching 21+.
Yes you make your own decisions on Power Blackjack, but I do find it galling when you decide to Quadruple or Triple or Double Down only for other players to hit until busting on a high value card which otherwise would have gone on to bust the dealer. Thankfully of course you do win sometimes 🙂 .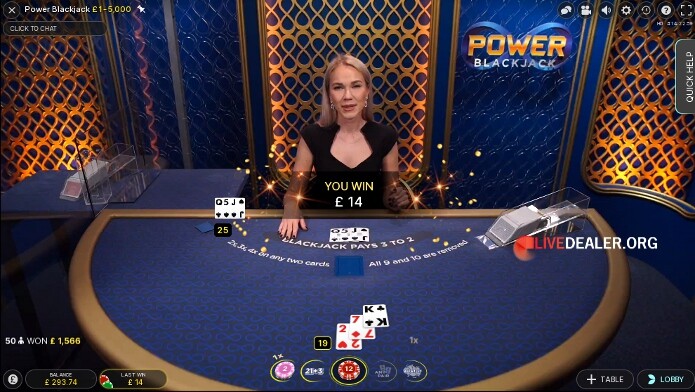 If Evolution were to offer a version of Power Blackjack on several regular 7-seat tables. I would probably never be off them .  Come on Evolution why not? ….. like Playtech have EU and non-EU/US/Vegas deal blackjack tables, only better, this could be your thing 😕
---
---
https://www.livedealer.org/dev/wp-content/uploads/2020/06/springtime1.png
346
360
Unclefester
https://www.livedealer.org/images/Livedealer-logo.png
Unclefester
2020-06-08 16:15:20
2020-06-09 07:57:18
Fester's Findings - springtime 2o2o