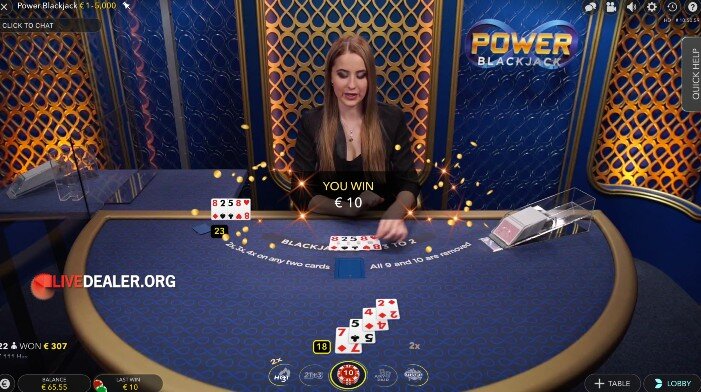 Evolution Gaming have just launched the latest in their Infinite Blackjack table series: Power Blackjack.
Like Infinite Blackjack (and the other in the series Free Bet Blackjack), it's a 1-to-many deal blackjack table employing Evolution's nifty little real to virtual card transition. Many players play the one deal, but you only see the cards attributable to your playing choices.
Power Blackjack takes more of a departure from the rules of Evolution's classic 7 seat tables than its predecessors.
What is Power Blackjack?
This departure is neatly encapsulated in the game's Quick Help slide out.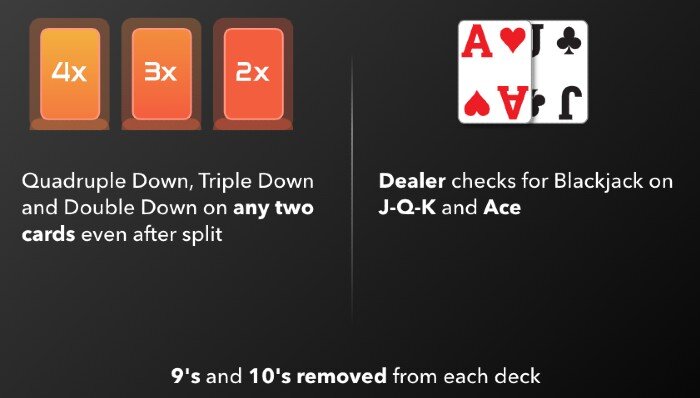 There are 2 main differences between the house rules on this game and Evolution's regular blackjack games:
Rather than just Double Down, you have the option to Triple Down or Quadruple Down your initial bet. This opportunity presents after your initial 2 dealt cards (including to Split hands), and
All 9's and 10's have been removed from the (8 deck) shoe.
Playing the main game
As with regular Blackjack your aim here is to beat the dealer to 21.
Blackjack pays 3:2, and regular wins even money. Sounds pretty familiar right? For the most part it is.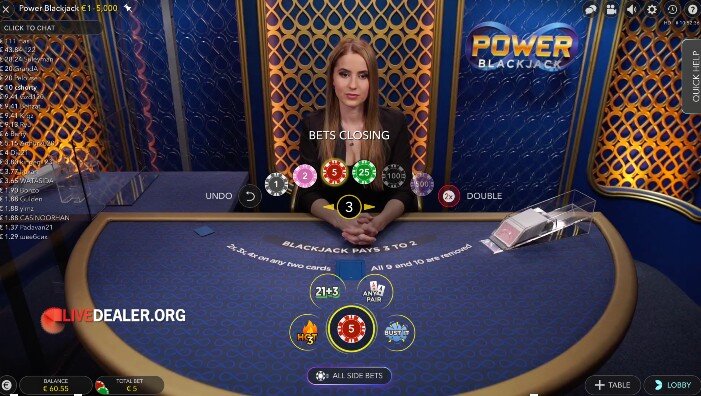 Game flow is pretty much the same as any other blackjack table, until you're presented with your first play decision.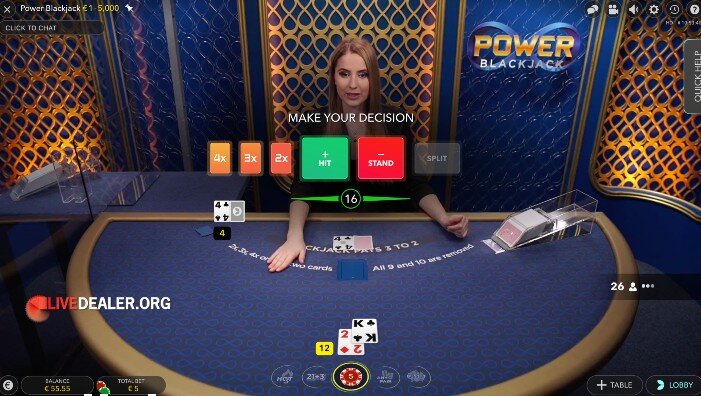 Instead of just the Double Down, you can now Double, Triple or Quadruple your initial bet take. Take any of these options and you draw only 1 additional card (ie, as with a Double Down).
Hit, Stand and Split (if available) operate as per usual. Split hands can also be Tripled or Quadrupled.
The absence of 9's and 10's is not readily apparent when you play the game. But since you know they're not there, you also know that your basic strategy card has been rendered completely useless for this game.
You'd be flying blind on your attempts to play a nice tight game, but for the fact that the kind folk at Evolution who have decided to lay out the main game's optimal playing strategy for you in the house rules.
It tells you when to Quadruple Down…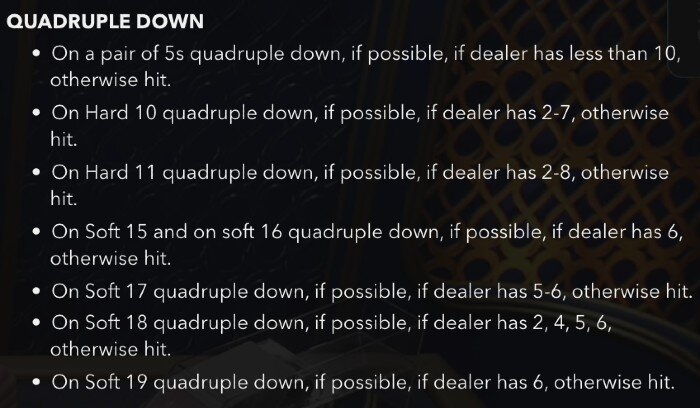 When to Split…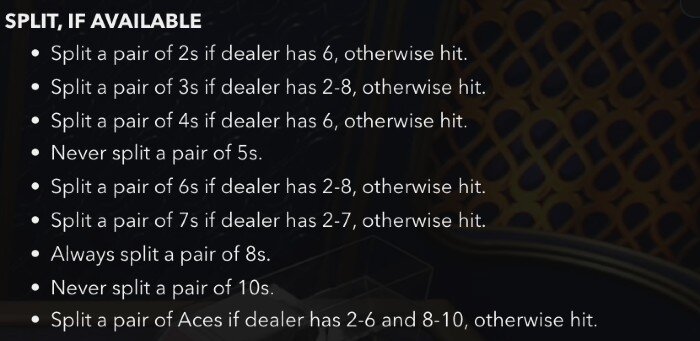 Or otherwise when to Hit or Stand…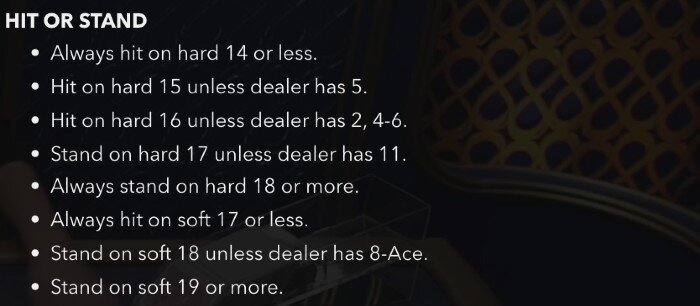 The Power Blackjack side bets
These are identical side bets to those offered on the other Infinite Blackjack tables. Those unfamiliar can read more about them here.
The side bets are only available if you take part in the main game, and the payout regardless of the outcome of the main game.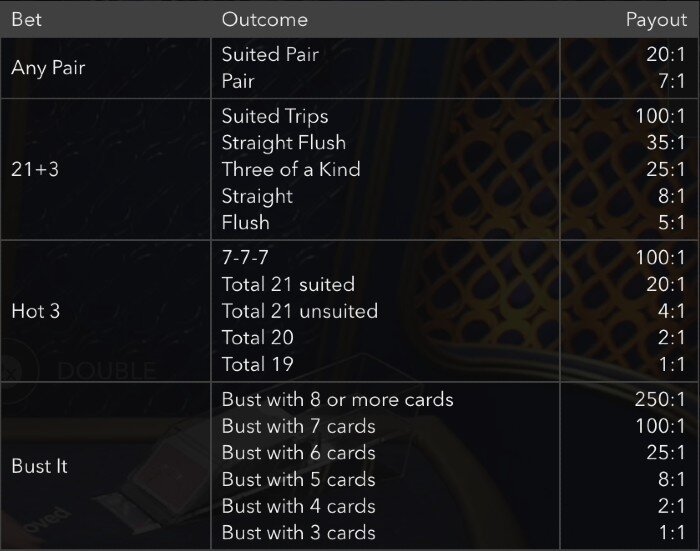 Theoretical returns for Power Blackjack
Not a bad returning game this one…the main game that is. As always the side bets will relieve you of your hard earned a little faster.
Main Game – 98.80%
Any Pair bet side bet – 96.58%
21+3 side bet – 96.09%
Hot 3 side bet – 94.21%
Bust It side bet – 94.71%
Keen observers will note the side bets returns here are slightly different the other Infinite tables, despite identical target outcomes and corresponding payouts. The absence of 9s and 10s is the culprit here.
Full Power Blackjack house rules
Watch a few hands of Power Blackjack…
Which live casinos offer Power Blackjack?
Regular early adopter Leo Vegas was one of the first to offer Power Blackjack. At time of writing it could also be played at 888 and Betvictor.
https://www.livedealer.org/dev/wp-content/uploads/2020/05/powerblackjack-decision.jpg
396
701
LD
https://www.livedealer.org/images/Livedealer-logo.png
LD
2020-05-22 16:43:45
2020-05-22 16:43:45
Quadruple or Triple Down with Power Blackjack