Evolution Gaming have launched their latest blackjack table – Infinite Blackjack. 
Infinite Blackjack is live streamed from Evolution's Riga studios. It's a "1 to many" table with a single deal catering to a theoretically unlimited number of players (hence the name infinite).
The "1 to many" live blackjack concept is not a new one. A number of live games providers have been grappling with the problem of how best to serve a live blackjack game to an unlimited number of players, solving the problem of seat availability, for some time now.
Playtech's Unlimited Blackjack table has been taking bets for almost 10 years now. Then there's NetEnt's  Common Draw blackjack, which appeared before they launched a 7 seat table.
These types of tables present a real challenge for providers. How do you:
re-create a 7 seat table playing experience for each and every player, so the cards in front of them reflect their individual playing choices, while
not having to change any game rules, but
having a single deal played by many players ?
Evolution Gaming have obviously had a good think about this, taking almost a decade to enter the one-to-many blackjack game. Their solution is an interesting one, and it works.
How to Play Infinite Blackjack
Before getting to the magic of Evolution's solution, let's look at the house rules of Infinite Blackjack.
House Rules – the Main Game
As for all of their 7 seat blackjack tables, Infinite Blackjack is dealt from an 8 deck shoe. Other key rules for the main blackjack game are summarised below:
Dealer stands all 17's
You can Double Down on any 2 initial cards
You can Split initial cards of equal value
Only one Split per hand.
You can Split Aces (draw 1 card only to Aces)
No Double Down after Split
Six Card Charlie rule applies
Insurance is offered when the dealer shows an Ace.
Blackjack pays 3 to 2.
So pretty much the same as their 7 seat tables, with one exception. For this game, Six Card Charlie applies, which means you win automatically if you draw six cards without going over 21, even if the dealer has Blackjack.
Playing your hand – Evolution's Physical to Virtual Card Trick
Here's the trick that lets you play your hand as if you were seated at a classic 7-seat table.
Cards for the players' hand are dealt to a box by the dealer. These are physical cards out of the 8 deck shoe. The physical card then disappears into the table, and re-appears as a virtual card by your chips, only if this card should be added to your hand, based on your playing decision.
Every player will see the physical to virtual card transition for their initial 2 cards. Thereafter, it depends on whether they draw another card (hit, split, double down etc) or not.
In the screen grab below, I chose to hit on 12, and you can see the transition of physical 10 of hearts out of the shoe, to my virtual hand. Had I chosen to stand, my virtual hand would remain 12, while the 10 of hearts gets allocated to players who chose to hit.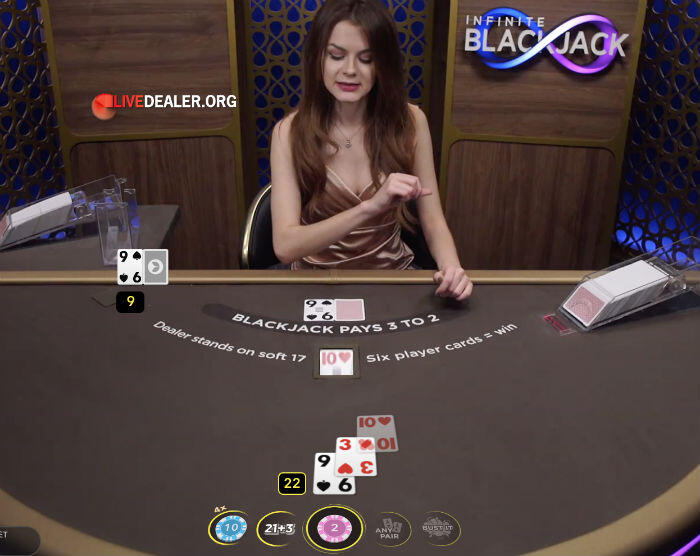 The video at the bottom of this post illustrates the physical to virtual card transition far better than any description.
Seeing a physical card disappear into the table, and re-appear as a virtual card in your hand does throw you initially, but you quickly get use d to it. It helps that the virtual cards look pretty much identical to the physical cards (eg the dealer's cards…which are physical throughout).
In a press release today, Evolution's Chief Product Officer Todd Haushalter  described this new technology as follows:
"With Infinite Blackjack we finally cracked the code on how to make a one-to-many Blackjack game fun and without having to make any rule changes. We did this using advanced game software, that combines the live dealing of physical cards and virtual cards directly to each individual player. This enables the dealing of individual hands for each player at the table, irrespective of how many players there are at any given time."
Sidebets
In addition to the main game, this table offers 4 side bets. A couple we are familiar with from Evolution's 7 seat blackjack tables, two new ones have been introduced. Here's a summary:
Any Pair
Here you're betting on whether the first 2 payer cards will be a pair.
21+3
Here you're betting on player first two cards plus the dealer's upcard comprising specified combinations, each with a different payout.
Hot 3
Same as 21+3, just different combinations and payouts.
Bust It
Here you're betting on the dealer busting. The more cards it takes, the bigger your payout.
The side bets are optional but can only be taken if you play the main game. Should you take any of them, they will payout (if they win of course) regardless of whether or not you later win on your blackjack bet.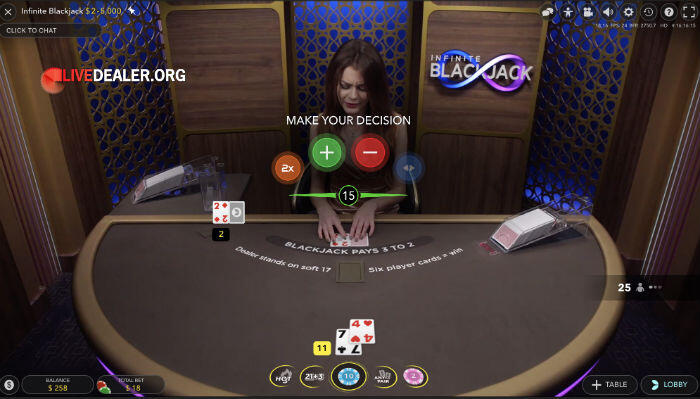 Chips remain on the table for side bets that have won, or that are still alive (eg Bust It), before paying out at the completion of the main game.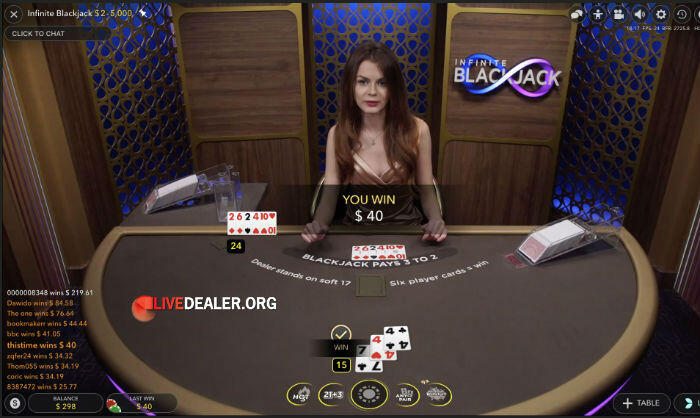 Sidebet Payouts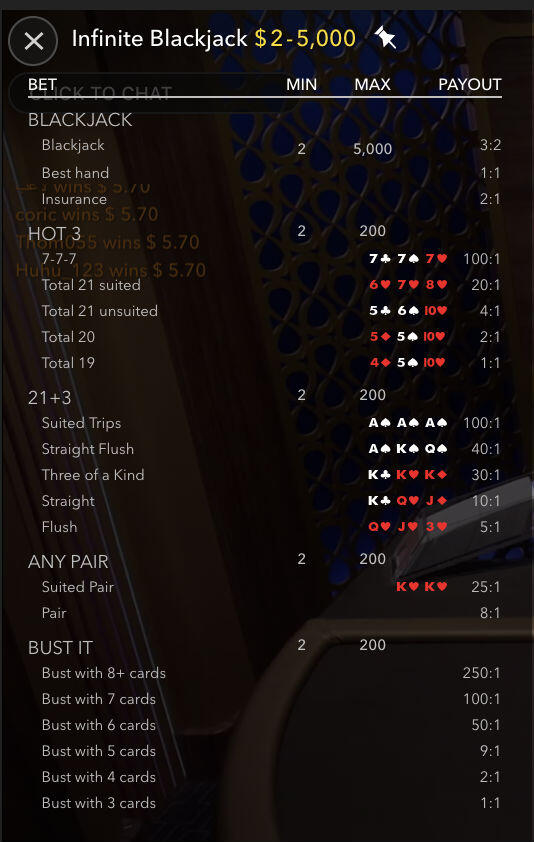 Full House Rules
Return to Player Rates
Owing to the introduction of the Six Card Charlie rule, the theoretical return for Infinite Blackjack (main game) is actually better than return on their 7 seat tables:
Blackjack Main Game – 99.47%
Any Pair bet bet – 95.90%
21+3 bet – 96.30%
Hot 3 bet – 94.60%
Bust It bet – 94.12%
Where you can play Infinite Blackjack
According to Evolution's press release, Live Infinite Blackjack is available now to all Evolution licensees. As of yesterday it was already available at perennial early adopters:
As a game that permanently solves the problem of live blackjack table seat availability (particularly for low limits) it will no doubt be widely adopted by other Evolution powered live casinos short time.
A little video action of Infinite Blackjack
https://www.livedealer.org/dev/wp-content/uploads/2018/10/Live-Infinite-Blackjack.jpg
275
400
LD
https://www.livedealer.org/images/Livedealer-logo.png
LD
2018-10-26 11:56:02
2018-10-26 11:56:02
Infinite Blackjack from Evolution Gaming