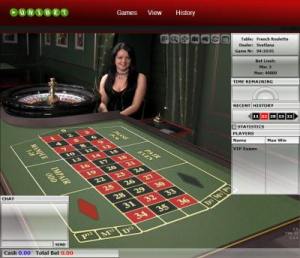 If you've had a good browse through Livedealer.org, chances are you've stumbled across one of our games reviews.  If not, then you haven't had a good look through the site because there are plenty of them!
In trying to put together a reasonably insightful portal, we take a pretty good look at the live games of all casinos listed no the site.  We take screenshots and video recordings so you can compare interface look & feel across casinos, and also spend a quite a bit of time playing the games to get a good feel for playability, dealer proficiency etc.
Anyway, it was during one of these test/review sessions at Unibet the other day that I went on a winning streak that I thought was worth blog-bragging about.  And at least a small part of the streak is captured on video as proof that I'm not telling tales (see below).
The casino I was testing was Unibet's.  They run live games streamed by Evolution Gaming including blackjack, baccarat and roulette.  Just recently they added French Roulette  – hence the reason for the visit and test.
All live games at Evolution powered casinos, including Unibet, don't have a free play option so the testing was done (as it should always be)  in real play mode.  The guys at Unibet were nice enough to comp. me $100 to thoroughly play the game, albeit with smallish bets.  It's not a high limit game so I figured I'd get plenty of play time with that much in the bank, and I did…a good half hour and starting try to give all the money back to the casino with stupid bets (as I promised I would).
I was down to my last $17 when all of a sudden I went on a bit of a double up streak.  In a matter of a few minutes I found myself with $132 in the account.  With that sort of bank, and the French roulette testing well and truly done, I thought I'd head over to the Gold Blackjack tables for some high roller action.
Bets at Unibet's Gold Blackjack tables start at $100 go up to $10 thousand a hand for those of you who travel in the pointy end of the 747 when you're not chartering your own Gulfstream.  At least I'd get one bet right?
An hour later I have $2,700 in the account and I'm wishing I'd funded the test myself rather than getting the comp funds that I promised to lose during the course of play.  I was betting $500 per hand minimum, with a couple of $1,000 outlays that I think were starting to impress the dealer (who wasn't too shabby), because she was getting decidedly more chatty as my stakes climbed!  The video below captures a few of the $500 bets mid-way through the session.
Did I lose it all?
Yes.  But not through compulsion or greed, but simply because I had to play until I gave it all back.   Doh!
https://www.livedealer.org/images/Livedealer-logo.png
0
0
LD
https://www.livedealer.org/images/Livedealer-logo.png
LD
2010-01-20 21:30:17
2010-01-20 21:30:17
A live blackjack run to brag about