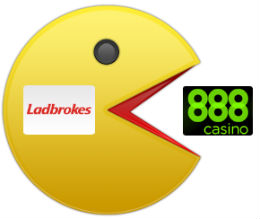 Merger and acquisition activity in the online gambling sector has gone into overdrive ever since Bwin and PartyGaming announced they'd tied the corporate knot.
Analysts are getting chubbies speculating as to what the next big takeover will be, merchant bankers are licking their chops, and operators are madly scrambling to find targets, buyers or partners, as the case may be.
Bigger is better and biggest will be best seems to be the popular strategy heading into an era that may herald regulated online gambling markets across the United States for the first time in history.
Early stage talks
Ladbrokes and 888 are the latest big brands to reportedly be discussing a tie up.  According to the Daily Mail an initial offer is on the table with Ladbrokes offering £240 million, or 70p a share for 888 Holdings – the company that owns both 888's online casino and poker operations.
This offer has not been confirmed by Ladbrokes.  The official company line is:
"There can be no certainty these discussions will ultimately lead to an offer for 888 being made, nor as to the terms of any such offer"
Keen to do deals
888 have made no secret of the fact that they are keen to do deals.  CEO Gigi Levy declared his company's hand back when the Bwin/PartyGaming merger was announced saying, "[w]e look at consolidation as one of the possible routes to realising our full value".  Presumably then he will be open to offers from Ladbrokes although whether £240 million will get his full attention is questionable. Four years ago Ladbrokes offered £470 million for the same business and this was knocked back.
It's also rumoured that 888 are in talks with other possible suitors including Sportingbet (who just last month were reportedly discussing a merger with Unibet!).
Plenty going on in net-gambling boardrooms right now and it all points to fewer and bigger operators in 2011 and beyond.
https://www.livedealer.org/images/Livedealer-logo.png
0
0
LD
https://www.livedealer.org/images/Livedealer-logo.png
LD
2010-12-19 22:29:01
2010-12-19 22:29:01
Ladbrokes in takeover talks with 888