Any questions that BetVictor's 'go big' approach to live dealer games may moderate in the wake of structural changes seem to have been answered.
Just recently, and subsequent to news of their acquisition and management reshuffle, theyhave decided that four different live casino options for their customers isn't enough.
They've added number five. It's called Victor Royale and it's powered by the NetEntertaiment.
So what exactly does Victor Royale add to an already substantial range of games? A different look and feel of course for one. A new line-up of dealers, who seem pretty pleasant and chatty for two.
Games offered are roulette (European and French tables, as well as an auto table for those completely averse to human interaction), and blackjack.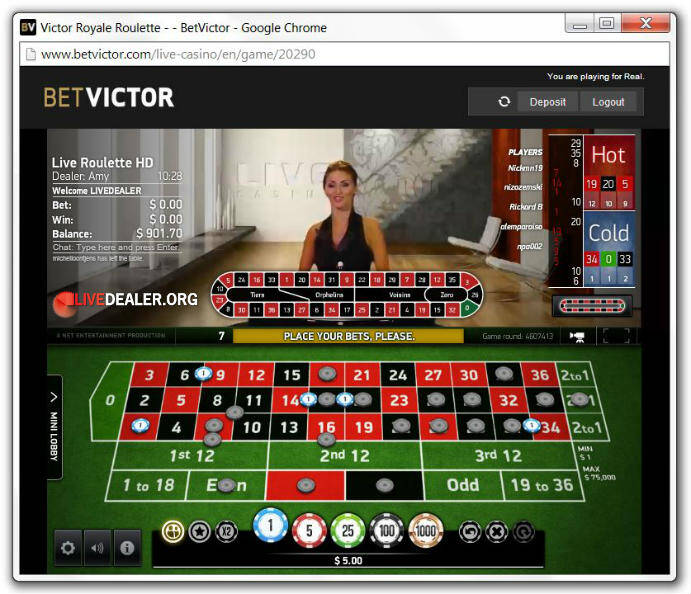 Not a lot to report here. Roulette's roulette. Same bet options, odds, payouts as the other available tables. Limit range is good, but still doesn't extend already existing minimums or maximums on tables elsewhere at BetVictor.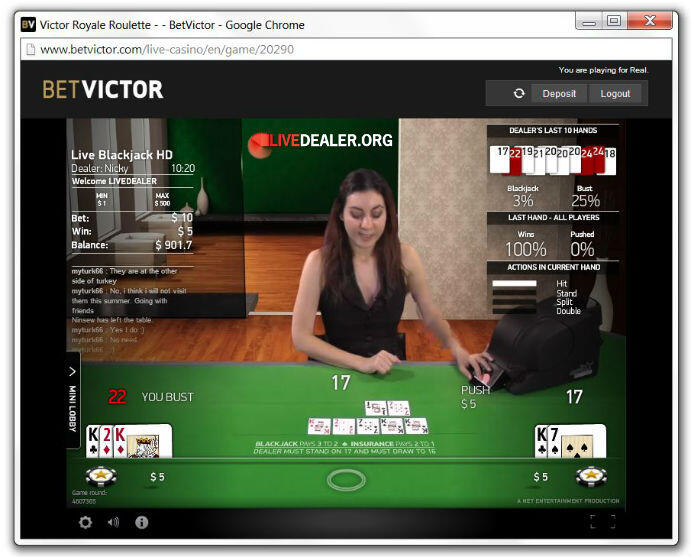 Their blackjack table does bring a point of difference from anything offered at Victor's Live (in-house), Victor's Palace (HoGaming), BV Grand (Evolution Gaming) and Club Victor (Microgaming).
It's a 'one to many' blackjack deal, like Playtech's Unlimited Blackjack. Some blackjack players may like this. I suspect most won't. BetVictor/NetEntertainment call their version Common Draw Blackjack.
It's a little different from playing a regular 7-seat table, in that only one set of player cards is dealt. This deal caters for all seated players, the number of whom can be theoretically unlimited. Not conventional, but in the end you do still get to play out your hand as you would at a 7 seat table and hit, stand, split etc regardless of what other players choose to do.
Confused? If so that's probably more to do with my literary ability to make the simple sound confusing, rather than the game itself. Play a couple of hands and you'll quickly catch on.
Another difference…shuffle master. Actually, not sure if it's a SHFL machine, but the key point here is you aren't playing a depleting shoe. Again, some players won't care about this. Others may not like it.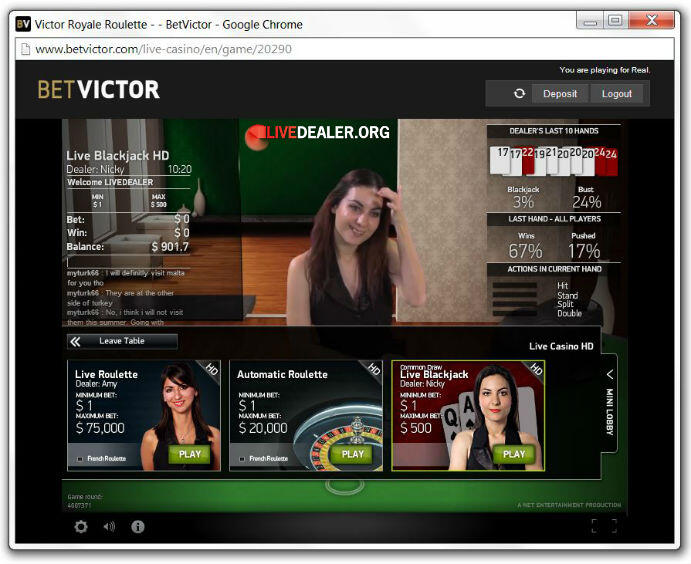 Both games are well presented with a special mention for the nice little slide out mini lobby that makes shifting from one table to the next nice and easy.
https://www.livedealer.org/dev/wp-content/uploads/2014/07/victor-royale.jpg
260
691
LD
https://www.livedealer.org/images/Livedealer-logo.png
LD
2014-07-08 03:38:50
2014-07-08 04:27:03
A look at Betvictor's new NetEnt powered Victor Royale