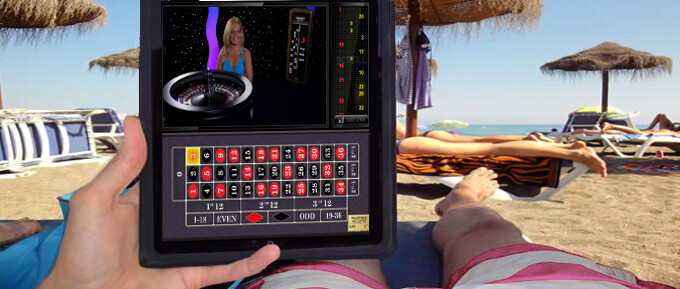 Euro dealers started the month looking bronzed after July's hot weather and time spent relaxing on Jūrmala beach, and so on. Meanwhile I was trying to have a more laid back month of my own, playing mostly at the live tables via iPad instead of being tied to the cumbersome old laptop.
Below is a summary of my observations for August.
Sky Casino launched
Well the big Playtech news of the month was the opening of their much-anticipated new dealer room in the Euro studio. Sky Vegas players logging in were in for a big surprise with the all new Sky Casino.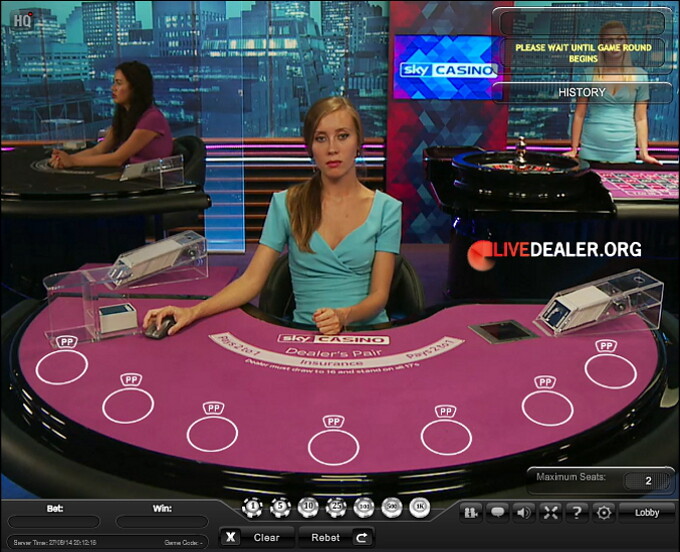 So far the tables are resembling something from a ghost town with so few players. Very different from the dedicated Sky Vegas blackjack table at Evolution which was always busy and players waiting for a seat. There always seemed to be several players who knew each other … talking among themselves, forever predicting what the dealers cards were, and very critical of any player not following basic strategy.
General chat to the dealer was more frowned upon by the old Vegas table regulars. It will be interesting to see how Sky players adapt to the Playtech ethos were the dealers are encouraged to engage players in general conversation. I remember how Paddy Power & Ladbrokes players complained when they first switched to Playtech about all the dealer chat & slower game rounds.
---
RAY LiveKasino launched
Playtech were involved in the launch of another live casino and dealer room in August.

The new RAY LiveKasino is aimed at Finish players.
RAY's dealers are called presenters. They are dressed more casual, and behave in a more relaxed manner with players than other Playtech players will be familiar with. Maybe one day RAY's approach will filter back to the Riga studio … well that's what I want.
---
Evolution Gaming were likewise busy this month preparing for a
new dedicated area
.
Also at Evolution …
Roulette favourite bets
You can now save your favourite roulette bets at Evolution tables.
The new 'Favourite Bets' feature in the tool bar allows you to save a preferred bet/combination to allow easy, rapid selection in future rounds at any roulette table. The feature allows you to save up to 15 favourite bets under different names for easy identification. When you hoover the cursor over any of your bets in the list the chip placements are displaced over the table (see the Evolution help setting/page for more information).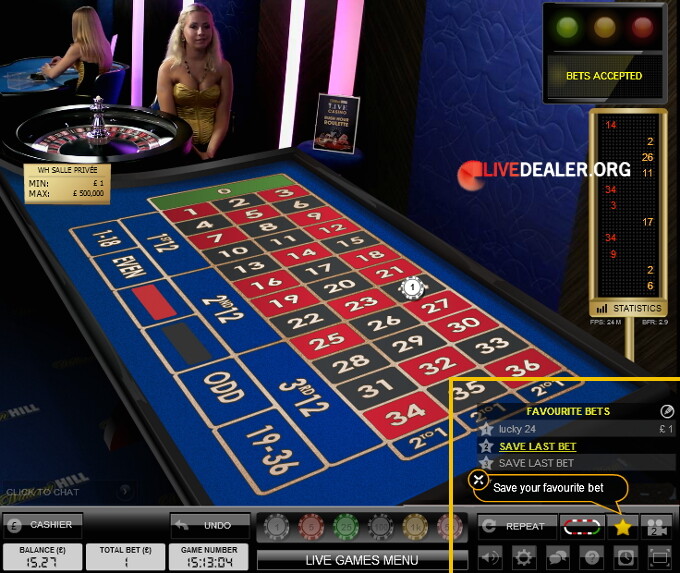 The Favourite Bets feature isn't available when playing on iPad … which is a shame for players with Fester-like fat fingers trying to hastily place their lucky numbers. But there were some iPad developments at Evolution.
---
Immersive Roulette goes mobile
Evolution's HD Immersive Roulette table became available on iPad. The table has always looked great on PC and I was very impressed to see how the high quality image remained with its transition to iPad. You see the same multiple camera angles and slow-motion instant replays on both formats.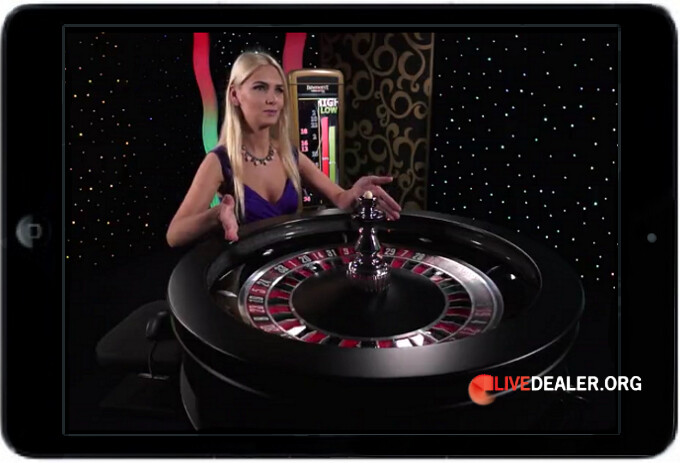 The Immersive table is now playable on most Evolution casino iPad Apps (see the mobile section of the forum).
---
Party Casino also go mobile
LD has commentated before how Party Casino don't seem to be the quickest adopters of new features. As if to further prove his point Party finally got round to releasing an iPad App. Well it only took them over a year longer than many Evolution casinos to join the iPad party.
Party Casino's exclusive blackjack table is also playable on the App.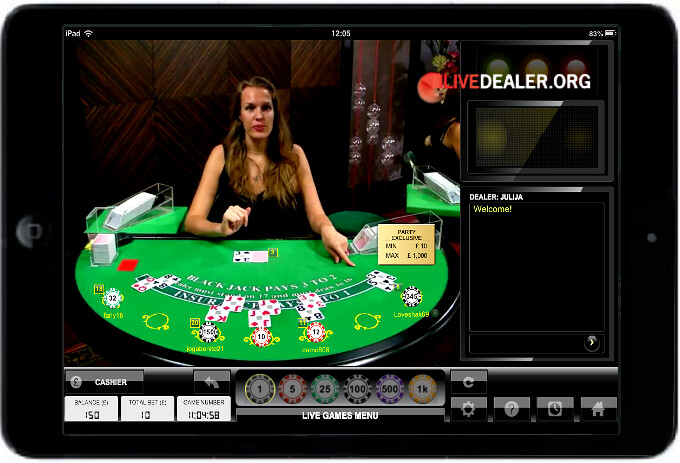 The new to mobile Immersive Roulette table isn't on the Party Casino App though … well they say Rome wasn't built in a day (maybe that's also Party's motto?).
Evolution iPad blackjack is definitely worth a look if you've not tried it before.
---
888 Casino promotions
888 always seem to have several promotions running and August was no different. A particular favourite of mine this month was their Live Cash Lottery Draw. It only took a few minutes playing on PC, or iPad in my case, every day at the live tables to gain another ticket into the weekly live Saturday draw.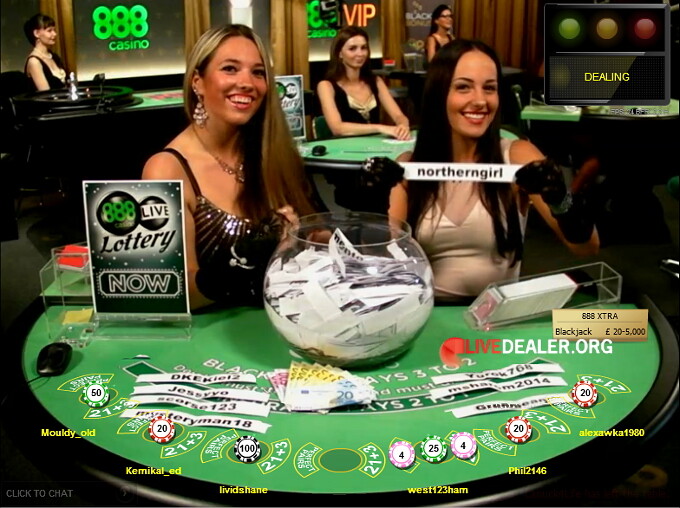 ---
Still room for enhancement of iPad Apps
I noticed this month several players at Evolution who were obviously also playing on iPads. I say obvious because the Evolution dealers have been told to remind players about the 'benefits' of playing the side-bets. Players were asking why they could not see side-bet options. The side-bets are not (currently) available on Evolution's mobile Apps.
Lack of side-bets on iPad isn't a problem for me, but I'm hoping they soon get round to adding the Three Card Poker tables (general floor & William Hill). If the Evolution tech boffins can manage to implement the Immersive Roulette table, then adding Three Card Poker should be easy-peasy.
https://www.livedealer.org/dev/wp-content/uploads/2014/08/ff_Aug.png
350
356
Unclefester
https://www.livedealer.org/images/Livedealer-logo.png
Unclefester
2014-08-31 17:41:45
2014-08-31 17:41:45
Fester's Findings - August 2014