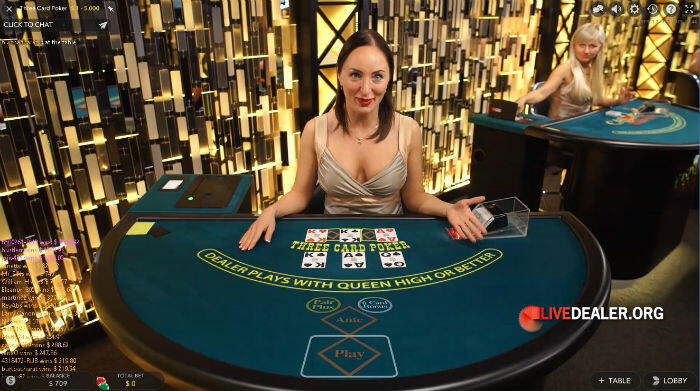 Three Card Live Poker debuted at William Hill in December 2013, so it isn't exactly new.
But it is now starting to become available at quite a number of Evolution Gaming powered live casinos, namely Unibet, BetVictor, Mr Green and of course William Hill (who now also have a dedicated 3 Card Poker table in their private area).
The aim of the game
It's pretty simple really. If you've got a better 3 card poker hand than the dealer, you win. If you don't you lose.
Of course there's a little more to it, but this is the essence of the game, and I have to say I found it quite catchy which is trouble given it isn't a great returning game (more on that later).
Here's how it works…
There are 3 types of bet.
The main game that they refer to in their house rules as Ante/Play, and
a Pairs Plus bonus side bet.
a recently added 6 Card Bonus side bet
1. The Main Game, Ante/Play
An Ante bet gets you in the game and a look at your 3 cards (shared collectively by all other players at the table). Based on the quality of the hand, you may then either:
Fold, in which case you forfeit your Ante, or
Play, in which case you go head to head with the dealer's soon to be dealt hand. This costs you a Play bet equal to your Ante bet.
Hand ranks are as follows (yes, Straight beats Flush, unlike in regular 5 card poker):
Mini Royal Flush, eg A, K, Q
Straight Flush, eg 7, 6, 5
Three of a Kind, eg 4, 4, 4
Straight, 10, j, Q
Flush, eg 3, 9, K
Pair, eg 2, 6, 6
Highest Card, kickers also apply
The dealer draws 3 cards.
If the dealer doesn't have Queen-high or better they do not qualify and you win 1:1 on your Ante, even if your hand is worse (see below), and your Play bet is returned.

If the dealer 's hand qualifies and wins, you lose your Ante and Play bets.
If the dealers hand qualifies and loses, you win 1:1 on your Ante and 1:1 on your Play. That is, you double your total bet stake.
There's an added little bonus in the main game.  If you place a Play bet and get a Straight Flush, Three of a Kind or Straight on your initial three cards, you win an Ante Bonus regardless of whether or not the dealer wins the round.
Payouts for this bonus are:
Straight Flush pays 5:1
Three of a Kind pays 4:1
Straight pays 1:1
2. The Pair Plus Bet
The Pair Plus Bet is an optional bet and its all about your cards…the dealer's hand doesn't matter. It's a bit like playing a video poker game really, only your hand is dealt by a real person rather than a computer.
Anyway, you stand to win a payout according to below pay-table, irrespective of whether your hand beats the dealer, or if you Play or Fold in the main game.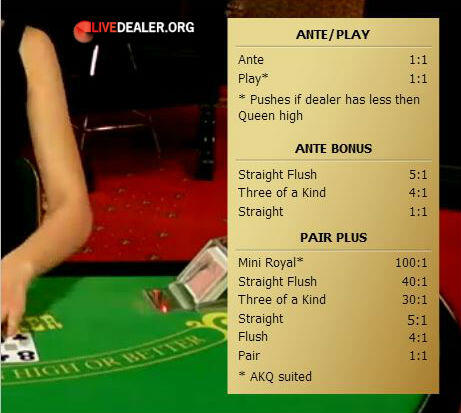 By the way, this pay-table appears when you mouse over the table limits plaque. Full house rules are also readily accessible via the game UI, and as with all things Evolution, they are unambiguous and complete.
They even disclose the game's return to player rate for optimal play. That's the good news. The bad news is that this return isn't great.
Take this side bet, and you're looking to make best 5-card poker hand combining all cards on the table – your 3 cards plus the dealer's 3 cards. Payouts (up to 1000:1 for Royal Flush) are set out on the 6 Card Bonus pay table.
Theoretical return to player rates
Optimal theoretical return-to-player percentages for the various bet options is:
96.63% (the Ante bet)
95.51% (the Pair Plus bet)
91.44% (the 6 Card bonus bet)
That's worse than roulette…even if you're playing perfect 3 Card Poker!
Still, as I say it's pretty catchy. The fact that I couldn't seem to lose during this session probably contributed to this catchiness!
https://www.livedealer.org/dev/wp-content/uploads/2014/03/3cardpoker.jpg
538
642
LD
https://www.livedealer.org/images/Livedealer-logo.png
LD
2014-03-21 07:06:54
2018-07-22 17:19:16
Playing Live 3 Card Poker