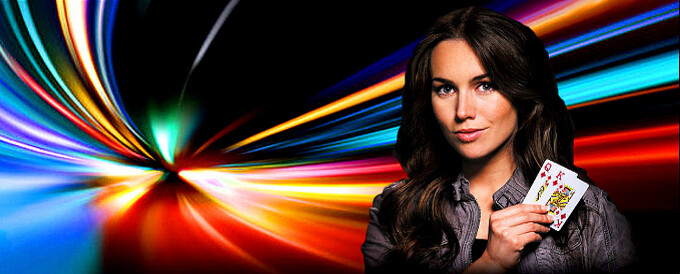 Not many months go by without new private tables appearing, changes to existing tables, or themed promotions. March had them all and more.
PokerStars casino

Big launch of the month was the opening of PokerStars dedicated private area at Evolution Gaming. Most casinos never come close to the 9 PokerStars branded tables already playable from the Riga & Malta studios.
The official press release spoke of the dedicated environment:
the whole area features PokerStars décor and branding, and all tables are served by a dedicated team of dealers wearing PokerStars-designed uniforms
In reality the dealers wear the same attractive red dresses as sister company Full Tilt casino. But as they say, if it ain't broke, don't fix it. Player accounts can be 'paired' between both Rational Group casinos allowing easy transfer of funds between Full Tilt and PokerStars.
Private tables available include the first multi-camera Immersive Lite roulette from Evolution. Basically it's a slighty stripped down version of the regular Immersive table with a more comfortable chair for the dealer to sit on 🙂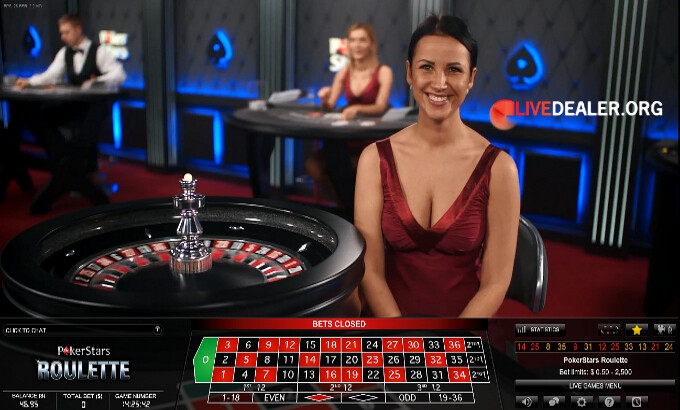 Personally, I do prefer the feel and setting of this table compared with its Immersive big brother.
Mercifully if you tire of all the switching camera angle views they can be turned off. Of course the dealers continue to give their neck muscles a workout turning to face each camera in sequence as taught.
There are 7 private blackjack tables including VIP tables and even a German language table.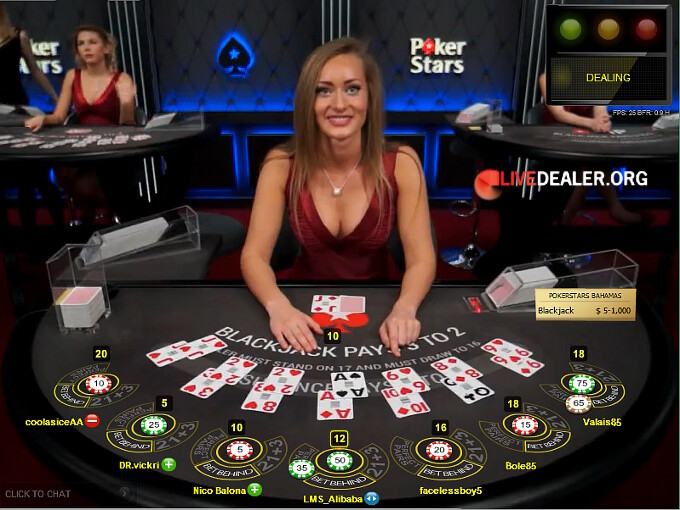 Some dealers would benefit from more training to better understand the games, before they get chosen to be dedicated dealers. I saw a PokerStars player obviously new to Evolution ask what the blackjack Perfect Pairs option was, to which the dealer politely informed the player "I'm sorry, I don't know".
Fittingly for a brand built on poker, there is also a private Casino Hold'em table complete with ShuffleMaster.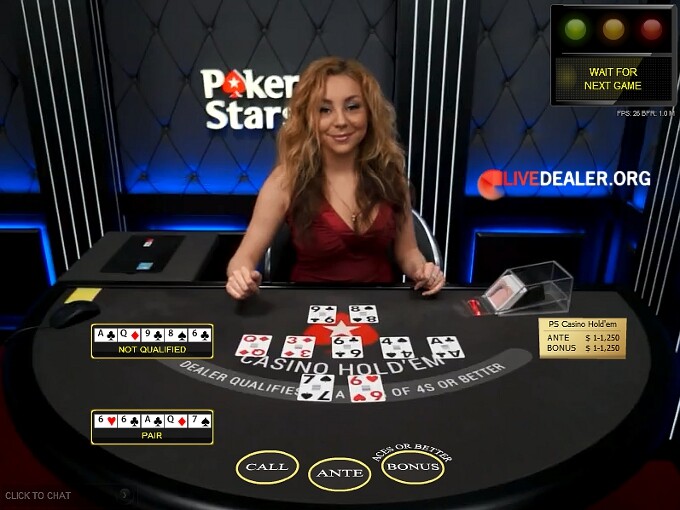 Some casino players abhor the shuffling machines, even on poker tables … I'm not sure if they really believe there is a tiny person hiding inside the machine arranging the cards, or something like that 😕
Nevertheless, the Hold'em table already seems to be popular among players. Certainly more than enough players to make other casinos sticking with multiple baccarat tables and so on envious.
The only downside of PokerStars' live casino is the requirement to download the software to be able to play any games.
---
Speed Roulette
On my regular trawl around casino tables I came across the new looking Speed Roulette at Playtech. Now visually much improved with a speed inspired backdrop and accompanying change of table colour.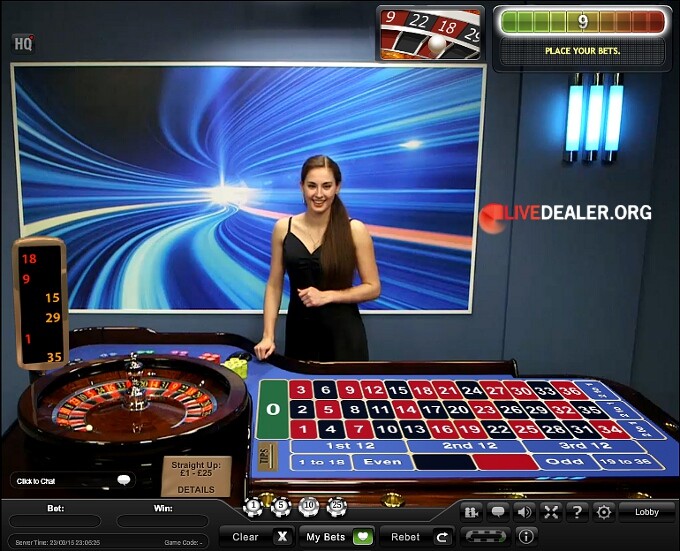 The blue table is a nice change from the standard Playtech green roulette tables. Of course, not forgetting the ivory/cream coloured VIP Artemis & London roulette tables.
If you want an extra adrenaline rush you can also play the table on mobile casino Apps. The heart stopping moments when you hurriedly try to place your bets within the 10 second time limit on a small screen with fat fingers. Then prey for none of the connection or video issues which have plagued Playtech casino Apps since launch and that are still regularly reported by players.
---
Postcards from William Hill
Promotion themed decorations are becoming the norm at William Hill's private tables. Chinese New Year decorations were removed just in time to make way for the Cheltenham Festival promotion.
Meanwhile at the newly opened Vegas tables the dealers continued to talk among themselves.
The Vegas tables had bonus promotions running while there weren't any on the main William Hill private tables and vice versa. I remain unconvinced of the merits of this approach as players simply follow the promotions and leave the other tables bereft.
---
More Playtech Apps updated
Playtech's iPad&iPhone casino Apps are still playing catch-up with arch rival Evolution Gaming in terms of stability and table range. Regular updates are certainly most welcome.
Dealer's Pair & Player's Pair blackjack side bets were incorporated into the latest updates from bet365 and Ladbrokes.
Bet365 also tweaked their App interface making navigation to the Emperor Room tables more obvious, plus the addition of the clickable element of the live lobby window.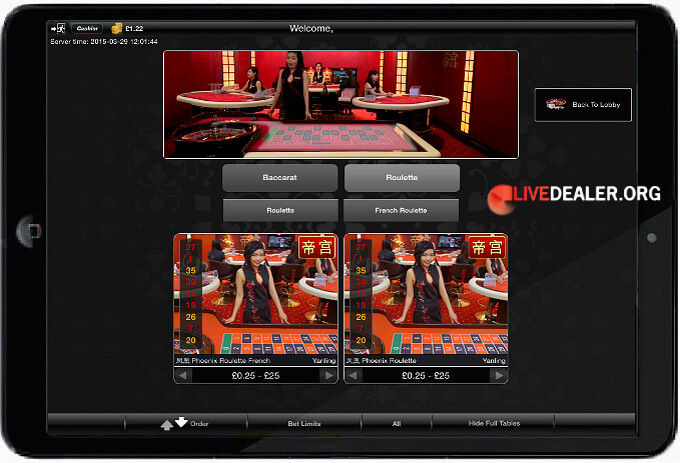 The clickable feature is limited to just the 2 Emperor tables that are playable at bet365 (the remaining Emperor tables can be played at other Playtech casinos on PC).
---
UK fallout continues
CasinoEuro joined the list of casinos no longer accepting British players due to the new UK regulations. No real big loss though as they had already closed their private table at Evolution.
Of more interest is when, or if at all, Paf will get round to accepting British players again on a new site. Especially as they are known to give some great prizes in promotions.
….. and now back to the casinos while I can still find a casino that accepts players from the UK.
https://www.livedealer.org/dev/wp-content/uploads/2015/03/FestMar.png
340
360
Unclefester
https://www.livedealer.org/images/Livedealer-logo.png
Unclefester
2015-03-30 23:13:33
2015-03-31 15:55:51
Fester's Findings - March 2015