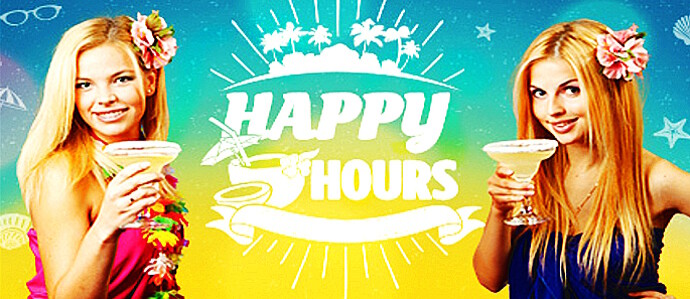 Not many whispers this month. Dealers seemed too preoccupied saying how summer still hadn't arrived in Latvia. Although that didn't stop at least one team of dealers making the best of a summer promotion.
888 summer fun
To coincide with their summer Happy Hours double comp points promotion 888 live casino decorated their private tables at Evolution Gaming. Not quite so entertaining, or headline attention grabbing as last year's live lottery draw,
but it was a nice change of scenery and I liked seeing the dealers in casual summer dresses.
Perhaps there was no money leftover for a summer cash promotion after 888's recent acquisition of Bwin.Party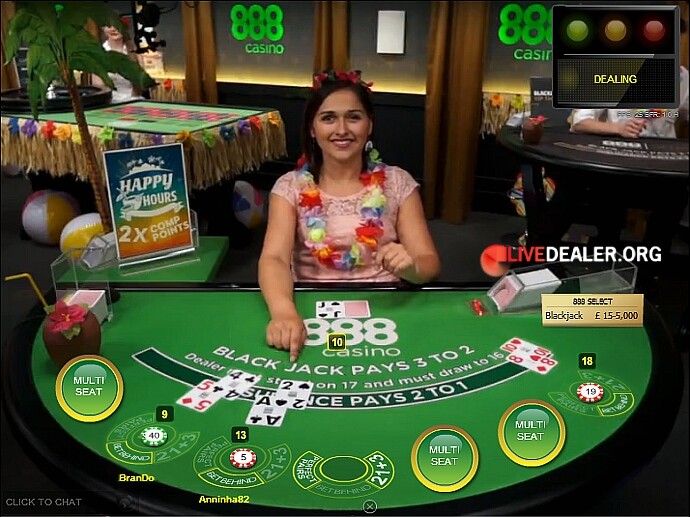 Meanwhile, other Evolution casinos are involved in summer daily draws with a nice Mini cash star prize.
---
Fortune VIP blackjack table
The high limit blackjack tables at Evolution are proving to be a winning formulae.
Well it certainly seems to be so as a former red VIP table has been upgraded to grey, with corresponding increased table limit and given the new moniker Fortune VIP.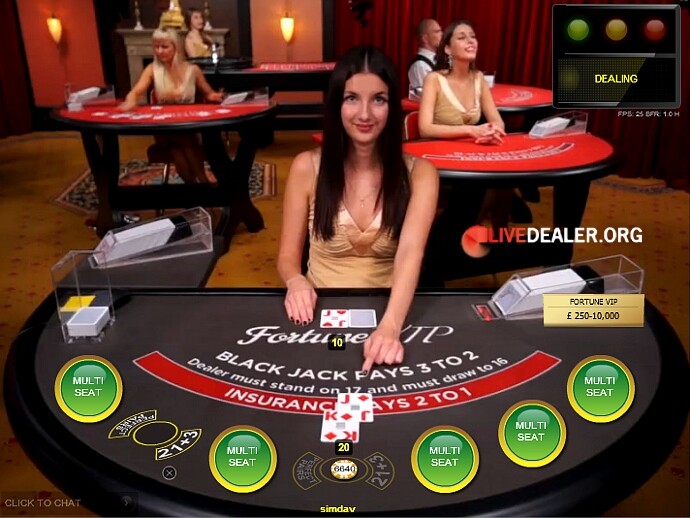 ---
Clickable tables at bet365
Way back in spring 2014 Playtech trumpeted their latest groundbreaking feature of a live clickable lobby. With Playtech's Head of Live Games, Aviv Nankin making the audacious claim of the feature creating,
"transparency for players which results in trust and loyalty"
The reality of the workings of the Euro Playtech live dealer studio was, and remains somewhat more cloudy.

Bet365 have implemented the clickable element of the feature for Euro tables. In other words, when you are watching the general floor live lobby you can now select any of the small selection of tables visible by directly clicking on them … makes you wonder how we all survived before.
---
Gala trials and tribulations
I'm beginning to think there must be some localised spacetime distortion around the Gala Casino table at Playtech. The amount of time it takes for anything involving the table to be rectified or changed.
Further to a previous blog, the table has finally regained some of its former grandeur. The attractive swish backdrop wall is back in action. Minus the Gala branding inline with the table now being called VIP Exclusive blackjack and available to Coral players. I guess the Gala letters must have been attached to the wall with industrial strength superglue given the several months it took to remove them.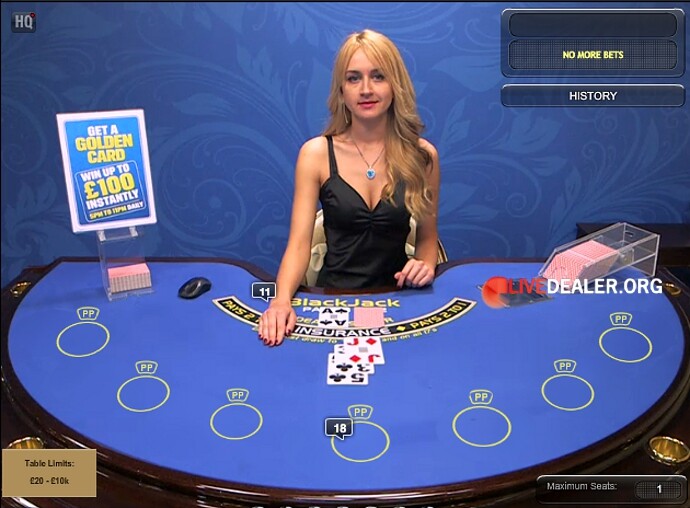 Somewhat disappointingly the table surface is still the regular plain blue Playtech. Maybe by Christmas players will have the pleasure of getting a blackjack on the patterned surface once again … Christmas 2016 that is :D.
Perhaps of more concern to Gala players is the hike in table minimum bet from a mere £2.5 to now £20 (other currencies do exist!)
Gala Coral were also in the news in July when it was announced they had merged with Ladbrokes. Hopefully not all of Ladbrokes harrying methods at Playtech will be adopted by Gala.
---
Betway iPad App
Over the last couple of years it's become almost the de facto standard that any online live casino needs to cater for mobile players. Albeit the performance of tablet and mobile device Apps can be a somewhat disappointing experience for veteran PC players.
Betway joined the mobile 'revolution' with the release of its live casino iPad/iPhone App. Games available so far are limited to just roulette and baccarat. Although you do get a choice of Microgaming's regular, turbo round and Playboy tables.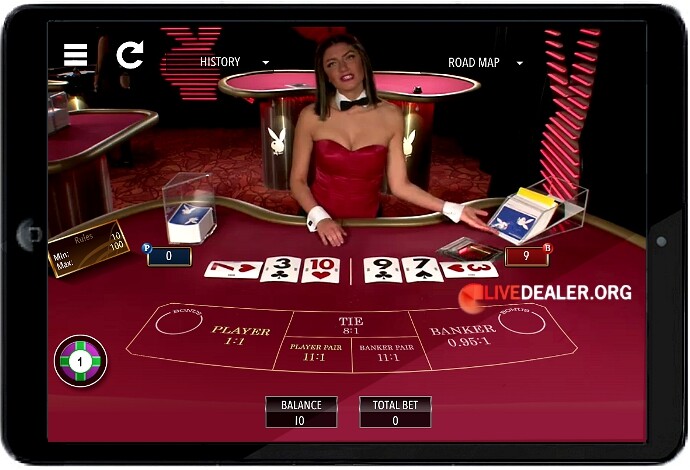 Video performance is good enough even on full screen, but the responsiveness is not the best I've seen. Definitely worth a try though if you want to increase your daily fix of Playboy Bunnies et al.
---
Evolution observations
The Immersive way of life
Having not played at Evolution's Immersive Roulette table for some time I thought I'd better give the old table another try.
Nothing different from a player perspective to report, but it was nice to see the dealers now have a more comfortable looking chair complete with backrest. The previous blue 'perching' stool looked like a real backbreaker. Past memories of the table involve watching numerous dealer back contortions and rubbing sessions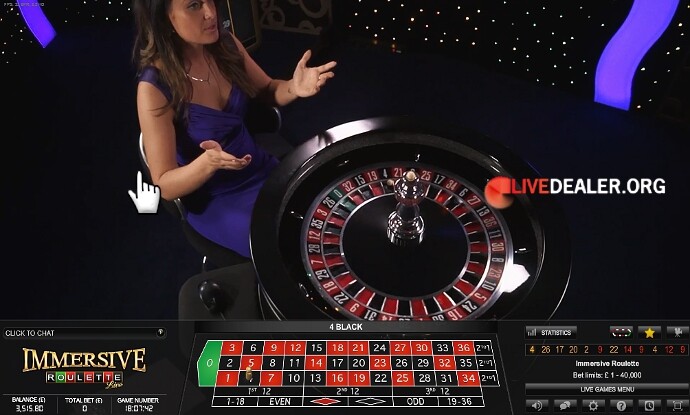 Overall though, the table still feels gimmicky and overly unnatural with the constant dealer head turns to face each camera, too much makeup, preened hair, and more scripted. Maybe it really belongs in another Riga Studio ;).
The newer general floor Immersive Lite, and private tables (at PokerStars & 777/888) are nicer playing environments in my opinion.
Lets get chatty
On a recent visit to the to the Casino Hold'em table the Shuffle Master machine was out of action, nothing new here so far. This time though the dealer had a shuffler in attendance shuffling the second deck. Compared with the usual procedure of the dealer hastily doing the shuffle after each round.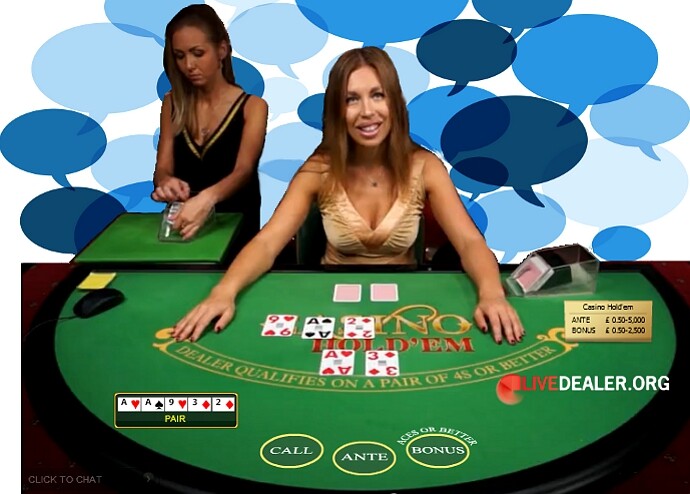 Considering how many players there frequently are at the table and the amount of chat generated I've always felt there should be another generic Hold'em table at Evolution. That, or at the very least a shuffler when needed, as is always the case at Playtech.
Such lessening of workload for the dealer allows them to concentrate more on player chat and it coincided with a quite noticeable change in way the dealers now try to engage players in conversation.
Previously Evolution dealer chat was instructed to be focussed towards players actually playing, inviting non players to join in the game by taking a seat, plus the availability of betting behind and side bets. Chat was also supposed to be rooted on the game, for example giving blackjack basic strategy playing tips, or hot and cold numbers on roulette.
But now, dealers are coming to tables and as they sit down they are saying rehearsed things such as,
"players how was your weekend?", "tell me what are you doing today", "what are your plans for the summer?"
all before any player has even said hello to the dealer. It's a similar situation when you join a table.
It all feels too much, like a preemptive bombardment so they have fulfilled their latest dealer checklist.
This new conversational approach and way of engaging players is much more akin to Euro Playtech dealer training, but it needs refining… everything in moderation please.
---
Player nicknames that make you smile
Finally for July, returning to the issue of transparency or lack of. I couldn't help but smile while playing a few rounds of roulette at Playtech.
There was a player with the nickname Clown at the table. Presumably he was having a rather successful run of wins as he was repeatedly tipping the dealer after almost every result.
The dealer dutifully thanked the player for each tip as per Euro studio training. I couldn't help but notice how her wry smile seemed to be getting slightly bigger each time she said,
"thank you Clown…"
In my mind I was wondering if she was thinking the same, how his nickname suited his blind faith in sharing some of his Playtech winnings with the dealer.
---
https://www.livedealer.org/dev/wp-content/uploads/2015/08/ff-july.png
336
358
Unclefester
https://www.livedealer.org/images/Livedealer-logo.png
Unclefester
2015-08-02 21:14:36
2015-08-02 21:16:54
Fester's Findings - July 2015