Most of the bigger live games providers are now publishing theoretical returns for their games which is a good thing. Depending on the provider the level of disclosure varies from:
rates provided for all games and all bet types (ie and main bet and side bets); or
rates provided for main bets only (not for side bets); or
no rates provided at all.
Where provided, published theoretical returns have been listed here.
A few observations from the exercise that may or may not be obvious to some of you anyway are set out below.
Avoid side bets
Side bets are sexy, promising big payouts. On the face of it 100:1 can sound a whole lot better than boring old even money for the game's main bet. But once probability is thrown into the mix those big payouts aren't so attractive.
Without exception, you will find that that the expected returns for these bets are lower (usually considerably) than the boring old main bet.

Don't forget the French roulette table
If even money roulette bets are your thing…play a French table. The La Partage rule does give you slight boost in expected returns.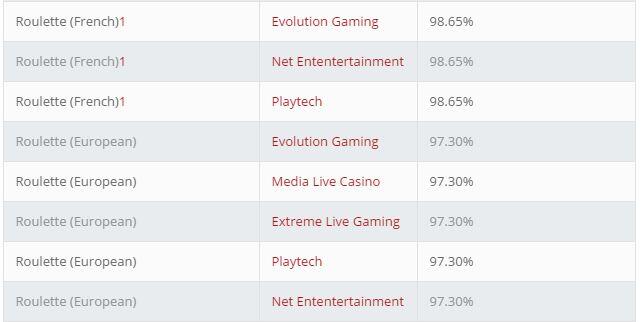 Rate provided not always correct
For the most part, published rates are on the money. But just because it's published in the house rules, doesn't make the number provided gospel.
We think Extreme's 99.59% blackjack RTP should be 99.39% (per live blackjack house edge page)

There are a couple other incidents of slightly different numbers provided for games with identical house rules…suggesting one (or both) are not correct.
These are theoretical rates of return
Lady luck, the level of skill you play with (where skill is required), and how long you play for will all mean that your actual returns will deviate from theoretical ones (just as well otherwise we'd never win!).
You can find examples of audited actual returns here.
https://www.livedealer.org/dev/wp-content/uploads/2016/02/sidebets.jpg
122
635
LD
https://www.livedealer.org/images/Livedealer-logo.png
LD
2016-02-25 11:29:27
2016-02-25 11:29:27
Live game theoretical returns