With Christmas just around the corner here's a selection box of casino delights from the month that was November.
Prestige baccarat
The ongoing battle for baccarat supremacy between Evolution and Playtech took another turn in November with the launch of a new table from Playtech. The Prestige Mini Baccarat table to use its full name, complete with dealer squeeze is almost identical to the Baccarat Squeeze tables at Evolution, albeit with some teaks and refinements.
Visually the HD multiple camera angle table looks great with a new interface and is surely aimed at appealing to Asian and non-Asian players alike with its striking appearance.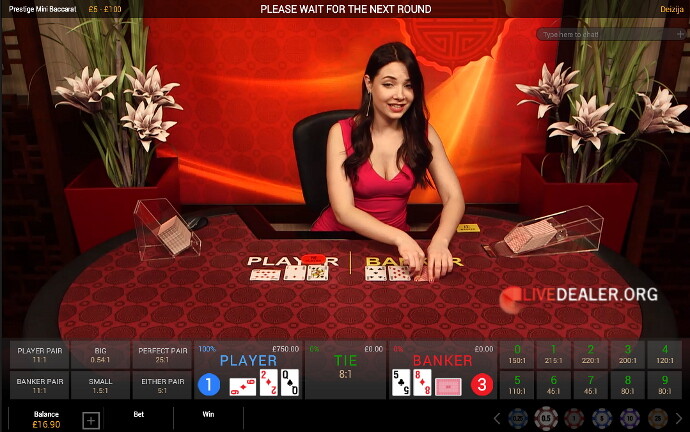 The recurring Chinese (Shou) symbol on the table surface and backdrop wall reminds me of the recurring maze pattern from the new Westworld tv series, but that's no bad thing as I'm a fan of that and I can't really fault the new table.
Unlike its Evolution precursor the new table from Playtech features the Egalite side bet. It's also distinguishable in that the dealer only performs the squeeze when players have betted on the main bets and they don't perform the deal if there aren't any bets. Currently this equates to less waiting around if you miss a betting round with so few players at the table….and less tired fingers for the dealers ;).
Mercifully Playtech have not gone the route of using an inbuilt shoe scanner, so there shouldn't be any teething problems such as those that afflicted the launch of the Evolution tables.
Prestige roulette was singularly available at bet365 in November with a larger rollout across Playtech casinos expected later.
---
White tables
Evolution Gaming's recently opened studio in Romania has been put to good use with the introduction of new generic English language blackjack tables. The so called white tables are open to non Romanian players at a wide spectrum of Evolution casinos.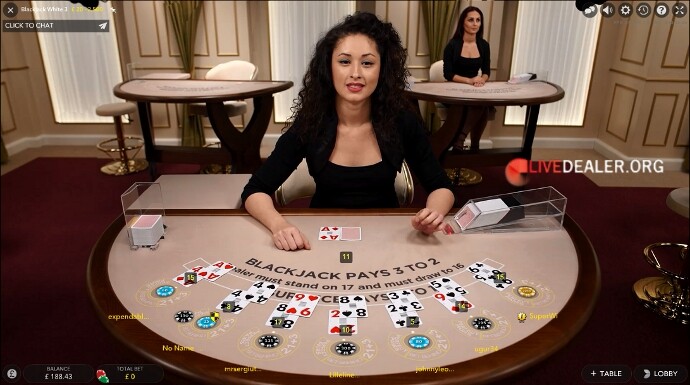 At the time of writing 3 blackjack tables open daily although clearly more capacity already exists.
Other than table colour there's nothing to differentiate the tables gamewise in terms of limits and so on. But the new studio location and dealers are a welcome addition giving players the chance to speak to dealers from another country besides the usual suspects of Latvia and Malta.
---
Betway expands, again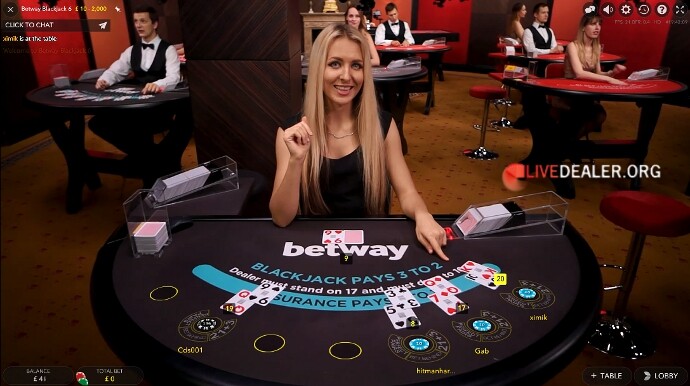 Surely the casino most desperately in need of a private table area at Evolution has to be Betway. The total number of Betway tables increased again in November to 7 with the addition of 2 more private blackjack tables. The latest tables utilising space vacated in the red VIP area at Evolution following the relocation of the high limit Grand and Fortune tables to their new home in September.
---
Roulette table makeovers
Throughout 2016 Evolution have been revamping their roulette tables with the introduction of a new interface, plus HD wide format and new backdrops. The latest table to have a facelift being the Swedish language table.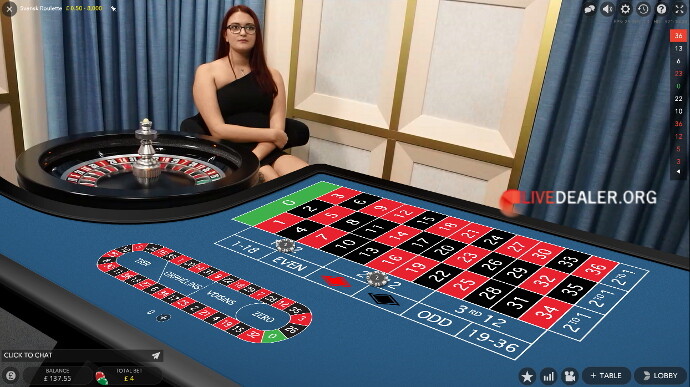 Svensk roulette's new backdrop is pretty simple, but it works for me. The new fresh look is in keeping with the other language tables at Evolution, but unique enough to distinguish it without the need for ostentatious design features or the use of my pet hate casino fireplaces.
---
Matchday tables
Bet365's old private tables at Playtech were back in action in Novemeber following their Halloween transformation. The tables open Saturdays under the moniker Matchday and feature a football stadium backdrop plus change of attire for the dealers.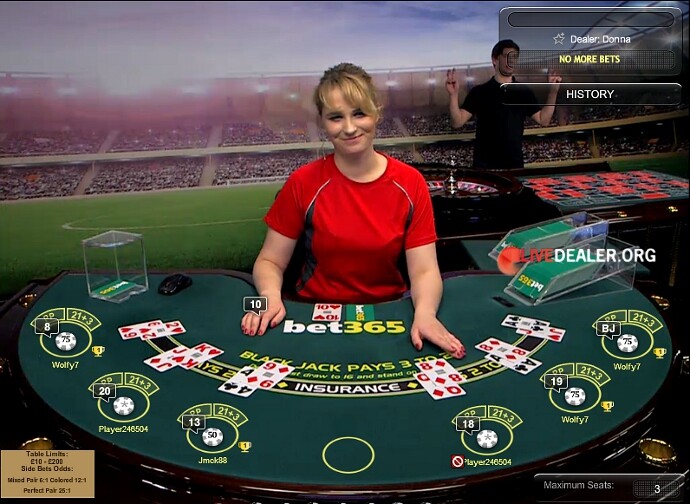 The extra blackjack seating capacity is welcome, even if it's only at weekends. Surely the area will see more action at Christmas with dealers in festive décor, something probably very similar to 2015.
---
Something for frugal players
As rival casinos press ahead opening extra private tables there was a pre Christmas treat for players on a tight budget at Ladbrokes.
To quote LD,
"the low limit seats that are becoming rare as hens teeth!"
Those hen teeth became slightly less rare with the reclassification of one of Ladbrokes private blackjack tables as Low Limit. The new table minimum of £/€ 1 should be a hit with low roller players.
More players are definitely something Ladbrokes' private tables need, especially in the morning shift and I'm sure the Playtech dealers will be grateful for more table action.
---
Something less desirable
Of all the tables at Playtech, Gala's old private blackjack table personally generated the most happy memories with my favourite English and Italian dealers. But it's also been the source of several gripes along the way including studio personnel denial of several months camera pink hue, and bored CSR(or whoever) to dealer messaging exchanges.
Back in March the table reopened as VIP blackjack and switched to being a generic table.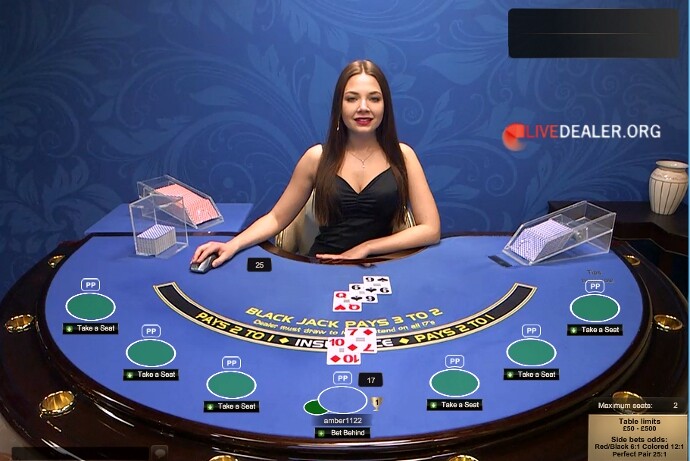 Most recently, the table now comes with overly loud background noises including a nearby roulette wheel and dealer chat from an Italian table.
Obviously its a studio environment and you can't expect everything to be perfect just to your liking. But given that the blackjack table now comes with the highest minimum limit at the Riga studio you would expect more VIP treatment and less distraction for your premium rate seat.
---
Poker prize draw changes
As Christmas rapidly approaches and no doubt numerous promotions with some big prizes to be won there is just time left to reflect on one promotion from November.
My favourite promotion used to be the hourly poker cash draws held a couple of times a year at William Hill.
I say used to be my favourite because William Hill has changed the format of the draws to just another draw where the high rollers generate the most tickets and have the greatest probability of winning the cash prizes. Previously players could only generate a single ticket from each poker table they played on in the allotted hour by wagering a specified amount.
I understand why casinos pander to high rollers with draws and leaderboard races geared towards players gambling more, but the old poker draw format was some different that rewarded less affluent players who stuck around the private tables all night generating hourly tickets.
Which leads onto the other change in the hourly draws. Players no longer needed to be online to win the cash, previously they had to be logged onto William Hill's live casino at the draw time, then make a decision whether to take the cash or gamble for a bigger prize with the potential to lose it all.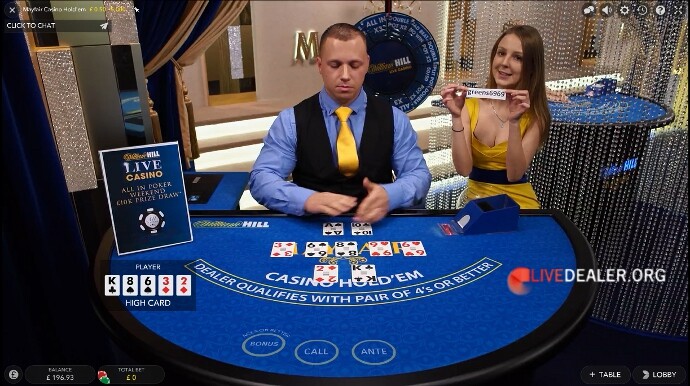 From the November draws I saw very few players were online when the Promotion Host/Junior Pit Boss came to the table already clutching the winning names (now drawn behind the scenes). So there was considerably less spinning of All-In prize wheel, leaving the Host with nothing to do but exit stage left unthanked and unloved for cash prizes won.
The old format live draws were entertaining. They involved some fun as the Hosts pulled names from the goldfish bowl. Then waiting to see if the player could be located online, with players at the table hoping they weren't so another name could be drawn, maybe their name this time. Then making the decision whether to gamble with a spin of the wheel depending on how much had already been won or lost playing poker collecting draw tickets.
Oh well, nothing lasts forever as they say, it's just a shame William Hill had to spoil my favourite promotion.
---
https://www.livedealer.org/dev/wp-content/uploads/2016/12/N2016.png
340
360
Unclefester
https://www.livedealer.org/images/Livedealer-logo.png
Unclefester
2016-12-04 21:51:25
2016-12-04 21:51:25
Fester's Findings - November 2016