The UK Gambling Commission ('UKGC') recently completed and published their 2018 review of online gambling.
Coming out of the review are some interesting facts and figures on the UK gambling market, as well as a bunch of policy recommendations, and areas identified as requiring further investigation.
Snapshot of the UK Online gambling market
Neil McArthur, UKGC CEO describes Britain as having the, "largest regulated online gambling market in the world". Here are the facts and figures contained in the review underlining this statement.
The online gambling market is now worth £4.7 billion (Gross Gaming Revenue…GGR), accounting for 34% of the GGR for all forms of gambling in Britain (£13.8 billion). It is estimated that 9 million Brits now gamble online.
Growth in the online market is still strong, but slowing and expected to slow further in future given the market's maturity.

Online casino remains the largest segment.
As of January 2018 there were 495 online operators with a total of 862 licensed activities for a range of betting, gaming and gambling software products. But a small number of operators enjoy the bulk of the overall market share.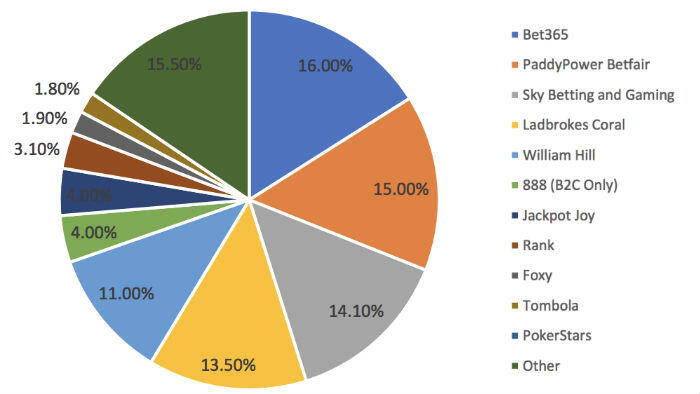 Looking at the online casino segment there is less concentration, with only Ladbrokes Coral enjoying a market share greater than 10% and operators outside the top 10 owning 44% of the market.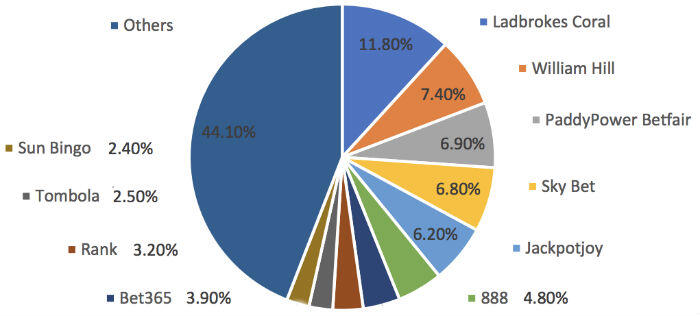 Growth in mobile penetration continues to be strong; expectedly for younger demographics, surprisingly also for older age groups.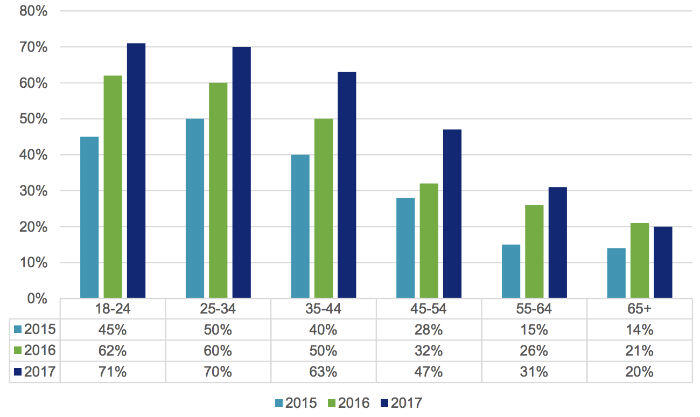 According to UKGC research, your average British online casino player is 32 (36 for sports betting, 43 for bingo), male and spends £1,000 per year on their gambling habit (£250 for sports betting and bingo).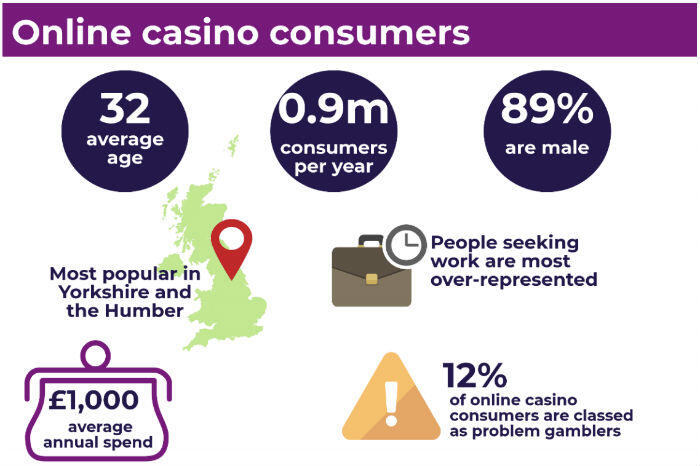 Source of all graphics: UKGC 2018 Review of Online Gambling
Policy Recommendations
A number areas were identified as requiring immediate policy action.
Age verification
Incidence of underage gambling was not considered too high, but still improved speed and effectiveness of the age verification process will be sought.
Customer identification
Operators will be required to have more information on their customers at an earlier stage. That is, they'll have to know their customer before the can gamble, not just before they can make a withdrawal.
Unfair terms and conditions
This has been a bug bear of the UKGC and Competition & Markets Authority for some time, and follows from their joint 2016 review into unfair terms and conditions. The push for full disclosure of terms (especially applying to bonuses and promotions) and stiff penalties for misleading activity will continue.
Problem gambling
Operator requirements to interact with customers who are, or are at risk of developing into problem gamblers will be strengthened.
Areas requiring further work
A number of other areas were identified as requiring further investigation before policy determinations are made.
One that will have operators raising their eyebrows was the the question of whether or not credit gambling (ie availability of credit cards as a deposit method) should be permitted. The concern raised in the review is that players are able to risk more than they can afford to lose when a credit line is available. Credit card deposits are estimate to account for up to 20% of all online deposits.
Most virtual wallets (Skrill, PayPal, NeTeller etc) can also be credit card funded, so restrictions on credit card purchases could also impact the availability of these deposit methods.
Other areas flagged were:
Operator treatment of dormant accounts and the charging of  "dormant account fees"
(Any push to make this illegal welcomed by this author)
The need to make changes to ensure that consumers can withdraw funds more easily
You know that annoying situation when an operator lets you gamble without too much fuss, then when you want to cash out they all of a sudden need to know you better (KYC verification)? It may be that the requirement to get to know customers at an earlier stage (policy recommendation above) will go a long way to sorting this issue out.
https://www.livedealer.org/dev/wp-content/uploads/2018/03/onlinecasinoconsumers.jpg
466
700
LD
https://www.livedealer.org/images/Livedealer-logo.png
LD
2018-04-04 09:02:47
2018-07-26 15:25:06
UKGC 2018 Online Gambling Review