Pragmatic Play have expanded their selection of 7 seat live blackjack tables considerably.
Open the Pragmatic lobby now and you'll find 6 new live blackjack tables. Blackjack Azure they're calling them.
There's also a new Roulette Azure table for good measure.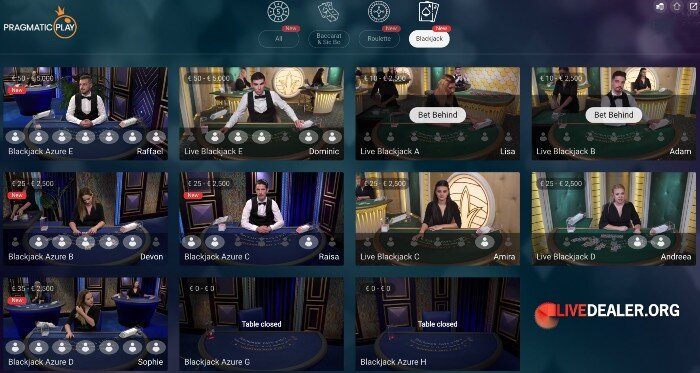 New Live Blackjack Azure tables
If you have ambitions to service plenty of blackjack players, you need plenty of 7 seat live blackjack tables. '1 to many' deal tables aren't for everyone. Nor is the prospect of trusting money to the other players by betting behind.
Pragmatic's 7 seat blackjack table range did need a boost. So these additions are welcomed. Welcome also is the news that even more are on the way. Another 2 before month's end. A further 2 VIP Blackjack Azure tables shortly after that.
These 10 additional tables should give players a fighting chance of finding their own seat during busier times. At the rate Pragmatic is signing up new casino clients, busier times are becoming a more common occurrence.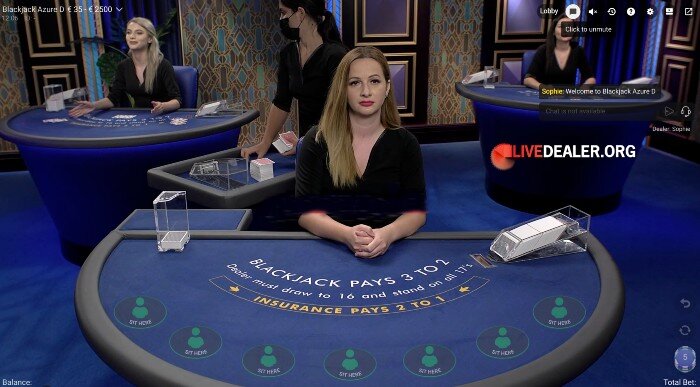 Any special features on Blackjack Azure?
Consistent with their name, the Azure tables are themed in royal blue. But colour isn't the only new feature that distinguishes them from the green and gold tables.
The same blackjack house rules apply on these tables. But they offer more limit range.
They also offer 'Deal Now' functionality. Should you manage to snaffle a table to yourself, something that is much more likely now, you get the option to instruct the dealer to begin dealing as soon as you're ready, rather than have to wait for the standard 8 second count.
Live Roulette Azure
Another live roulette table is not so essential. After all, each of the tables already offered by Pragmatic are able to amply service many players. European Roulette bets and payouts apply as on other tables, so your choice of playing the Azure table will be driven largely by colour preference.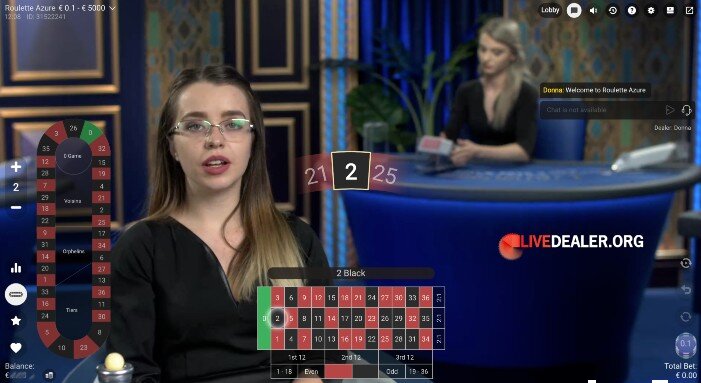 One added feature is the addition of a 4 sectors Racetrack with neighbour bets selector, and a special bets selector for bets such as Final en Plain, Finales a Cheval, and Full Complete.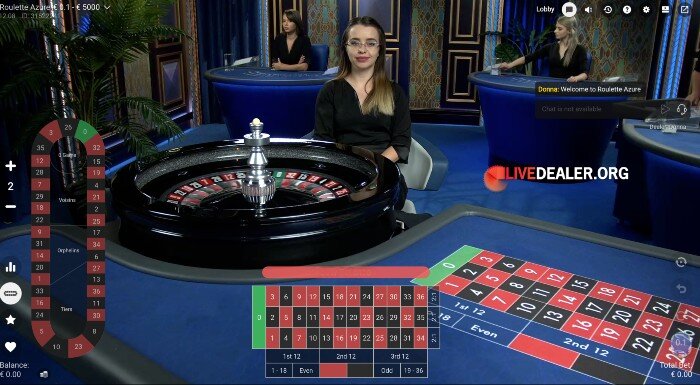 But the Azure additions are a blackjack story.
Pragmatic curiously launched with an abundance of '1 to many' play tables, ie baccarat and roulette. They were a bit light on for 7 seat limited blackjack tables.
This balance is now being redressed.
https://www.livedealer.org/dev/wp-content/uploads/2020/09/azure.jpg
224
400
LD
https://www.livedealer.org/images/Livedealer-logo.png
LD
2020-09-14 11:42:23
2020-09-14 11:42:23
Pragmatic boosts live table range: Azure blackjack & roulette