There are now 5 intra-state online casino markets in the United States. All in different states of maturity. State regulated casinos in Michigan, Pennsylvania, New Jersey, Delaware and West Virginia have been taking bets from local players now for anywhere from 7 years to a handful of months.
Connecticut is soon to enter the fray and it won't be the last state to do so.
To get an idea of how each state's industry is tracking, revenues from January 2020 until now have been charted below.
The data comes from each state's respective regulator, and includes gross gaming revenue (all games including slots, table, RNG, live dealer as well as peer to peer poker) from all operators.
New Jersey monthly online casino revenue
Data source: New Jersey Division of Gaming Enforcement
First bets taken online: 2013
Population: 8.8 million
New Jersey is the most mature of the large US state markets, having opened in 2013. It enjoyed slow and steady growth in the years proceeding the above series. This growth accelerated noticeably from February to May 2020, before moderating slightly but still increasing at a faster rate than previous years.
For perspective, New Jersey's net casinos took 6 years (2014 to 2019) to hit the $50 million per month mark. They added a further $50 million to this rate, hitting the $100 million, in the 10 months from February to December 2020.
No doubt some of this rapid growth is due to closure of land based casinos for during the first half of 2020. Online operations would have entirely cannibalised play from traditional casino floors during this period. A degree of patron reluctance to leave the home and get out amongst the crowds after casinos opened their doors may well have continued the cannibalisation story.
What is clear from the above chart, is that the trend line through the first half of 2021 is still rising.
Delaware monthly online casino revenue
Data source: Delaware Lottery
First bets taken online: 2013
Population: almost 1 million
Delaware was the first state to take regulated online casino bet. But aside from this claim to fame, which can never be taken away from them, there's not much else to report here.
A very small state, with just the three online casinos (no live dealers by the way) and monthly gross gaming revenues that may struggle to ever reach $1 million again (May 2020 will take some time to top, in the absence of another lockdown). They will likely remain the baseline for years to come.
Pennsylvania monthly online casino revenue
Data source: Pennsylvania Gaming Control Board
First bets taken online: July 2019
Population: 12.8 million
Pennsylvania's reasonably recent decision to open their market had all key players in the industry eager to get involved. Operators and providers alike were clambering for licenses. Live dealer providers were prepared to make the costly investment in local studios. The numbers show all this eagerness was justified.
After a reasonably slow initial 6 months during which more operators came online, the numbers really began to climb quickly in 2020. As in New Jersey, Pennsylvania's online casinos experienced turbo charged revenue growth  from February to May 2020. From there growth has moderated slightly, but continued to the point where casinos are taking over $100 million each month.
West Virginia monthly online casino revenue
Data source: West Virginia Lottery
First bets taken online: July 2020
Population: 1.8 million
West Virginia was keeping Delaware company on the baseline there for at least it's first couple of months. But the divergence is clear now. With twice the population of Delaware, and clearly a far high propensity to gamble online (almost 6 times Delaware's GGR in July), West Virginia looks set to soon top $5 million per month.
Michigan monthly online casino revenue
Data source: Michigan Gaming Control Board
First bets taken online: January 2021
Population: 10 million
Michigan is another big potential market that had the industry jockeying for position. Evolution have already launched their studio there. Playtech's Michigan studio is on it's way. Again, all the hype has been justified. Michigan has enjoyed unquestionably the most successful industry launch of any US state to date. This is very clearly illustrated by the chart's green line which tracks almost vertically to begin with.
In the space of just 2 months, online casinos in Michigan were raking in close to $100 million per month. Numbers similar to the much longer operating New Jersey and Pennsylvania markets. Curiously this meteoric growth does seem to have flatlined from March 2021. But then, four months don't necessarily make the trend.
In case you're more of table person here is the data used to construct the above charts.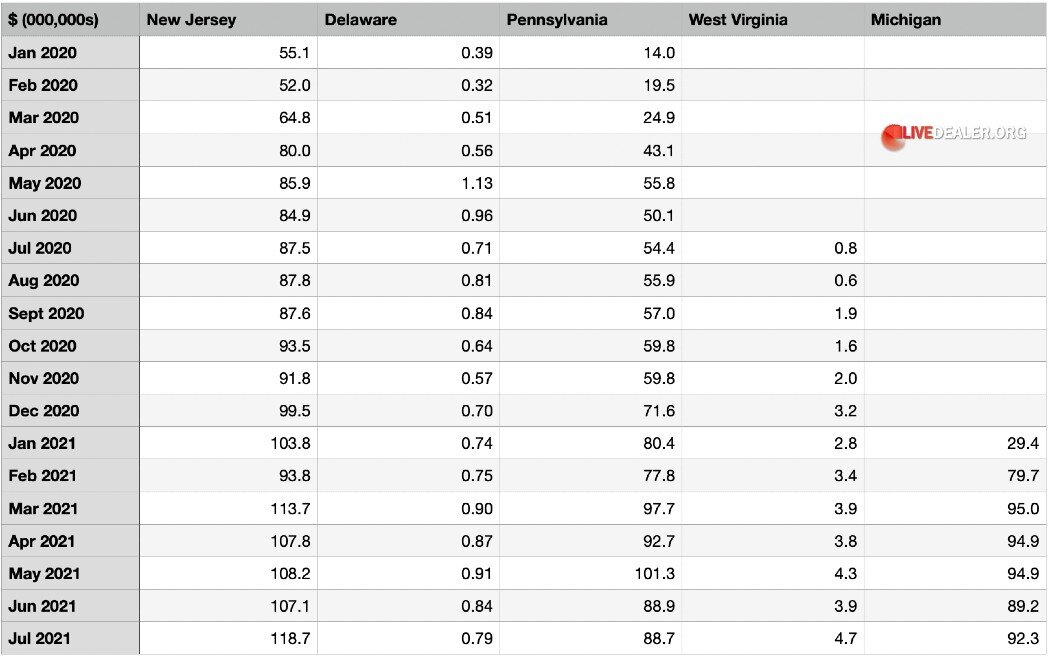 https://www.livedealer.org/images/Livedealer-logo.png
0
0
LD
https://www.livedealer.org/images/Livedealer-logo.png
LD
2021-08-27 05:13:41
2021-08-27 05:54:50
Michigan, Pennsylvania, New Jersey net casino monthly revenues compared