Playtech have added another live blackjack variation – Cash Back Blackjack.
It's up an running now at a bunch of Playtech powered casinos, including 888 where the below game was played. Technically, it's been up and running for over a year now, but only exclusively at Stoiximan/Betano casinos. It has now been launched more widely.
It's a 1-to-many deal table, so an unlimited number of players can take part in the deal. It employs Playtech's nifty real-to-virtual card transition so your play choices are clearly presented to you, irrespective of what other players decide to do.  If you've already played Playtech's All Bets Blackjack you'll be familiar with how the deal works. One slight difference…rather than a manually shuffled 8 deck shoe a shuffle master is used here (still 8 decks).
Also like All Bets Blackjack, you have a 6 side bets to choose from:
Buster
Top3
Lucky Lucky
Dealer Pairs
Player Pairs
21+3
Don't plan on dwelling on these. You can check the All Bets Blackjack, or this game's house rules link to learn how they work. The most important thing to know about them is that they are a low returning play and better forgotten about anyway.
In any case, with Cash Back Blackjack it's the main game we're excited about.
What is Cash Back Blackjack?
As it's name suggests, this table gives you the option of cashing out during the deal if you are not liking your chances of beating the dealer. An early surrender option of you like, but here the cash back amount offered is house calculated, and will vary depending on the state of the deal.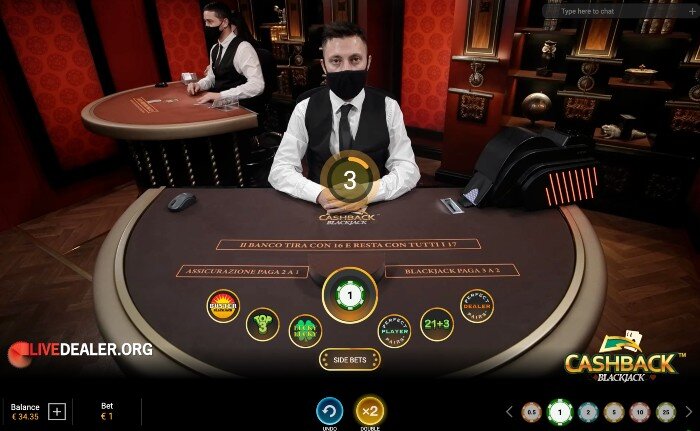 The house calculated cash back amount will be low when you're hand isn't looking too good, as below.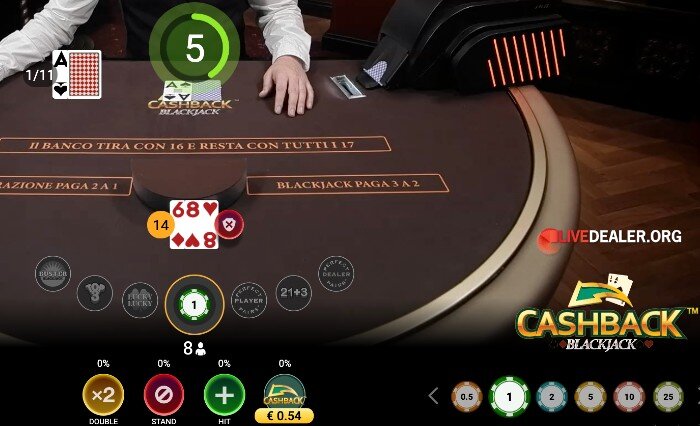 When you're in a strong position, you'll be enticed with a better cash back offer.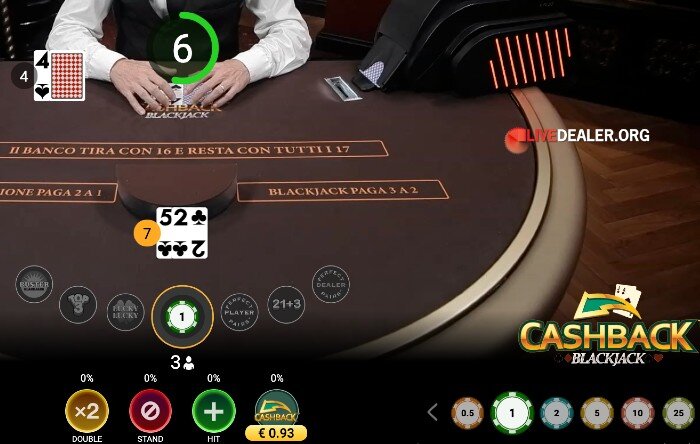 The cash back offers continue through the deal.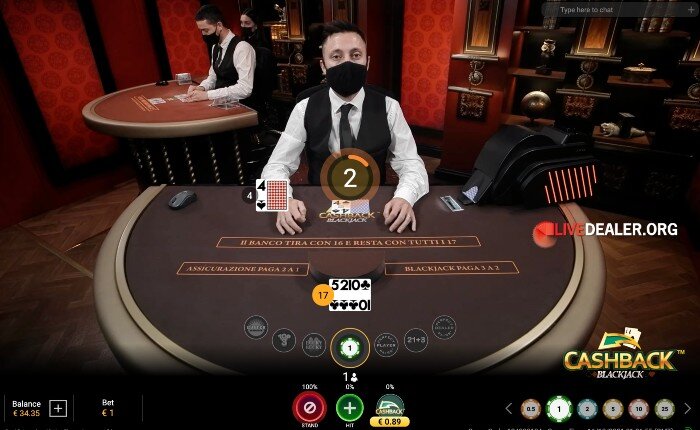 If you Split, both hands will be offered cash back alongside Hit/Stand options, unless you have Split Aces.
Also, you won't get a cash back offer after choosing to Double Down.
Should you select the cash back offer at any stage of the deal, then regardless of how the deal completes, you get paid. This is illustrated in the pic below, showing a €0.73 'win' (from a €1 stake) despite a dealer win – which is the whole point of an early surrender option.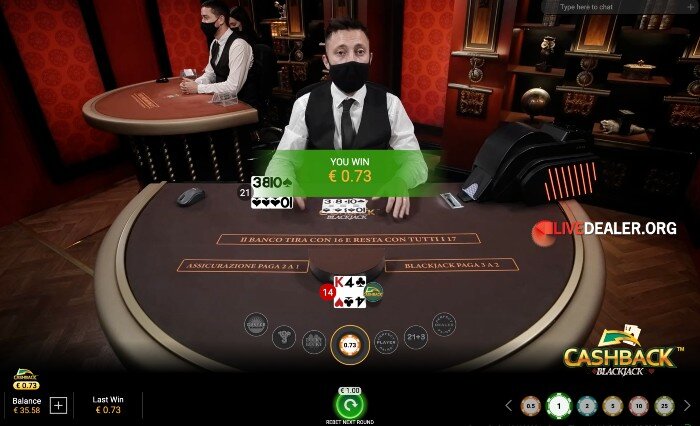 Of course there are many instances where you will not want to take the Cash Back option. Indeed, given the fact that the amount is house calculated, I strongly suspect you are better off ignoring it and just playing basic strategy on main game!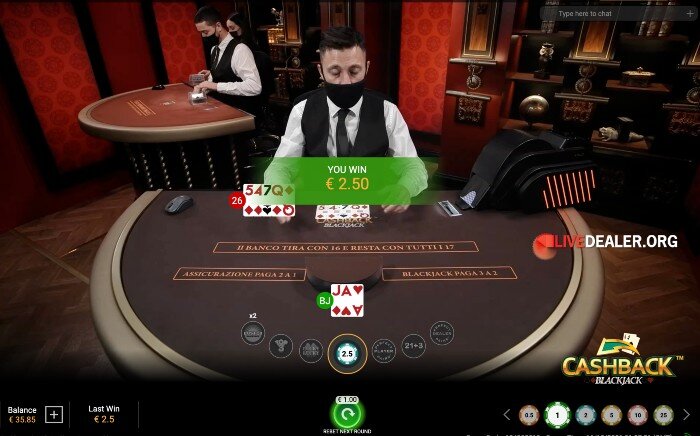 It's worth noting though that this is the first live blackjack table from one of the major providers that is offering an early surrender payout.
Theoretical Returns
If you stick to the main game and play tight basic strategy on this table, you'll enjoy a very healthy theoretical return of 99.56%.
The side bets will have you earning 91% to 96% of your bets back.
Did I mention it's in Italian?
Yep, for some reason Playtech have gone with Italian dealers for the launch of Cash Back Blackjack. Hopefully there'll be an English language table following shortly.
https://www.livedealer.org/dev/wp-content/uploads/2021/10/BlackjackCashback-placebets.jpg
431
700
LD
https://www.livedealer.org/images/Livedealer-logo.png
LD
2021-10-16 05:27:18
2021-10-18 22:50:57
Cash Back Blackjack Live from Playtech