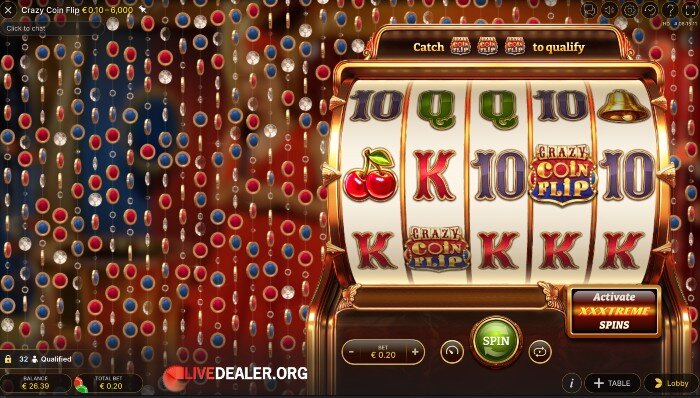 Crazy Coin Flip is Evolution's latest addition to their stable of live game shows.
Looking at the screen grab above, you'd be forgiven for thinking that it's an RNG slot game rather than a live dealer game.
And you'd be right. This is a slot game. A good old fashioned 5 reel slot. You set your bet value and hit the spin button. Outcomes are entirely computer generated guaranteeing collective player returns in the lowly 96% range.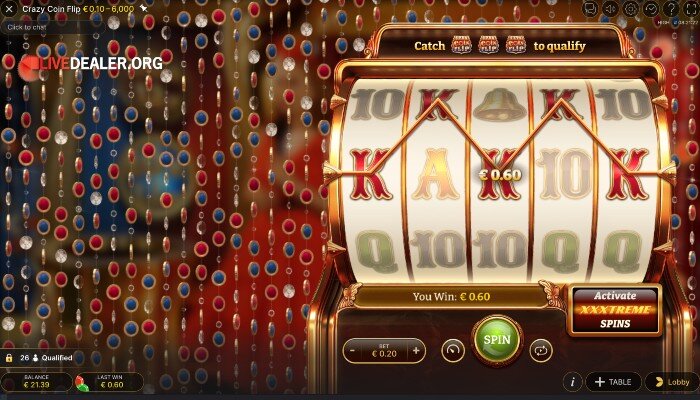 As with most slot games your wins come often. Sometimes they're even more than the cost of that spin. But the steady decline in your bank balance is as inevitable as death and taxes.
Something you may notice as the boredom of pushing a button begins to set in, is activity behind the beaded curtain left of the slots. It's a bit hard to make out because it's out of focus. This is the Crazy Coin Flip bonus game.
Crazy Coin Flip
Crazy Coin Flip is the live part of this game. Well, the part with a live presenter anyway. Behind the beaded curtain a live presenter is conducting the bonus game for this slot. To win through to this bonus you need to hit three scatters (Coin Flip symbols).
Each spin sees a bunch of players qualifying for the bonus round. There's a little indicator bottom left of your game window telling you how many qualifiers there were. Kind of a tease if you never get there.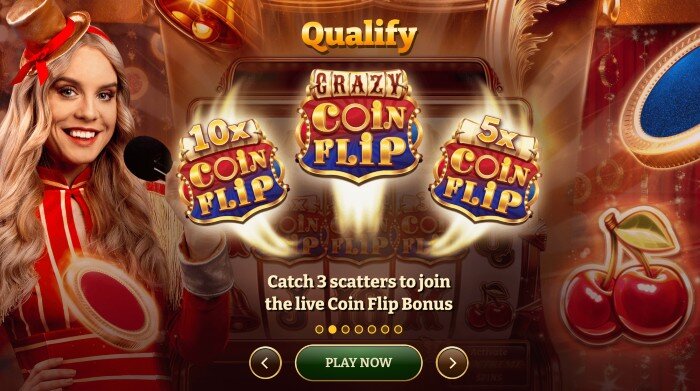 This is as close as I got to the coin flip. The pic on the game's introductory explanation.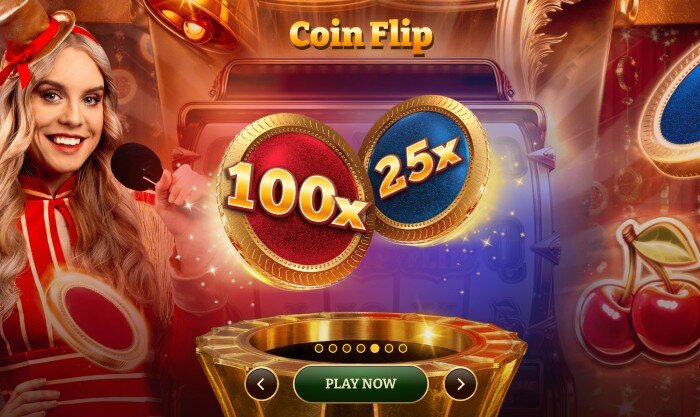 The Coin Flip bonus round is simple (and we've seen it before as one of the bonus rounds on Crazy Time).
A virtual coin will have random multipliers assigned to each of its 2 sides. The multipliers range from 5x to 100x. Then the presenter pulls a big lever and the coin is flipped (virtually), landing on one of the sides to decide the final multiplier for the bonus round.
So yes, even the coin flip is a computer generated outcome. There is no outcome in this game that is determined by a physical act of random chance.
As for the Crazy part, this could refer to Evo's audacity in categorising this as a live game. It could refer to the likelihood of players considering it a live game. It could refer to the fact that despite all this, it will probably be popular, as all game shows seem to be.
What Crazy does not allude to, is the returns you'll earn playing this game.
Crazy Theoretical Returns
96.05%. Get hooked on this game and your casino balance will need more top ups than usual.
https://www.livedealer.org/dev/wp-content/uploads/2022/06/CrazyCoinFlip-coinflip.jpg
417
700
LD
https://www.livedealer.org/images/Livedealer-logo.png
LD
2022-06-16 02:05:09
2022-06-16 02:05:09
Evolution's Crazy Coin Flip