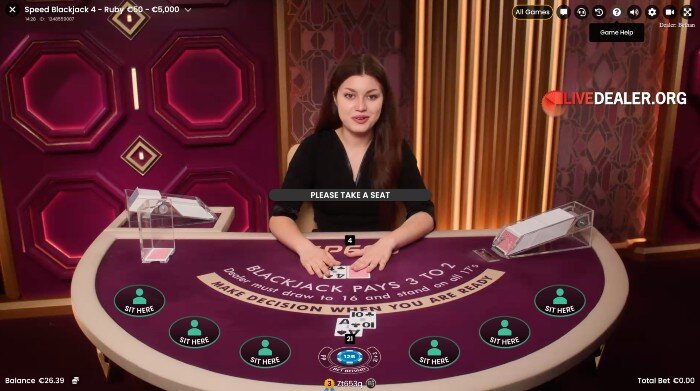 This quite lush looking table is Live Speed Blackjack from Pragmatic Play. Speed Blackjack Table 4 – Ruby to be precise.
Why is it called Speed Blackjack?
Well for one, the dealer really rips through the deal, with almost no pause between game rounds. Don't take my word for it. Watch the video at the bottom of this post. It has NOT been sped up. Although you've be forgiven for suspecting it has.
Dealer Bethan's card work is lightning fast. Her accompanying banter almost as quick!
But the dealer's speed isn't the only reason this is a fast round of Blackjack.
First to decide gets their card
Classic 7 seat blackjack follows a pretty familiar deal convention. Players are prompted in turn, left to right (from Dealer's perspective) of the table to make their decisions to Hit, Stand, Double Down or Split. Anyone whose played enough blackjack will know this can make for a long round on a full table.
Speed Blackjack shakes this up a bit by letting all players choose their next move at the same time, with cards received in order of decision making.
Or, as Pragmatic's, How To, section on Speed Blackjack puts it…
"The core difference from Classic Blackjack is that [with Speed Blackjack] all players are prompted to make their decisions right after the hidden card has been dealt by the dealer and will get their cards depending on the speed of making a decision."
This first in, first dealt system applies each time players are required to make a decision and it speeds up the game round a lot.
This isn't a revolutionary concept. Speed Blackjack has been enjoyed by impatient players at land based casinos for some time. Evolution's Live Speed Blackjack tables have been running for a few years now and are always busy.
Pragmatic's Speed Blackjack table 4 – Ruby Blackjack. Not so busy just yet, but it will be.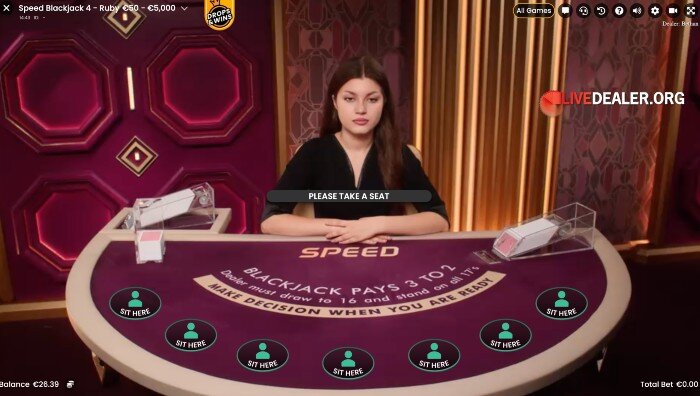 Speed Blackjack House Rules
Deal order aside, the all important house rules on this table mirror those on Pragmatic's (and Evolution's) classic 7 seat tables. They are:
Dealt from an 8 deck shoe
Blackjack pays 3:2
Dealer stands all 17s
Player can Double Down on any 2 cards (draws one card only)
Can't Double Down after Split
Player can Split any 2 initial cards of same value
Can't hit Split Aces
Can't re-Split
Insurance offered
In addition to the main game, the obligatory pairs and 21+3 side bets are offered (but best avoided).
Limits and payouts for all are set out below.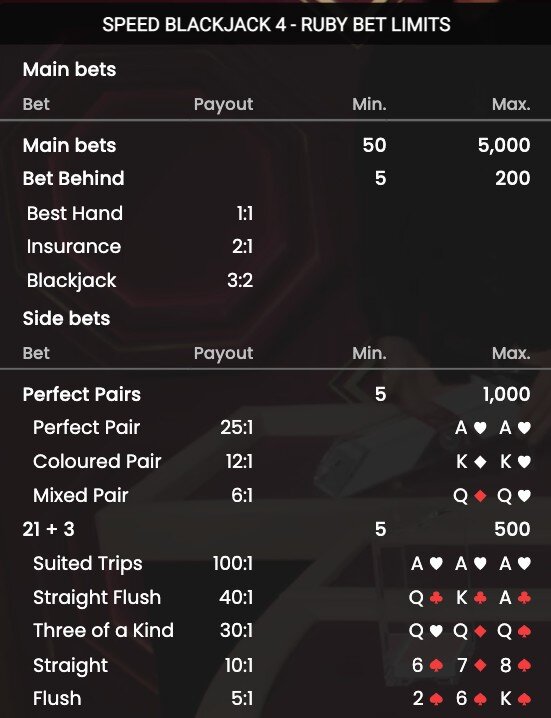 Speedy Speed Blackjack
https://www.livedealer.org/dev/wp-content/uploads/2022/06/Pragmatic-SpeedBlackjack.jpg
391
700
LD
https://www.livedealer.org/images/Livedealer-logo.png
LD
2022-06-07 06:24:21
2022-06-07 06:24:21
Speed Blackjack from Pragmatic Play