So you're on a full 7 seat live blackjack table. The dealer rips out the cards in no time flat, and prompts the first seated player to make a choice.
Waiting, waiting, waiting.
Are they even watching the screen? Finally they make their choice (hit on 20…well done). At least that's over. Now over to player 2.
Waiting, waiting, waiting.
Some rounds can be excruciating. Of course this can be avoided choosing one of the many 1-to-many deal tables now offered – Infinite Blackjack, All Bets Blackjack etc. But these aren't everyone's cup of tea.
You could also pop onto one of the high stakes blackjack tables that are rarely busy. But then you want to be comfortable with minimums around the €250 mark or higher.
A new  option for impatient blackjack players
It has 7 seats. Bets start at $10. And even if full, bet rounds are quick.
This is Evolution's Speed Blackjack.  Four tables currently. Won't be surprised to see more shortly given they're almost always full.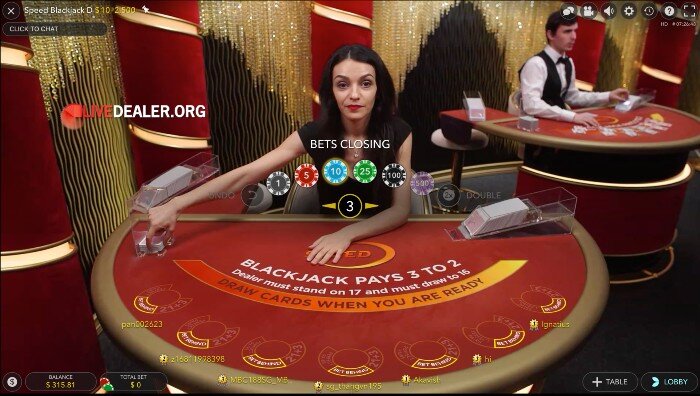 What's Speed Blackjack?
The opening graphic pretty much tells the story. The only difference between this table and all other Evolution 7 seat blackjack tables, is the deal order after players receive their initial 2 cards.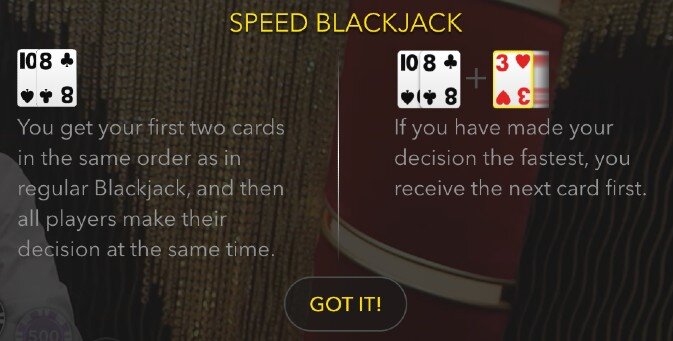 Players receive their next cards in order of who decided first. Same applies for 4th cards after all 3rd cards as dealt, and so on.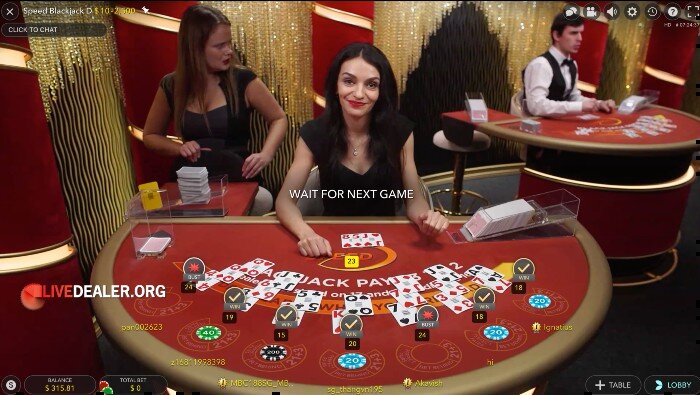 Before playing the game I thought how is changing the deal order going to speed things up so much? You still have to wait for slow coaches right?
True, but game rounds on this table are much faster than the regular 7 seat tables. A number of factors come into play here…
all players are prompted to make their play immediately, rather than in turn
therefore player waiting time doesn't accumulate (if that makes sense)
players on this table tend to want a fast game also, so few tend to hold things up
I suspect Evolution have also made an effort to put slicker dealers on these tables. Not always the case of course (if you watch the below video through to dealer change you'll see what I mean). But some are lightning with their card work.
All this makes for a faster round, most notably when the table is full.
Don't believe me? Watch…
https://www.livedealer.org/dev/wp-content/uploads/2020/02/speedblackjack-winners.jpg
395
700
LD
https://www.livedealer.org/images/Livedealer-logo.png
LD
2020-02-14 13:16:21
2020-02-14 13:16:21
Feel the need for Blackjack Speed?