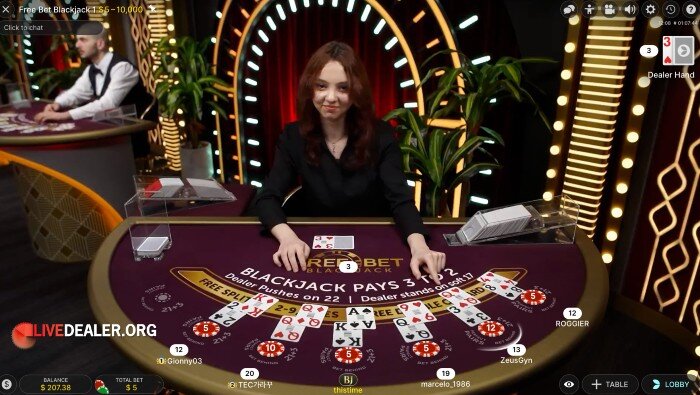 We're pretty familiar with the free bet blackjack concept. After all, Evolution's Free Bet Blackjack table has been around for a while now.
It's a 1-to-many deal blackjack table (single deal caters to many players) where under certain circumstances the house funds players' Double Down and Split bets, effectively making them free.
It must be popular with players because Evolution have seen fit to incorporate the free bet concept on a bunch of 7 seat blackjack tables employing a more conventional deal. There are seven of these tables presently. All housed in the Georgia studio.
Revisiting Free Bet Blackjack
Key house rules are set out below. The rules that set these tables apart from regular blackjack are in bold.
Played with 8 decks, manually shuffled
Dealer always stands on 17
Blackjack pays 3:2
Player can:
– Double any 2 initial cards
– Split initial cards of equal value
– Free Double on hard 9, 10, 11 totals
– Free Split all pairs except 10, J, Q, K
No Double after Split
Only one Split per hand
Can't hit Split Aces
Insurance offered on Dealer Ace (pays 2:1)
Bet returned when hands are of equal value
Bet returned when dealer 'busts' with a score of 22
Free Double on hard 9, 10, 11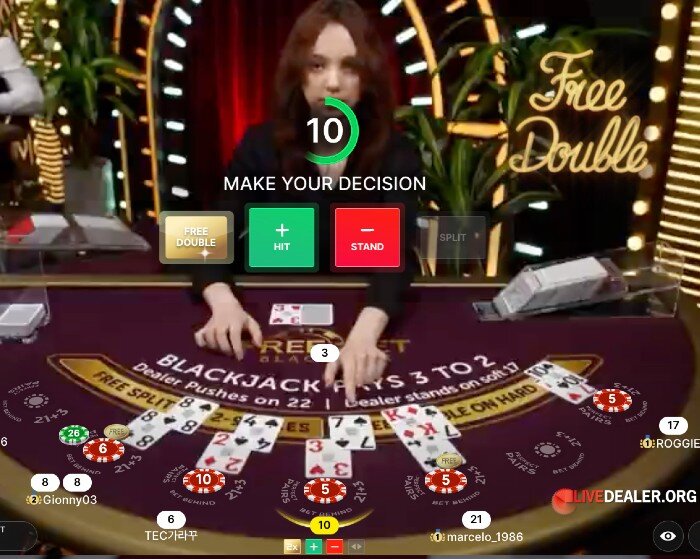 If your initial hand totals hard 9, 10 or 11 you are offered a Free Double. Take this option and the house funds your Double Down bet.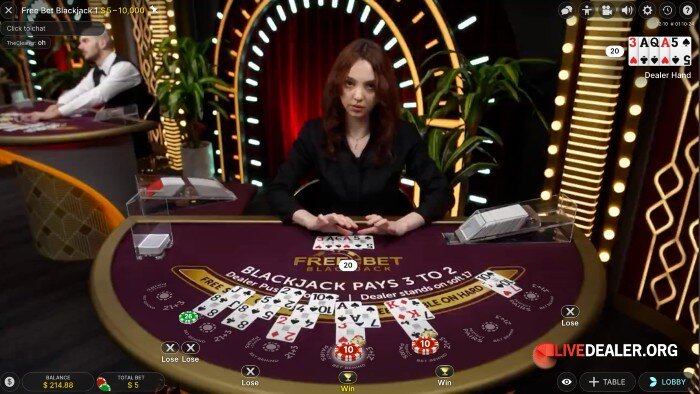 Win the bet and you collect even money on the doubled bet ($10 in the example above) despite it only costing $5.
The Free Double bet is a pretty attractive option, given the circumstances under which it is offered. After all, depending on dealer's up card, doubling down on 9, 10, 11 may well be the optimal play even if it were not house funded!
Free Split on pairs Ace to 9
Not so much the case here, given splitting low pairs is never the optimal play. We are being tempted down a murky path here. Perhaps appropriate that the below Free Split offer comes with a fuzzy pic (due to a bad connection at the time).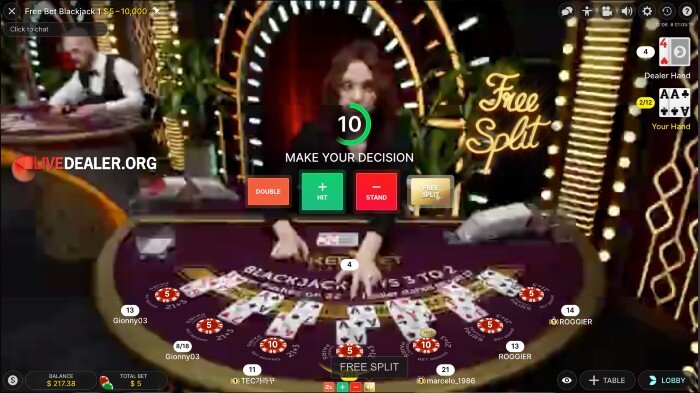 Dealer doesn't bust on 22
Here's the other little rule tweak that helps the house fund all the free bets. If the dealer scores 22, player bets are pushed, as below. And yes, this does stink a little.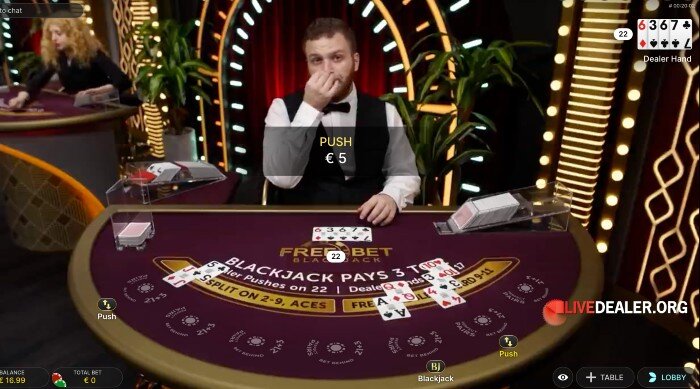 Blackjacks do still pay 3:2 against a dealer's 22.
Play these tables optimally (take Free Double offers, avoid Free Splits, otherwise observe blackjack basic strategy) and the return to player is a reasonable 98.26%.
Worth noting:
this is not quite as high as the RTP on the original Free Bet Blackjack table (98.45%). Difference being that table applies the Six Card Charlie rule.
RTP on Evolutions regular live blackjack tables is 99.28%
https://www.livedealer.org/dev/wp-content/uploads/2022/10/FreeBetBlackjack.jpg
395
700
LD
https://www.livedealer.org/images/Livedealer-logo.png
LD
2022-10-18 05:53:01
2022-10-18 05:53:01
Free Bet Blackjack - 7 seat tables live