Gold Bar Roulette was touted in Evolution's 2022 new game release showcase as the, "first big innovation in roulette since Lightning Roulette".
Now you get to judge if the hype was warranted. Gold Bar Roulette is now taking bets at a bunch of casinos.
Gold it certainly is. Evolution have spared no expense in placing this roulette based game show in very opulent, very golden surrounds. No prizes for guessing the target market. In case there was any doubt, the gold bar multiplier (more on this below) is set at 88x.
What is Gold Bar Roulette?
Gold Bar Roulette is a form of roulette where hitting Straight Up bets win you gold bars in addition to cash payouts. Those gold bars can then be used to place Straight Up bets in future rounds and collect payouts starting at 88x.
All other bets (Split, Street, Corner, Line and all Outside bets) operate as they would on a normal European Roulette table – identical payouts and no gold bars involved. Here's a refresher on roulette bet types if needed.
Let's run through a couple bet rounds to illustrate the concept.
Winning Gold Bars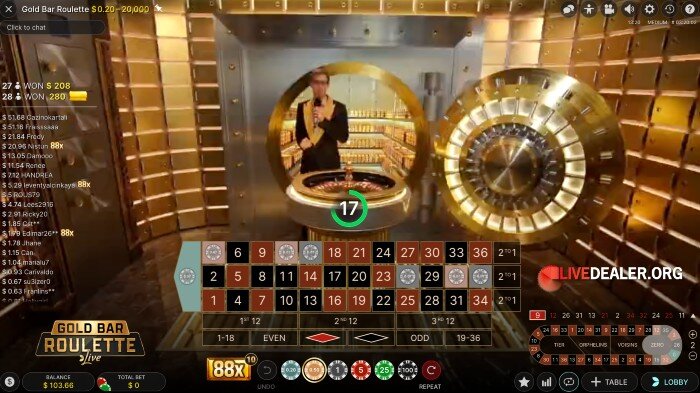 Get your bets on to start, remembering only Straight Up bets bring the gold bars into play. A bet race track lets you place your neighbours conveniently.
The dealer/presenter then manually launches the ball. Bets close. Then attention turns to 4 vaults situated beside the wheel.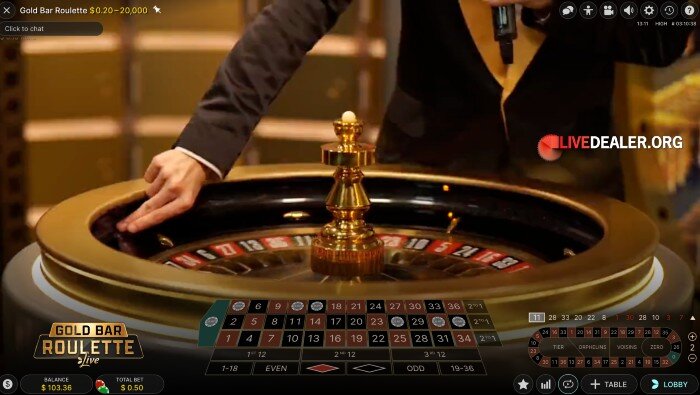 The vaults are opened, revealing anywhere from 1 to 20 gold bars in total. Playing for an hour or so, 7 and 10 seemed to be the common numbers. In the below game round 7 bars were up for grabs.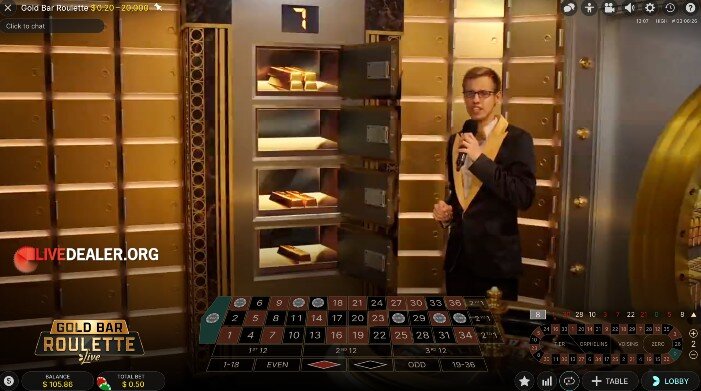 If you then hit a Straight Up win, as below, you win your cash payout (at 19:1, not 35:1).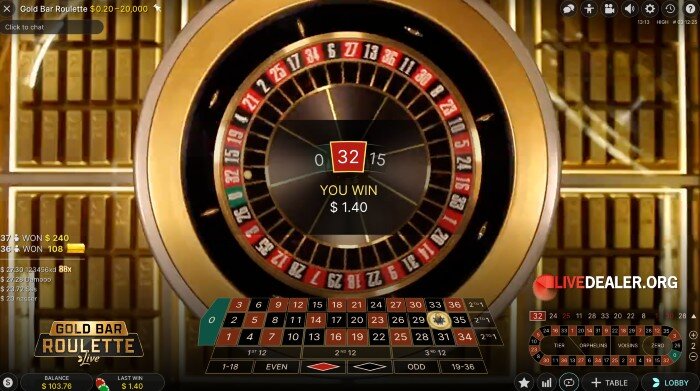 You also win that number of Gold Bars – 7 for this round.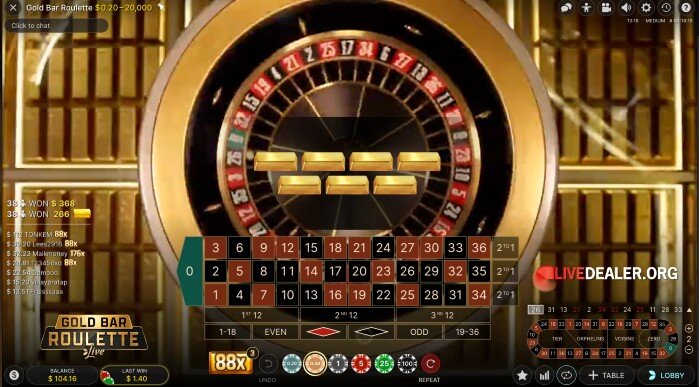 As you play and win, your balance of gold bars grows and is recorded just left of the chip selector. If you end a game with 43 gold bars, when you log back in and play in a months time your 43 gold bars will still be in your bank (they do expire after 180 days though!)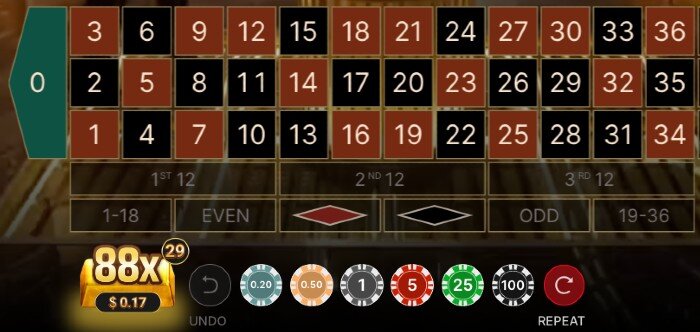 Your gold bars are assigned a value. This value also carries between games. The exact formula used to arrive at the gold bar value isn't disclosed by Evolution, but it loosely relates to the average value of the Straight Up bets that won those bars.
The above 29 gold bars were won with small bets, and so they are valued at a lowly $0.17 each.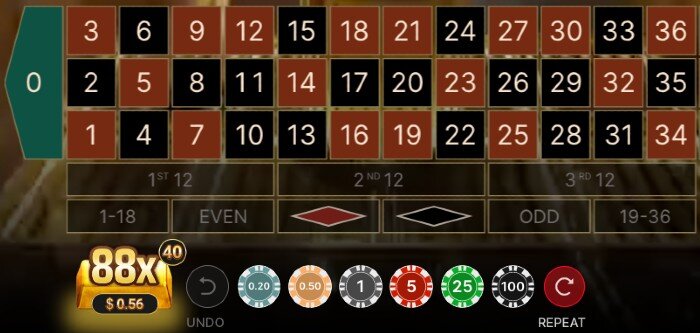 Following a few higher stakes wins, the value of my 40 gold bars was upped to $0.56 each.
Betting your Gold Bars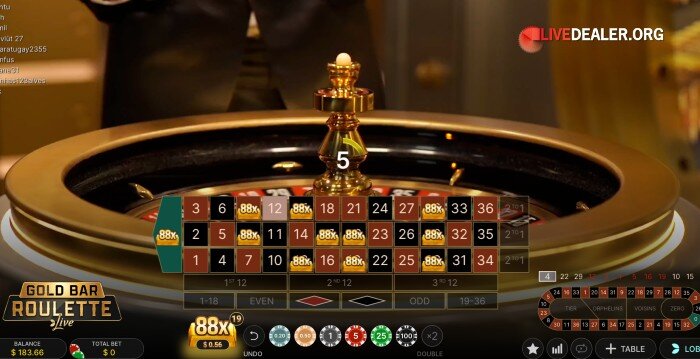 Any round you so choose you can bet any gold bars you have in your balance – a simple select and place as you do with chips. This costs you nothing (you've likely already paid accumulating your bars!) but your gold bar balance will drop accordingly.
If you hit a Straight Up win with any of your gold bars you win:
cash at 88x the bar value as happened below, and
the gold bars in that rounds vault.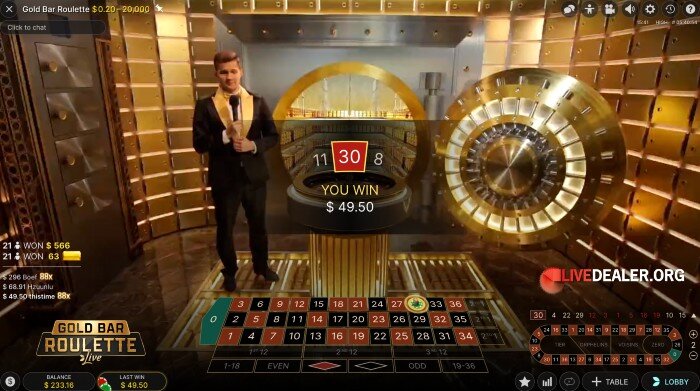 2 Gold Bars on the winning number pays 176x, 3 pays 264x etc.
Gold Bar Roulette Payouts
All this extra gold bar cash needs to be funded somehow. The somehow is of course a reduced payout on Straight Up wins. The comparison to regular European Roulette is shown below.


But the math wizzes at Evolution have set all the levers; reduced 19:1 payout balanced against value and number of gold bars awarded to arrive at a theoretical return applying to all play (regular chips/bets or gold bar bets) of 97.3%. This mirrors European Roulette theoretical returns.
Unlike most game shows, here you're not getting penalised for being seduced by the 'exotic' bet option.
Pretty neat really.
I suspect this game is going to be very popular. All game shows are and this is one of the better ones (finishing $150 up on my session does have me a little biased).
Gold Bar Roulette Full House Rules
Can be read here.
Gold Bar Roulette Video
https://www.livedealer.org/dev/wp-content/uploads/2022/07/GoldBarRoulette-feature.jpg
286
394
LD
https://www.livedealer.org/images/Livedealer-logo.png
LD
2022-07-14 10:19:24
2023-08-15 05:57:58
Gold Bar Roulette is Live