The Jumbo 7 Jackpot continues to tick ever higher, now approaching €2.5 million.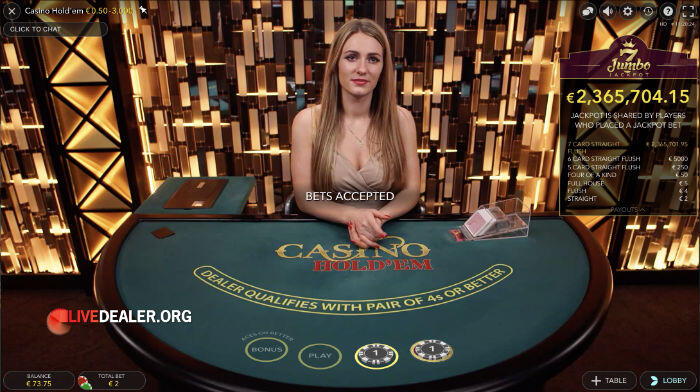 In case you've never heard about the Jumbo 7 Jackpot, it's a side bet that was added to Evolution Gaming's live Casino Hold'em Poker table back in 2017. Not at all casinos mind you. Only those that opted to join this progressive jackpot programme.
You can still find a live Hold'em table at some Evo casinos sans Jumbo 7, but this list is getting smaller by the month.
The jackpot certainly is not.
It stood at €2.365 million a couple hours ago. Or £2.365 million, or $2.365 million depending on what currency your casino playing account is denominated in (you win it in your playing currency).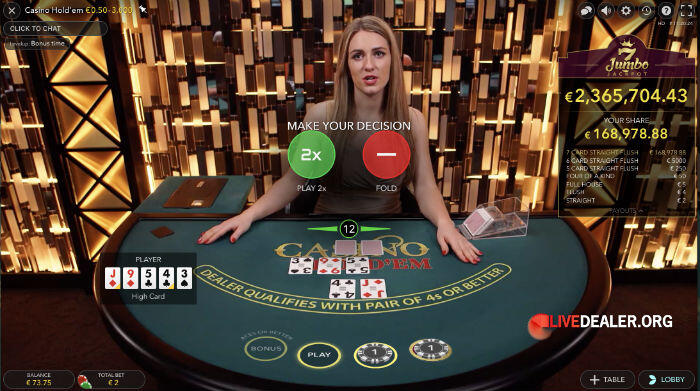 It's an enticing number for sure. But inherent in its growing value are a few downsides.
The first, is that plenty of players are now trying to win the jackpot. This effects the value that eventual winners will take because it is shared between all winners at the time it goes off.
In the above game, had I been lucky enough to win it, my share would have been a lowly €169K. Most times you play this game these days a dozen or more players are vying for a piece of it. Early days you could actually have it to yourself on occasion, or make do with a half or third share during busier times.
The second downside is that the jackpot condition – a 7 card Straight Flush combining the players' pockets and all five community cards, is a long shot. A really long shot.
The fact that it is approaching €2.5 million, having been seeded at €1 million is evidence enough of this.
It has to be said also, that this is not a mathematically astute bet. With a published theoretical return of under 82% it is actually one of the worst bets live casino land.
But it will eventually go off. And as the old saying goes, you have to be in it to win it.
https://www.livedealer.org/dev/wp-content/uploads/2019/03/jumbo7.jpg
346
444
LD
https://www.livedealer.org/images/Livedealer-logo.png
LD
2019-03-27 15:45:01
2019-03-27 15:45:01
Jumbo 7 Jackpot approaching €£ 2.5 million