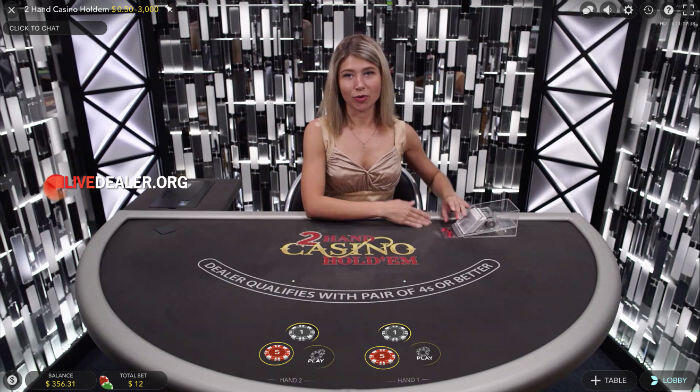 One of the flood of new games released by Evolution Gaming during first half of 2019 is 2 Hand Casino Hold'em. It adds to their already large stable of live poker tables.
What is 2 Hand Casino Hold'em?
If you're familiar with Evolution's Live Casino Hold'em Poker, that has been in operation for many years now, you will hit the ground running playing this new table. It's essentially the same game.
The key difference (and the name is the giveaway here), is that 2 player hands are dealt on this table rather than just the one. You can play one or you can play both. The house rules applying to each are identical to those applying to the old Casino Hold'em game.
Being a one-to-many deal, each hand can be played by a theoretically unlimited number of players. But as far as you're concerned, it's just you versus the dealer.
How to Play 2 Hand Casino Hold'em
Your first choice with this game is whether to play one or both hands, by placing an Ante bet on either or both. Player hands 1 and 2 are then played independently.
You have the option to place a Bonus bet on either hand also.

Once bets are closed, the dealer deals 2 pocket cards to both player hands (face up), and 2 pocket cards to the dealer (face down). 3 community cards (the Flop) are then dealt.
Once the Flop is dealt you have the option to fold and forfeit your Ante bet (Bonus bet remains in play if placed), or Call/Play in which case a bet equal to 2x your Ante is automatically placed.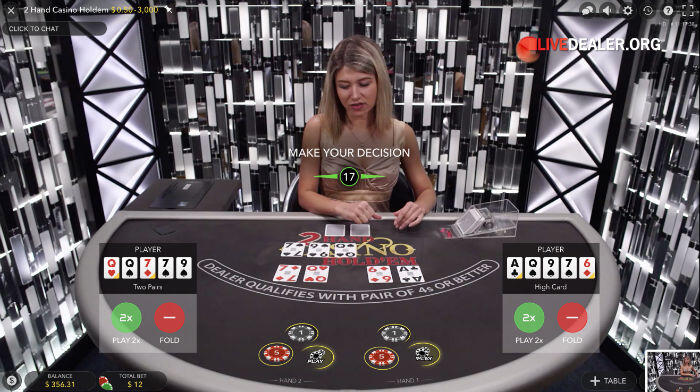 The 4th (Turn) and 5th (River) community cards are then dealt and the dealer's pocket cards revealed.
The players' and dealer's hands are compared to determine the winner – the best 5 card poker hand combining pockets and community cards and applying normal poker hand ranks.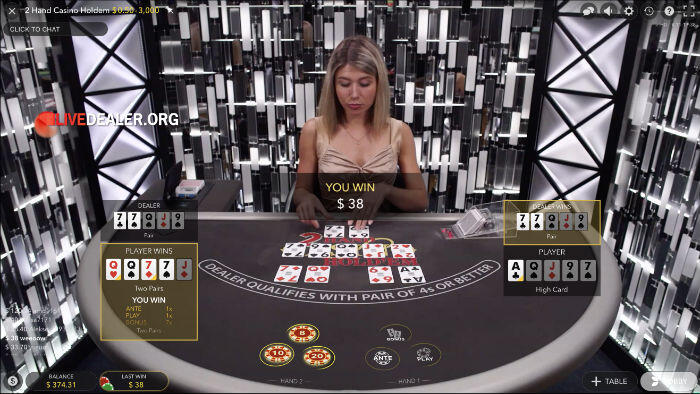 Your Ante, Play and Bonus bets pay according to the below win conditions and payout tables.
Win condition
Win  conditions for the Ante and Play bets are summarised below. Dealer qualifies with a pair of 4s or better.

The Bonus bet pays out based on the player hand comprising the pocket cards and Flop only, in accordance with the below payout table. It pays out regardless of whether you folded or played your Ante on that hand.
Ante and Bonus bet payout table
The Ante and Bonus bet payout tables are identical to those of the old Casino Hold'em Poker table, and are as follows:
| | | |
| --- | --- | --- |
| Hand | Ante Bet Payouts | Bonus Bet Payouts |
| Royal Flush | 100 to 1 | 100 to 1 |
| Straight Flush | 20 to 1 | 50 to 1 |
| 4 of a Kind | 10 to 1 | 40 to 1 |
| Full House | 3 to 1 | 30 to 1 |
| Flush | 2 to 1 | 20 to 1 |
| Straight or less | 1 to 1 | 7 to 1 |
Full house rules
Return to Player
With identical house rules and pay tables to the regular Casino Hold'em table, it comes as no surprise to find the theoretical returns applying to the Ante and Bonus bets for 2 Hand Casino Hold'em are the same.
That is:
Ante bet: 97.84%;
Bonus bet: 93.74%
Where to Play 2 Hand Hold'em
All the usual suspects have this game available in the Poker category of their live casino lobby. Namely, 888, William Hill, Leo Vegas, Mr Green, 32Red, and Unibet.
Game recording…
https://www.livedealer.org/dev/wp-content/uploads/2019/06/2HandCasinoHoldem-placebets.jpg
392
700
LD
https://www.livedealer.org/images/Livedealer-logo.png
LD
2019-06-13 12:09:04
2019-06-13 12:15:31
How to play Live 2 Hand Casino Hold'em