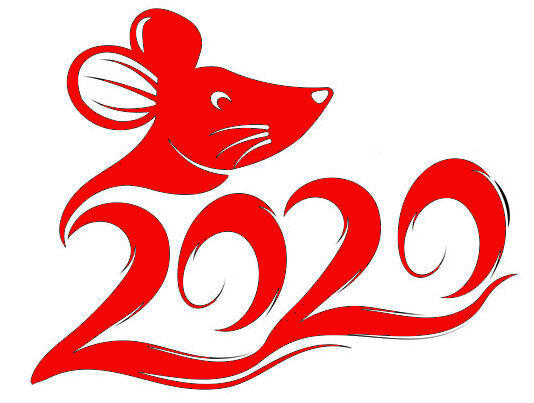 It's Chinese New Year on 25 January.
This coming Saturday a good chunk of the world's population will bid farewell the Year of the Pig and welcome the Year of the Rat.
The weekend kicks off celebrations that promise an abundance of fireworks, dancing dragons and red envelopes stuffed with lucky money. There'll be more paper lanterns than Coronavirus face masks..outside Wuhan at least.
The Rat always follows the Pig. Or more correctly, the Rat is the first animal in the Chinese zodiac, or Shēngxiāo, the lazy pig the last. So we are in fact ushering in a new zodiacal cycle.
Why the Rat was designated numero uno in the cycle tells us a little bit about this crafty critter. While the Pig slept in on the day of the Jade Emperor's party, arriving last and being given last spot in the order, the Rat was conniving his way into the top spot.
The Emperor decided that a good way to determine the Zodiacal order would be a good old fashioned running race. Rather than run the race fairly, the Rat sneakily hitched a ride on the Ox's back, then leapt across the finish line to claim first place.
Yes indeed, the Rat is a cunning creature. But not the dirty rat we think of in Western culture.
The Rat gets more respect in Chinese zodiac. Quick witted, resourceful, shrewd, alert and industrious. Rats are expected to be prosperous. As a side bonus, they are also seen to be super fertile. Just as well they have some extra cash to go around.
Will the Rat year bring us fortune?
For Rats (born 1948, 1960, 1972, 1984, 1996 and 2008…)
If you're a Rat, 2020 is a year to lay low. Luck is never on your side during your zodiacal year. But, being alert and shrewd most rats would probably know this.
Rats probably aren't the types to chase unlikely wins on high multiplier, low payout live games. They're more the type to hitch a ride on a favourite; buying shares in Evolution Gaming rather placing bets on their tables.
Not all rats will want to take luck out of the equation. Some will want to have a punt. According to the experts there are a few rules of thumb they should observe to minimise the risks.
Your lucky numbers are 2, 3 and combinations thereof. Unlucky numbers are 5 and 9.
Blue, gold and green are your lucky colours (plenty of tables to choose from here). Yellow are brown should be avoided.
Lucky days are the 4th and 13th of the month. Lucky months are 2nd, 5th and 9th of the lunar calendar.
For everyone else
There's good news for the rest of us. Rat years are generally prosperous all round. This seems a little hard to reconcile with the life truth that for every winner there is a loser.
It should be a particularly auspicious year for those born in Dragon (1952, 1964, 1976, 1988, 2000, 2012), Ox (1949, 1961, 1973, 1985, 1997, 2009) and Monkey  (1944, 1956, 1968, 1980, 1992, 2004) years. They are compatible with rats apparently.
You have some cause for concern if you're a Horse (1942, 1954, 1966, 1978, 1990, 2002) or a Rooster (1945, 1957, 1969, 1981, 1993, 2005). You're likely to be the big losers of 2020, so proceed with caution!
Irrespective of how the Chinese horoscope have you pegged, here's hoping you have a good year.
Gōng xǐ fā cái !
https://www.livedealer.org/dev/wp-content/uploads/2020/01/2020rat.jpg
403
534
LD
https://www.livedealer.org/images/Livedealer-logo.png
LD
2020-01-22 03:26:23
2020-01-22 03:26:23
Letting it Ride in the Year of the Rat