New live game launches keep coming thick and fast even as we enter the run-up to Christmas.
Last week it was Adventures Beyond Wonderland from Playtech. Now it's NetEnt's turn with Roulette Max.
It's already being offered at regular early-adopter, Leo Vegas.
Roulette Max isn't one of those, 'catchy names but really just another live roulette table' situations. It's a roulette adaptation. And quite a bit of adapting has been done.
It adds to a now pretty long list of live games based on the classic roulette game, but tweaked a little (or a lot). There's Double Ball Roulette, Instant Roulette, Lightning Roulette, Spread Bet Roulette, Quantum Roulette to name a few. Among this lot you can play multiple balls in the one wheel. Multiple wheels giving a continues stream of bet opportunities. Or a single ball and wheel with payout variations from the regular roulette game.
Roulette Max is something a little different again.
What is Roulette Max?
In this game you are betting on the combined outcome of 4 roulette wheels. They are all auto-launch wheels. The dealer simply provides commentary.
Make a straight up bet, and it will pay if it hits on one of the wheels. It pays more if it hits on another of the wheels. If that number drops on all 4 wheels you'll collect 5,000x your bet.
A bet on Red won't pay unless multiple wheels find a red number.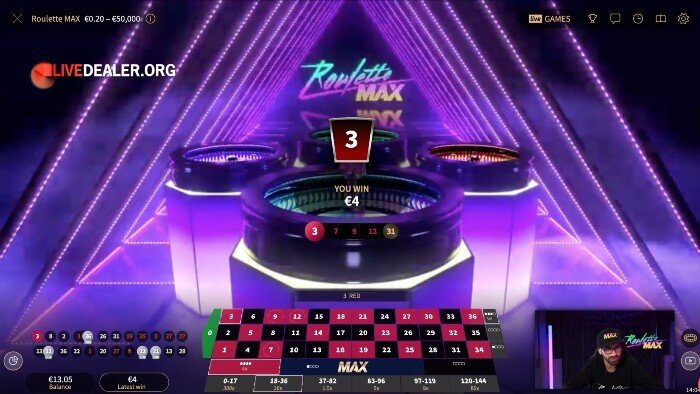 Your bet selector/table looks reasonably familiar, with the exception of the MAX Bet and Spread Bet options. More on these below.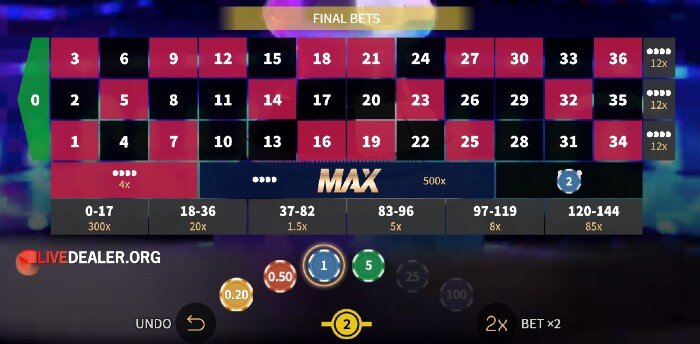 Once bets are placed, the first wheel to resolve is the Main Wheel which sits front and centre.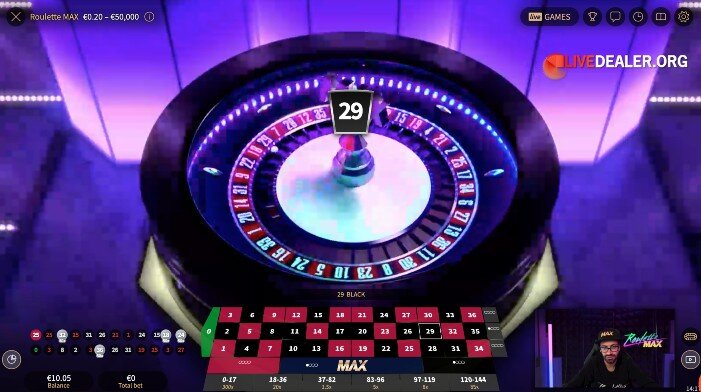 Shortly after, the 3 other wheels (X-wheels they call them) drop.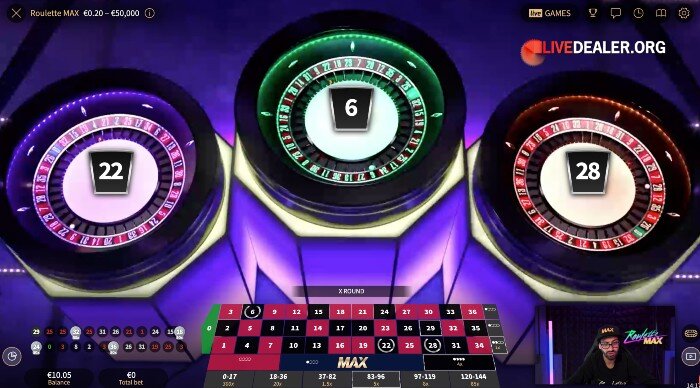 We now have a complete game outcome, shown in the below example to be 29 black (Main Wheel) and 22, 6, 28 black for the X-wheels.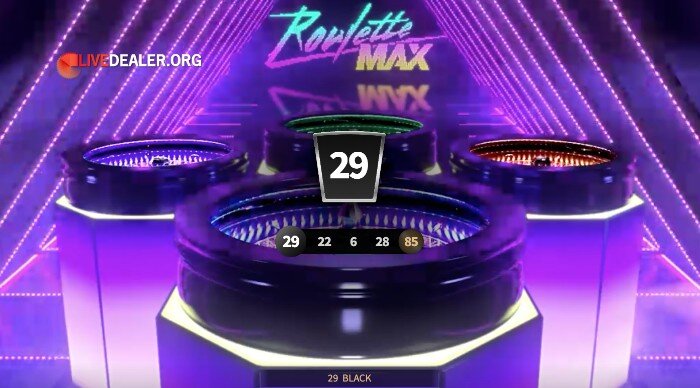 Bets and Payouts
Bets and payouts are pretty clearly described in a drop down window top left of the game interface.
Many of the bets (Straight Up, Red/Black, Column etc) are familiar. The more wheels that match your chosen bet (depicted by solid white dot), the bigger the payout.
Just like playing regular roulette, you can be inside…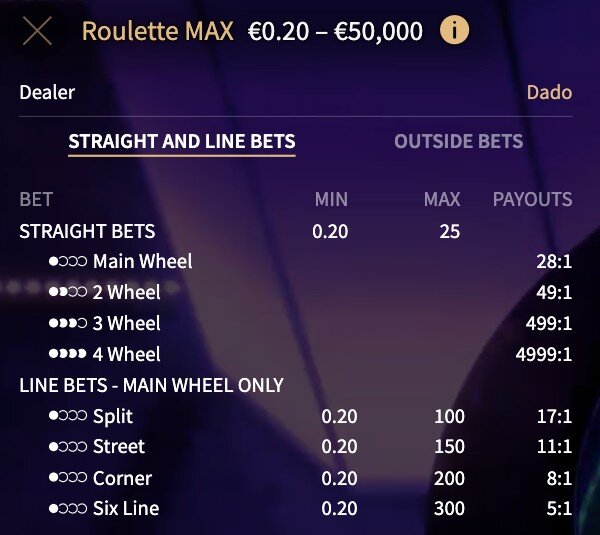 Or outside…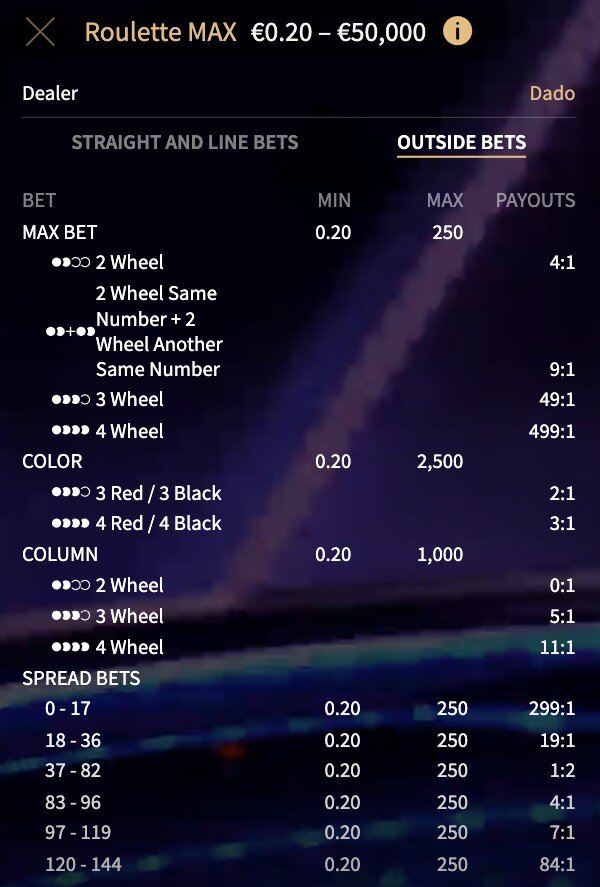 Max and Spread Bets
The Max and Spread bets are new and bear some explaining.
The Max Bet pays out if 2 or more wheels deliver the same result in the game round. The more wheels that deliver that result the bigger the payout.
This differs from a straight up bet, as you do not have to select the specific number. Any number that drops on multiple wheels will do the trick.
With a Spread Bet, you are betting on the combined sum of the results from all 4 wheels.
Theoretical return
Theoretical RTP is 97.05%.
Actually similar to regular old European Roulette (97.30%) it turns out.
Some Video Action
https://www.livedealer.org/dev/wp-content/uploads/2020/12/RouletteMax.jpg
306
400
LD
https://www.livedealer.org/images/Livedealer-logo.png
LD
2020-12-01 09:19:40
2020-12-02 03:46:40
Roulette Max from NetEnt