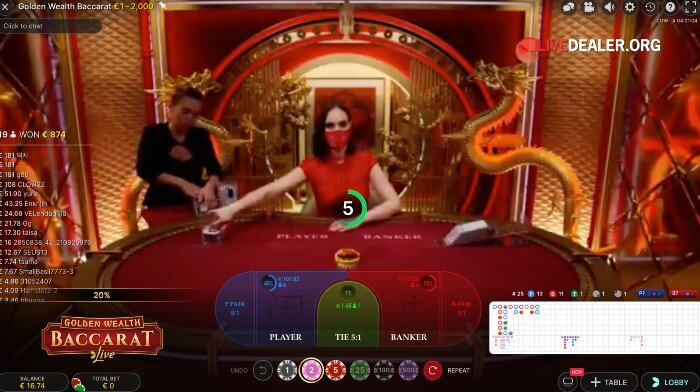 Evolution have quietly launched another live baccarat variation – Golden Wealth Baccarat.
It's up and running now at serial early adopter Leo Vegas. It will no doubt be available across the board in coming days/weeks.
It's another multiplier type game. That is, a game of baccarat with random multipliers thrown into the mix for potentially supersized payouts.
What is Golden Wealth Baccarat?
Take a game of baccarat, add payout multipliers to randomly selected cards each deal and you've got Golden Wealth Baccarat.
Every deal, after bets are closed but before the deal commences, 5 cards are randomly selected as 'Golden Cards'. To each, a random multiplier is applied: 2x, 3x, 4x, 5x or 8x.
If any of these cards are dealt to the winning position (for a Tie, all Golden Cards on the table), the regular payout is multiplied accordingly. If multiple cards are dealt the winning position, the multiplier amounts multiply.
This is nicely depicted in the game load overview….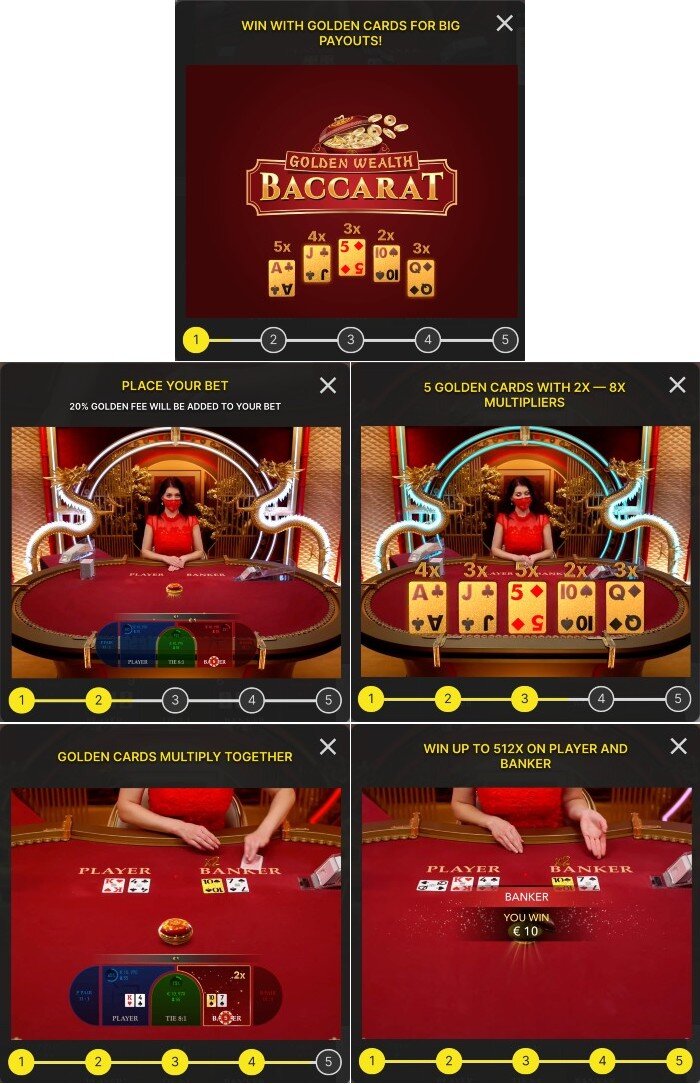 You can't miss any 'Gold Cards' being dealt. Their presence is accompanied by a sprinkle of Golden Wealth dust (and a soothing chime sound), and they become coloured gold, as below.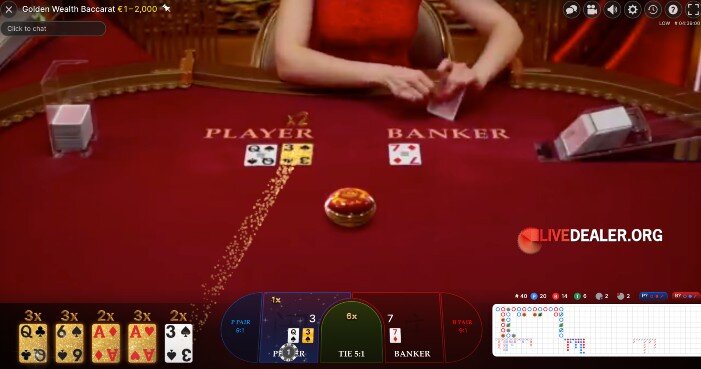 Should your bet win with gold cards dealt to that position, (or in the case of a Tie, anywhere on the table), the payout is multiplied accordingly. Where multiple Gold Cards are dealt, the payouts multiply. With two Ace

 on the table below, the Tie payout becomes 2x2x5=20x.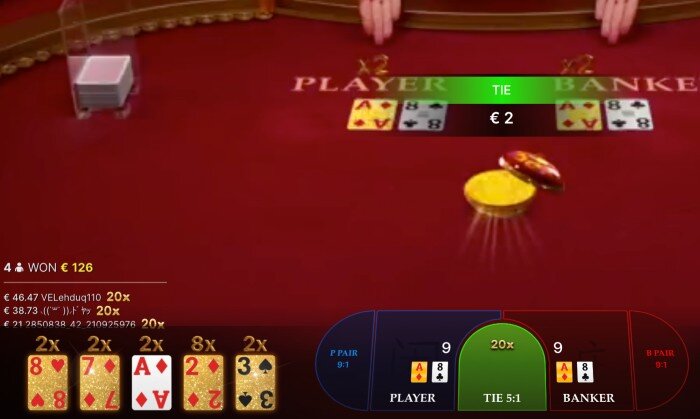 In the below case, a Player win would have been multiplied 9x. The Banker win was not unfortunately.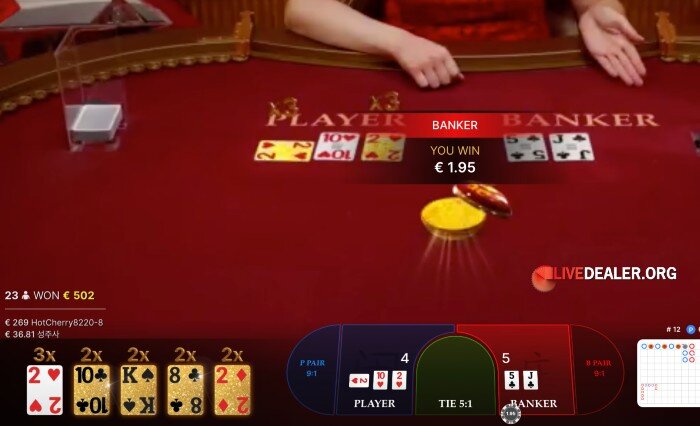 Slight rule tweaks to compensate for multipliers
The regular baccarat game has a pretty skinny house edge. How then, I hear you ask, can they throw in payout multipliers and preserve that house edge? Or is this a player edge game? Of course you know the answer to this question. No
A couple of compensating rule tweaks have been made to preserve the house edge. They are:
the house takes at 20% commission on every bet placed (place a $1 chip on the table, $1.20 comes out of your balance), also
the Tie bet payout (absent multipliers) is reduced to 5:1.
Fans of Evolution's Lightning Baccarat might be thinking this all sounds very familiar. And it is. Save for some very different table stylings and 1 slight difference of substance it is almost the same game.
The difference in table stylings speak for themselves. This is a table tailor made with Asian playing markets in mind. In case the name Golden Wealth Baccarat wasn't already the giveaway there, the two golden dragons either side of the table put any doubts to rest.
More important is the difference of substance.
5 Multiplier Cards (not 1 to 5)
Whereas Lightning Baccarat sees from 1 to 5 'Lightning' multiplier cards selected before each deal, in Golden Wealth Baccarat it is always 5 'Golden' multiplier cards selected each deal.
On the face of it, more multiplier cards each deal would suggest on balance more generous resulting multipliers being applied, and resulting higher returns. But a check of theoretical returns for this game versus Lightning Baccarat (see below) reveal they are very close.
The other variable in the equation is the multipliers being applied to each card. Again it's 2x, 3x, 4x, 5x or 8x. How often the higher multipliers come out will also be key. Perhaps the random generators in this game aren't quite so generous assigning the higher value 5x and 8x multipliers.
End result being something like:
For Lightning Baccarat: on balance fewer multipliers in play, but generally of higher value
For Golden Wealth Baccarat: more multipliers in play, but generally of lower value, resulting in
both games returning very similar amounts (for Player and Banker bets anyway)
Theoretical returns
Player bet: 98.85% (98.76% for Lightning Baccarat)
Banker bet: 98.69% (98.59% for Lightning Baccarat)
Tie bet: 93.36% (94.51% for Lightning Baccarat)
The big claim to fame fo this game, as with Lightning Baccarat, is the possibility of a 1,310,720x payout for a winning Tie bet with 6 Gold Cards, all 8x multipliers out on the table. Evolution have published the chances of this happening in their house rules – 1 chance in 220,000,000,000,000.
Slim indeed!
Golden Wealth Baccarat video
https://www.livedealer.org/dev/wp-content/uploads/2021/10/NewGoldenWealthBaccarat.jpg
352
400
LD
https://www.livedealer.org/images/Livedealer-logo.png
LD
2021-10-10 01:23:51
2021-10-10 01:25:28
Golden Wealth Baccarat Live from Evolution