Live dealer Bac Bo has just been launched by Evolution. It's now playable at a bunch of Evolution powered casinos (below game was played at Leo Vegas).
Bac Bo is one of those games that can be 'mastered' in a matter of minutes. Although a master may prefer to try their hand at a game requiring more skill. Not much to it really.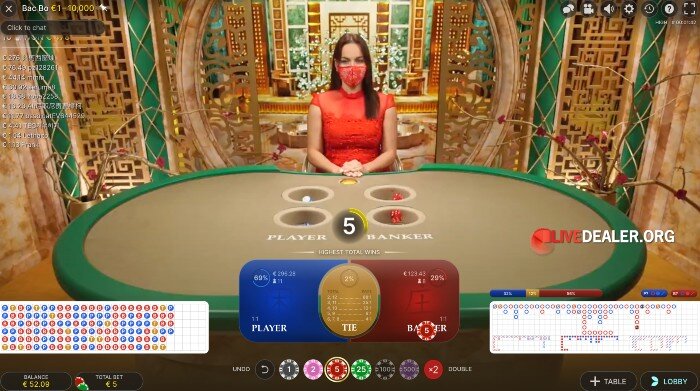 What is Bac Bo?
In the game of Bac Bo you are betting on the which position, Banker or Player, will have the highest 2-die roll total. There is also a Tie bet.
Player, Banker and Tie. Sound familiar? Bac Bo may be thought of as a die powered version of Baccarat. Indeed you may find this table listed under the Baccarat section of your casino's live games lobby.
But it's even simpler to follow than Baccarat in that there are no third card (or third die) rules.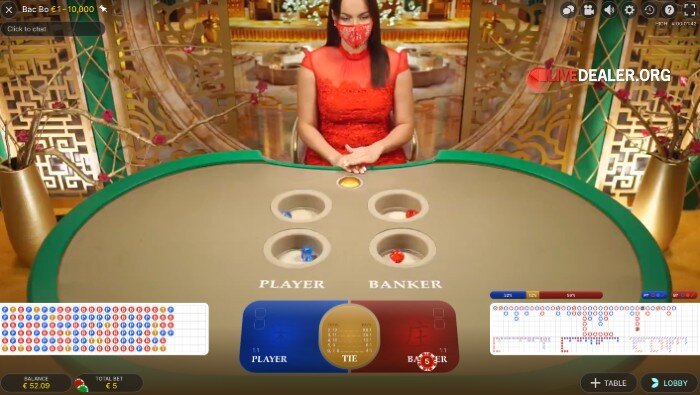 How to Play Bac Bo
Playing couldn't be simpler.
Choose your bet: Banker, Player or Tie.
During betting time, the dealer turns the shakers on. Each dice has it's own shaker as shown and they bobble around until, after bets have closed they stop, all dice come to rest and outcome is revealed. You may notice however, that the shakers don't come to rest all at once.
There is an order in which the shakers stop, which is:
Player first die (bottom shaker), then
Banker first die, then
Second die of whichever side has highest first die (if equal then Player second die)
Last remaining die
It's not important that you know the order. It also has no predictable impact on the outcome so there's no harm in ignoring this procedural aspect of the game.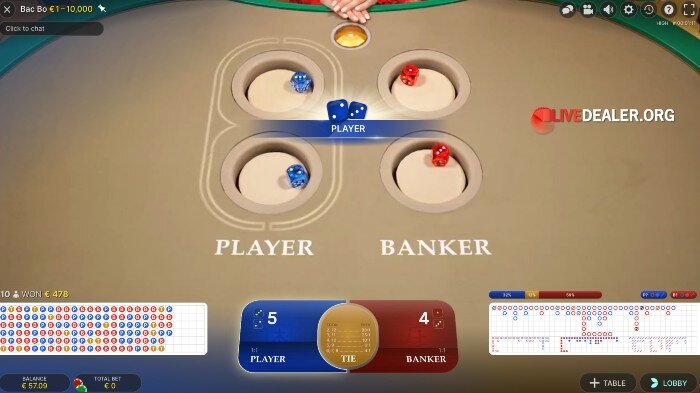 The only important part is the final dice tally. Player side and Banker side are totalled and the highest number wins.
Banker and Player wins pay even money. In the case of a Tie, 90% of Banker or Player bets are returned.
The Tie bet payout varies depending on the value of the Tie. A 2 or 12 Tie is the biggest payout at 88:1. The more common 6, 7, or 8 Tie pays only 4:1.
All payouts and limits are below.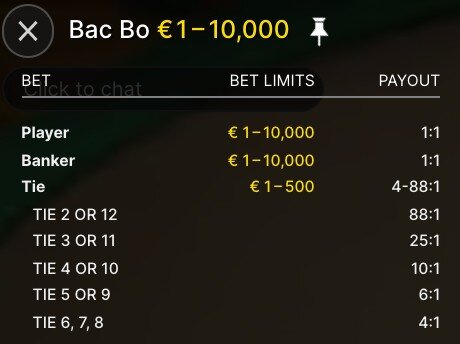 Theoretical Return
Like Baccarat, this game offers pretty good returns, considering the only real skill element is sticking to the optimal bet, which is obvious from the below RTP percentages:
Banker/Player bets: 98.87%
Tie bet: 95.52%
Some say the simplest things are often the best. If this is your way of thinking when it comes to casino games, then Bac Bo will be right up your alley.
Some Evolution Bac Bo action…
https://www.livedealer.org/dev/wp-content/uploads/2022/01/BacBo-feature.jpg
269
350
LD
https://www.livedealer.org/images/Livedealer-logo.png
LD
2022-01-19 02:36:12
2022-01-19 02:36:12
Live Dealer Bac Bo