Super Andar Bahar from Evolution is now taking bets.
Seems Andar Bahar is becoming a 'must have' table for all the major providers. No surprise given it's a favourite gambling game of a nation with a population approaching 1.4 billion. That's some market!
Live dealer Andar Bahar tables from Playtech and Pragmatic were launched late last year. Ezugi has been operating its version for some time. All offer the same main game and identical payouts on the total cards side bet.
Evolution have decided to add random multipliers to their recently launched version.
How to Play Super Andar Bahar
The main game
Quick recap as this isn't a new game to live dealer. It's also a super simple game (Full house rules are here).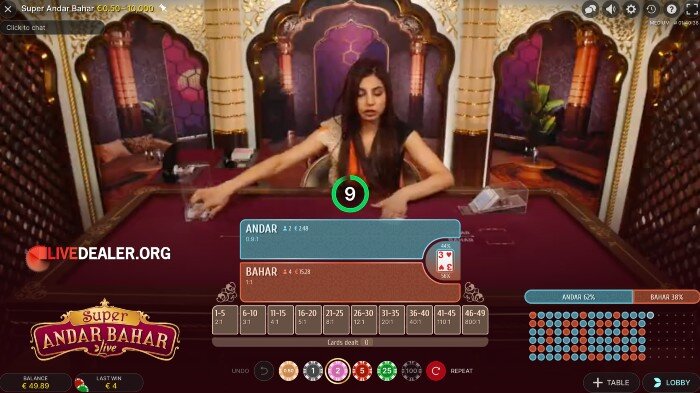 A Joker card is dealt – the 3

 in the above example. Cards are then dealt in turn to the Andar and Bahar positions (starting with Andar) until a card matching the Joker in value is dealt (suit doesn't matter). This is the winning position.
You can place your bet before or after the Joker comes out.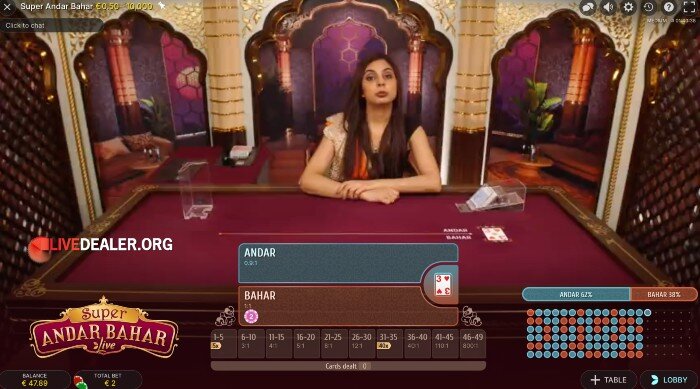 An Andar win pays 0.9:1. Bahar pays even money.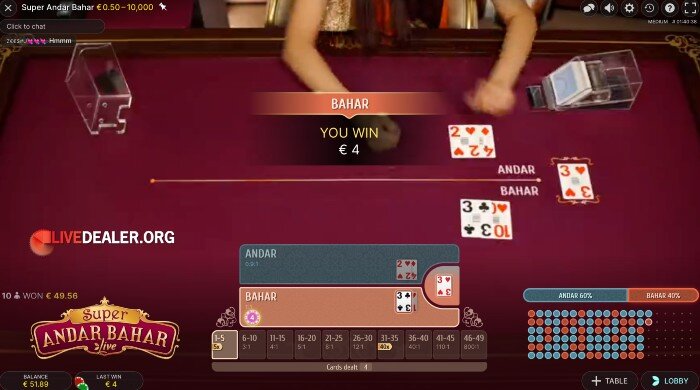 (Super) Sidebets
Here you are betting on how many cards it takes to get a Joker match.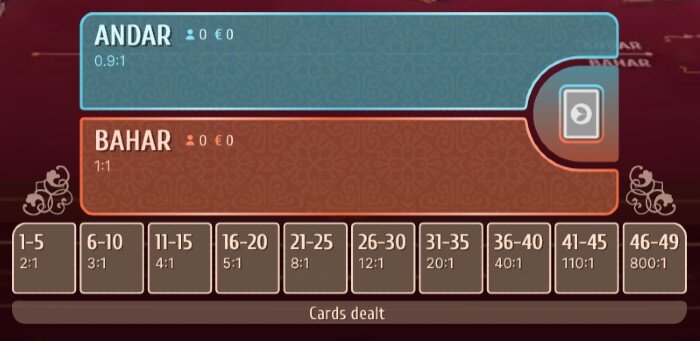 The brackets and payouts applying to the 'cards dealt' side bets are shown above. You have 10 brackets to choose from.
You can take these bets in addition to, or instead of betting on the main game.
Random Multipliers on Cards Dealt bet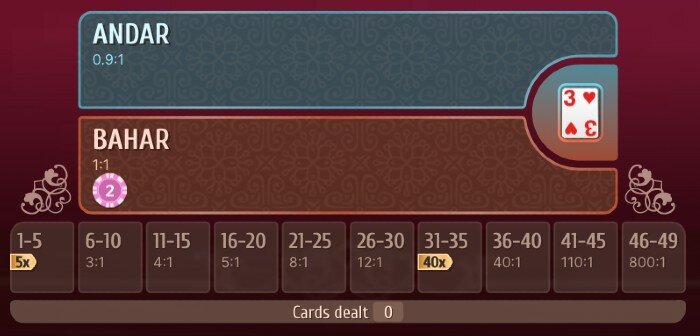 Here's the 'Super' bit.
After bets close, 1 to 5 of the 'cards dealt' brackets have random multipliers applied to them, supersizing the payout for that winning bet.
Comparing other Andar Bahar versions
The main game is identical across all versions. It's the just the 'cards dealt' side bet where Evolution's version differs.
Here's the brackets and payout structure applying on all the other versions.

Differences being:
there are only 8 brackets to choose from (not a difference of substance),
there are no random multipliers applied on these versions, but
the payouts (ex-multiplier) are higher for all brackets eg for (6-10) Super Andar Bahar pays 3:1 versus 3.5:1 above.
The reduced regular payouts for Super Andar Bahar serves to fund the multipliers, while preserving the house edge. Speaking of which…
Super Andar Bahar theoretical returns
Theoretical returns for main game bets are identical to other provider versions:
Interestingly, Evolution don't publish an RTP rate for the (Super) side bets. Safe to say they are inferior to the regular old main game.
Some Super Andar Bahar action
https://www.livedealer.org/dev/wp-content/uploads/2022/04/superandarbahar-feature.jpg
305
400
LD
https://www.livedealer.org/images/Livedealer-logo.png
LD
2022-04-14 05:05:31
2022-04-14 05:05:31
Super Andar Bahar from Evolution