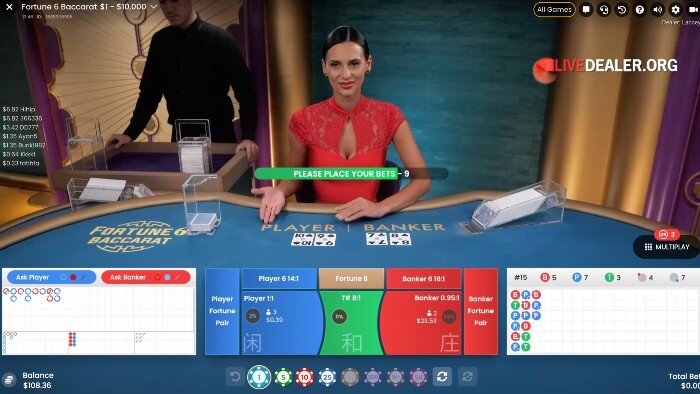 Pragmatic Play continue to grow their range of live baccarat tables. Fortune 6 Baccarat is their latest addition.
It shares similar stylings to their recently launched Super 8 Baccarat table, is also dealt from an 8 deck shoe and the deal is fast!
What is Fortune 6 Baccarat?
Fortune 6 is a reference to one of a bunch of new side bets offered in this game.
You can also play the main game, which is regular old baccarat with usual third card rules and payouts applying (Banker 0.95:1, Player 1:1,  Tie 8:1). But as it's the available side bets that distinguish this table, let's concentrate on them.
The side bets
The side bets are:
Fortune 6
Player 6
Banker 6
Player Fortune Pair
Banker Fortune Pair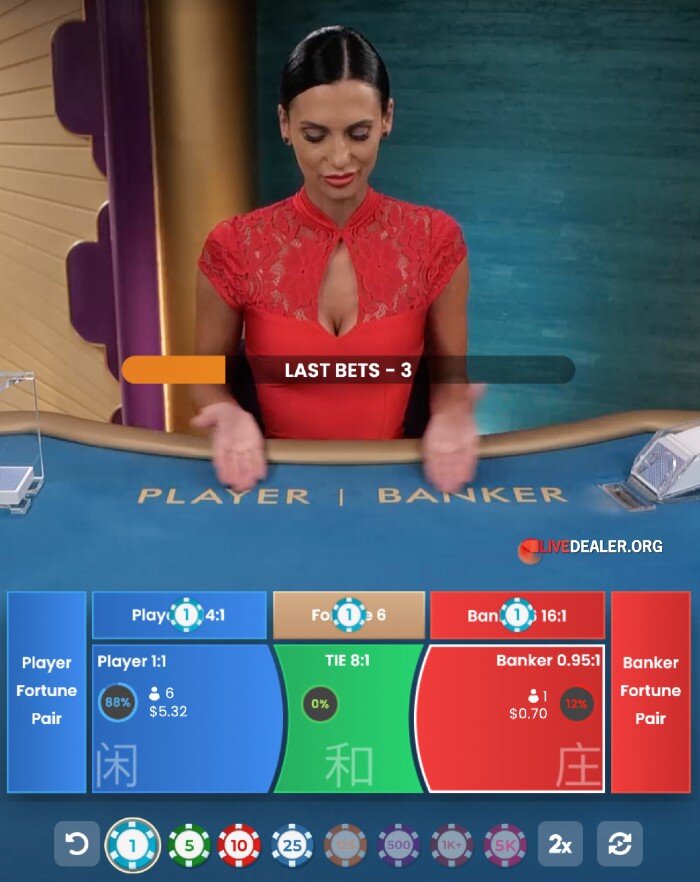 Any, or all of these side bets can be taken in addition to, or without a bet on the main game (as in the above bet round).
Fortune 6
Here you're betting on how many 6 cards will be dealt to either the Player or Banker hands, as set out on the below pay table.
In the below round, a first card 6 to the Player hand earns a 3:1 payout.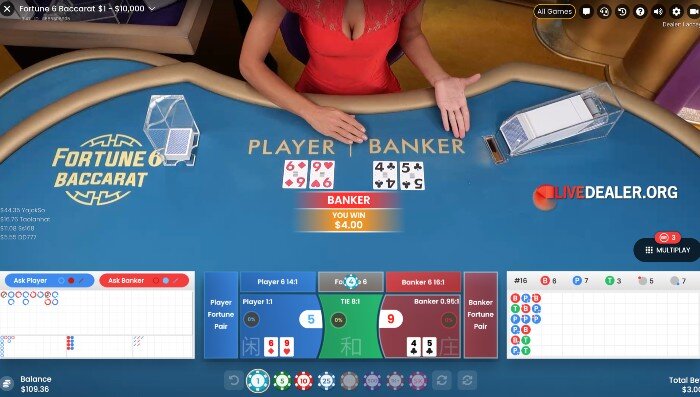 A first and second 6 card to the Payer hand earns a nice 30:1 payout. 6s to the Banker hand would have also paid.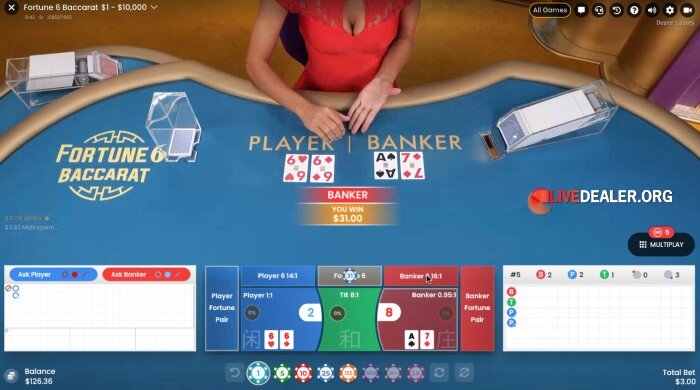 Player 6
Here you're betting on a Player win, value 6. A handy payout of 14:1 applies, and you also get your bet back if the Banker beats your Player 6 with a 'Natural' (score of 8 or 9).
Below is a collect on the Player 6 bet. Also as it happens a collect on Fortune 6, and Banker Fortune Pair.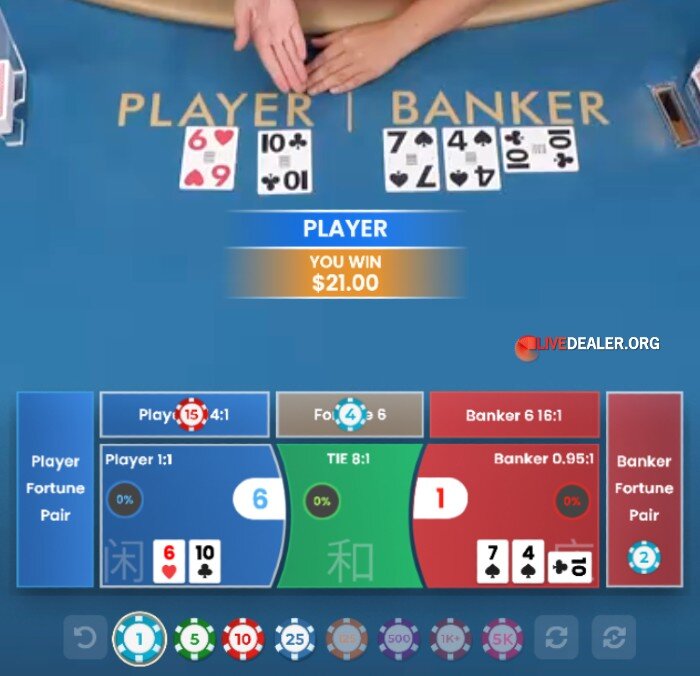 Banker 6
Here you want a Banker win with a point total of 6, for a 16:1 payout. Again, a Banker (value 6) loss against a Natural pushes.
Banker 6 bet pushes against a Player Natural win…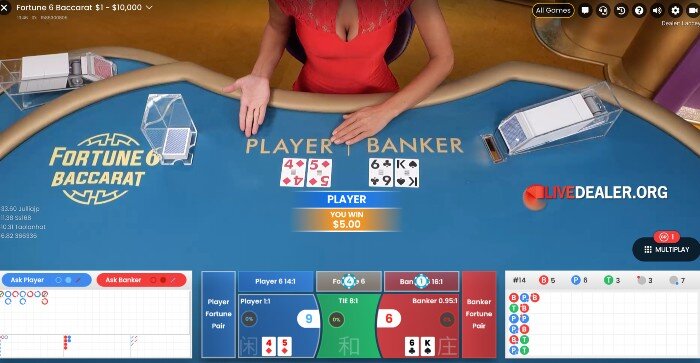 Player/Banker Fortune Pair
Here you are betting on the first 2 cards dealt to either hand being a pair. The pairs and their respective payouts are:
same suit (1:1)
same value (5:1)
suited pair (9:1)
Disabling of side bets
After 30 rounds into a given shoe, you'll no longer be able to place Fortune 6 bets. After 40 rounds, the other side bets are also disabled.
Once you're playing in the back half of the shoe you can only play the main game. We were introduced to this curious disabling rule on the Super 8 Baccarat table.
Theoretical returns
Returns on the main game those of regular baccarat tables. The side bets (as is usually the case) return less.
Main game…
Banker: 98.94%
Player: 98.76%
Tie: 85.64%
Side bets…
Fortune 6: 96.26%
Player 6: 95.62%
Banker 6: 93.36%
Banker/Player Fortune Pair: 97.83%
Fortune 6 Baccarat video
https://www.livedealer.org/dev/wp-content/uploads/2022/07/Fortune6baccarat-placebets.jpg
394
700
LD
https://www.livedealer.org/images/Livedealer-logo.png
LD
2022-07-12 08:47:28
2022-07-12 08:47:28
Fortune 6 Baccarat Live from Pragmatic Play