Pragmatic Play announced its latest live game launch earlier in the week – ONE Blackjack.
It's only a few days old but is already available for play at a bunch of Pragmatic licensee casinos, including perennial early adopters Leo Vegas and Mr Green.
ONE Blackjack is Pragmatic's first 1-to-many deal blackjack table. Their answer to Evolution's Infinite Blackjack (and indeed Playtech's All Bets Blackjack). On these tables an unlimited number of players take their hand from a single deal. Cards are allocated to players based on their individual playing choices – unaffected by the choices of others.
So it is on the ONE Blackjack table. Only your chosen cards are displayed at your seat. Any additional cards requested by other players are not. The nifty physical to virtual card transition pioneered by Evolution is employed to achieve this. Although perhaps not quite as seamlessly as Evolution do it.
How to Play ONE Blackjack
You have a few bet options playing ONE Blackjack. The main game is of course blackjack, the house rules applying to which are set out below.
There are also four optional side bets. Three are carbon copies of side bets we're familiar with from other live blackjack tables like Infinite and All Bets Blackjack.  The fourth (Crazy 7) is new and offers a payout of up to 2,000 to 1.
As always, theoretical returns applying to all side bets are inferior to the main game, and as such should be avoided.
More on the side bets below. But first let's take a look at the main game.
The Main Game – House Rules
Surprise surprise the main game house rules replicate those applying on Infinite Blackjack. That is:
Dealt from an 8 deck shoe (card card inserted mid-shoe)
Blackjack pays 3:2
Dealer draws to 16, stands all 17s
Player can Double any 2 initial cards
Player can Split any 2 cards of the same value
Player can Split Aces
Player can't Hit Split Aces
6 Card Charlie applies (draw 6 cards without busting wins, unless Dealer has Blackjack)
Insurance offered on Dealer Ace up card, and pays 2:1
Presenting your hand (v all other players' hands)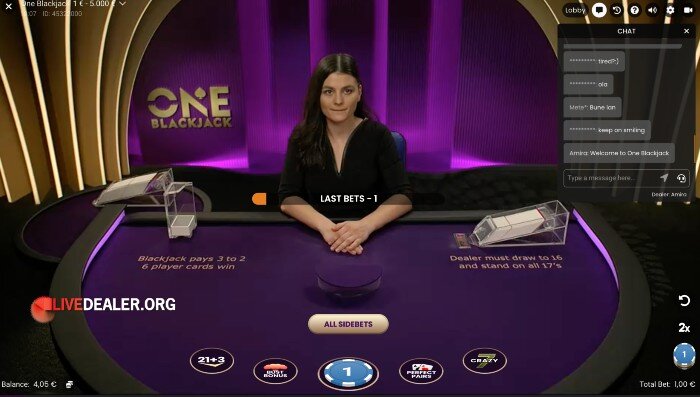 You have ample time to place your bets. The deal then begins.
The dealer slides the physical cards from the deck under a small raised platform in the middle of the table. Any of these cards that you have drawn via a Hit, Split or Double choice are displayed (as virtual cards) at your seat position.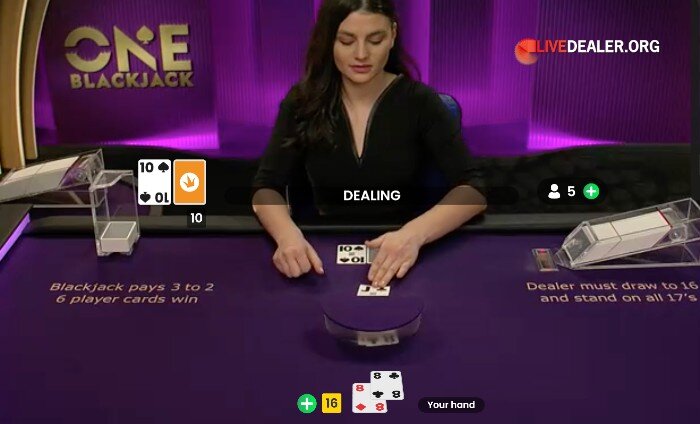 As you can see above, the physical cards remain partly visible, sitting under the platform. Not sure if this is by design. Some kind of reminder that all allocated cards are real. Either way, it presents a little clumsier than the likes of Infinite or All Bets Blackjack.
Anyway, your chosen hand is clear. That's the main thing.
You get plenty of time to decide whether you want to Hit, Stand, Double Down or if available, Split. You also get to see what other players have decided.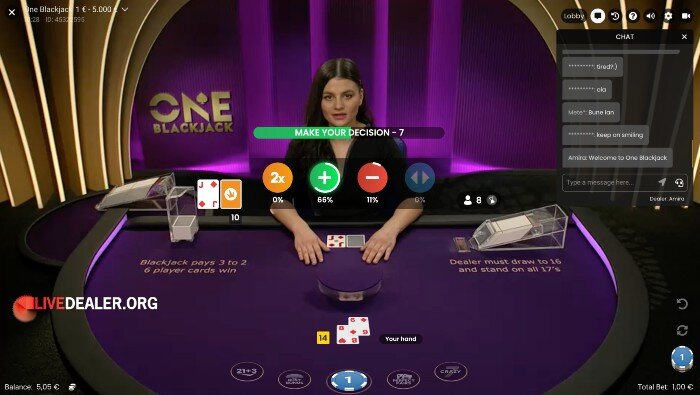 Oh, and in case you missed the chip in the above pics, you can bet down to €$1 per hand.
Low limits is one of the perks of an unlimited player live blackjack table.

The side bets
First the three we've seen before.
21+3 (dealer up card and player initial card combo), with theoretical return of 96.3% and payouts as follows: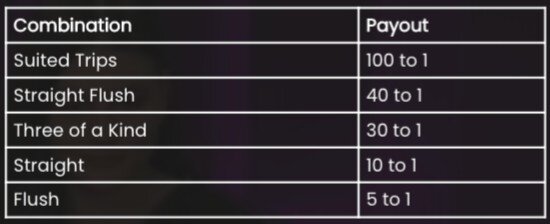 Pairs (player initial card), with theoretical return of 95.9% and payouts as follows:


Dealer Bust, with theoretical return of 93.82% and payouts as follows: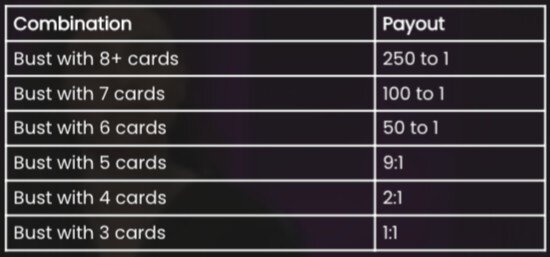 Crazy 7 is one we haven't seen before. Here you are betting on how many 7s you draw to your hand out of your initial 3 cards and first drawn (either Hit or Split). It has a theoretical return of 94.26% and payouts as follows: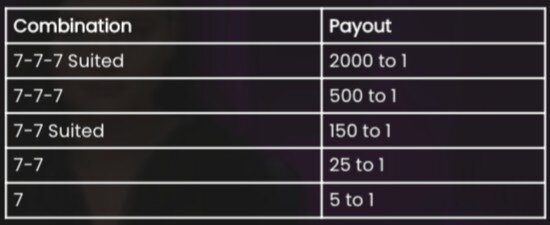 Theoretical returns
You should stick to the main game, with an advertised theoretical return of 99.28%.
I suspect Pragmatic have forgotten to factor in the addition of Six Card Charlie, and the figure should be 99.45%.
A little video action
https://www.livedealer.org/dev/wp-content/uploads/2021/03/ONEBlackjack-featured.jpg
305
399
LD
https://www.livedealer.org/images/Livedealer-logo.png
LD
2021-03-05 04:21:10
2023-02-28 16:34:47
ONE Blackjack from Pragmatic Play