Pragmatic Play now have an impressive range of live blackjack tables.
As at March 2023, they operated over 50 classic 7 seat blackjack tables. Their regular green tables and Azure tables comprise the bulk of their all-access range.
This is further bolstered by Speed Blackjack tables (x2), Ruby VIP Blackjack tables for the high rollers (x3) as well as some exclusive casino branded tables. And to guarantee there is always an available set for players, they offer One Blackjack – their one to many deal table.
Pragmatic are another provider who have unashamedly taken their live table presentation cues from Evolution. It's one thing to seek to copy the best. It's another to execute. And to be fair, their execution is outstanding.
All tables are presented beautifully, easy to play and come with clear and uninterrupted video and audio.
Pragmatic Play's live blackjack table range consists of:
Classic 7 seat blackjack tables including regular, Azure and VIP tables
One Blackjack – a 1-to-many deal table
Speed Blackjack tables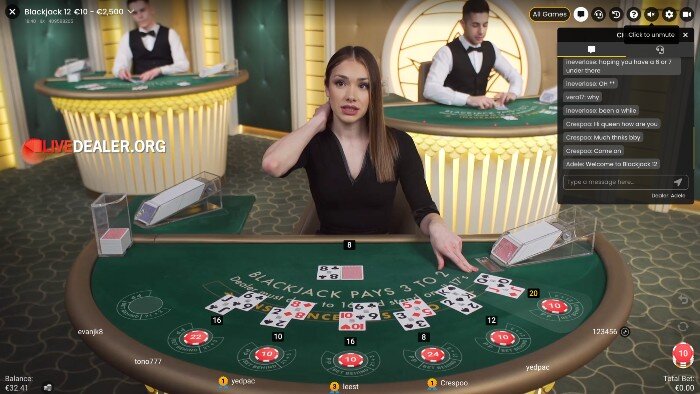 Pragmatic Play's classic 7 seat tables may be categorised as follows:
Regular blackjack (green) tables (15). Bet min €5.  Bet max €2500
Azure blackjack (blue) tables (30). Bet min €5.  Bet max €2500
Ruby VIP blackjack tables (3). Bet min €250.  Bet max €10,000
For all these tables the exact same house rules apply.
Dealt from 8 deck shoe, manually re-shuffled mid shoe
'US Style' deal, ie Dealer draws 1 face up, 1 face down card on initial deal
Dealer stands all 17s
Double down allowed on any 2 initial cards
Double down NOT allowed after split
Double down dealt only 1 additional card
Player can Split any 2 cards of equal value (including Aces)
Only 1 Split per hand allowed (ie no re-splits)
You can't hit split Aces
Insurance is offered (pays 2:1)
Blackjack pays 3:2
Side bets offered (Pairs & '21+3′)
Bet behind is offered
Theoretical return to player rate (assuming optimal play):
– Main game: 99.28%
– Pairs side bet: 95.90%
– 21+3 side bet: 96.30%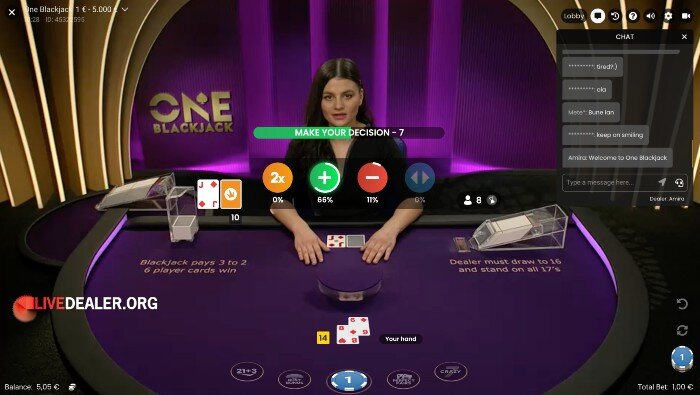 One Blackjack is a one to many deal blackjack table. A single physical card deal caters to many players.
You are still playing your hand exclusively. Only cards that you choose to draw are attributed to your playing hand, which is displayed (to you) virtually. A tricky concept to explain, but quite easy to get the hang of once you've played a couple rounds.
You can read more about Pragmatic's One Blackjack table here.
House rules are almost identical to the 7 seat tables, with the exception that 6 Card Charlie also applies.
Four side bets are offered on this table, none of which should be taken for reasons self evident from the return to player rates that apply.
Main game: 99.44%
Side bets:
– Pairs side bet: 95.90%
– 21+3 side bet: 96.30%
– Dealer Bust: 93.82%
– Buster Blackjack: 94.26%

Speed deal blackjack table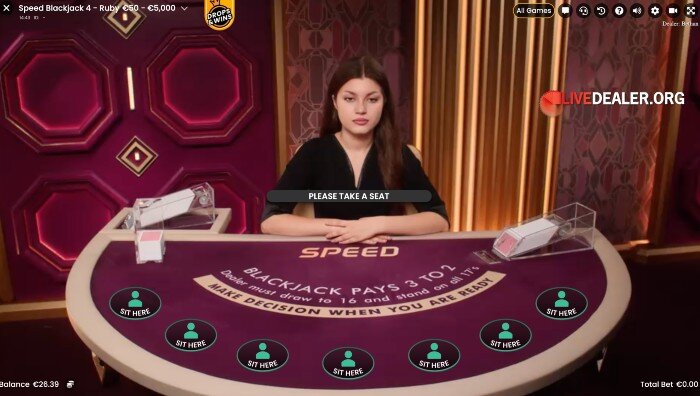 Speed Blackjack is one for the impatient players. It's still a 7 seat table, but game rounds are faster than those on the classic 7 seat tables.
One reason for this is a reduced betting time. But the major reason, is a different order in which players draw cards.
Rather than the regular approach where each player in turn gets to decide whether to hit or stand, in Speed Blackjack players draw cards on a first to decide, first to receive basis. Cumulative decision making time is reduced considerably.
Aside from the order in which cards are drawn, house rules are identical to the other classic 7 seat tables.
You can read more about Pragmatic Play's Speed Blackjack here.
Playing one of their classic 7 seat live blackjack tables…
Playing One Blackjack…
Playing Speed Blackjack…
Pragmatic Plays's live blackjack tables are now offered at a bunch of well know brand operators, including
The recently launched Pragmatic Play exclusive table area for 888, gives this casino an edge in terms of table and bet limit variety.