Monopoly Big Baller is now up and running across most Evolution powered live casinos.
Monopoly Big Baller is Evolution's second Monopoly titled live game produced under license from Hasbro. It follows on from the success of Monopoly Live (successful for Evo, not players).
Mr Monopoly is back walking the Monopoly board in the Big Baller bonus round. He also has a bit to say during the rest of the game – usually interrupting the presenter.
Unlike Monopoly Live, there's no big wheel in this game. Rather, players fortunes in the main game rounds are decided by a ball drawing machine (ala Mega Ball).
How to play Monopoly Big Baller
The aim of the game is to complete as many lines on your 5×5 cell, randomly numbered bet card as possible. Lines are completed as the numbered cells in that line are drawn from the ball machine.
The ball machine contains 60 balls numbered 1 to 60. During the course of each round, 20 balls are drawn.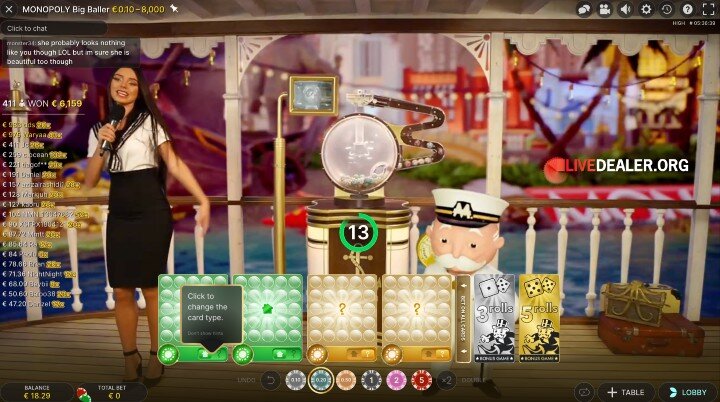 You have 4 cards to bet on. You can bet on any or all of these. There are two types of card:
Chance (in gold) – guarantees a multiplier assigned to the centre cell, improving your payouts for a completed line including this cell.
Free Space (green)- guarantees a free space (or daub, which acts as a drawn number) assigned to the centre cell, improving your chances of completing a line.

You get to change the card type with a simple click. You can play all Chance (less likely to complete lines, higher payout when you do) or all Free Space (more likely to complete lines, less chance of multiplied payouts), or any combination you choose.
You can also place a place a chip on the 3 roll or 5 roll bets. These win you through to the bonus game.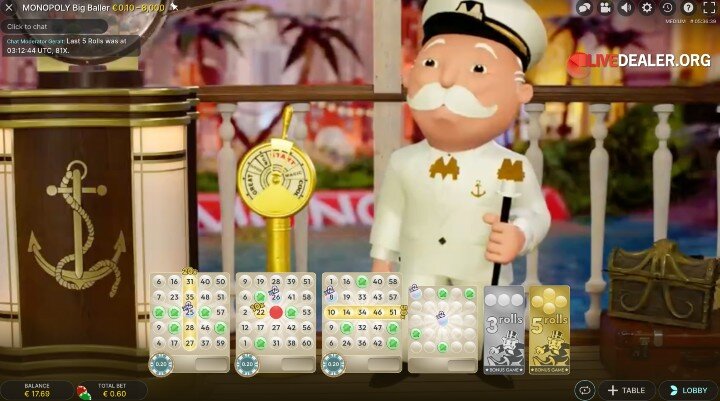 Once bets are placed, Mr Monopoly kicks off the action with a pull of the lever and your card's cells (playing 3 here) are randomly assigned:
numbers for all cells
random multipliers (standard, line or global)
random free spaces/daubs acting as already drawn numbers

The multipliers
Multipliers come in different shapes and sizes, and act on the regular payout for completing a line as follows:
Standard (eg 10x above). Multiplies the regular completed line payout by that amount. Multiple standard multipliers in a completed line multiply (apologies for that sentence).
Line (eg 20x and 50x above). Simply applies to that line.
Global (eg x2 above). If these numbers are drawn they multiply the payout of any completed line on that card, whether contained within the line or not.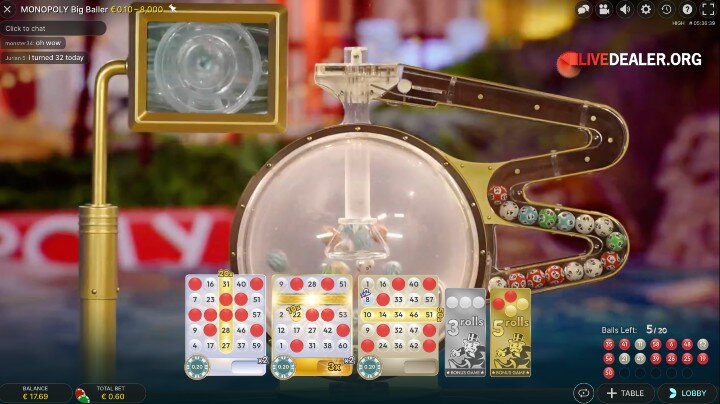 The ball draw
And away we go. 20 balls are drawn in quite rapid succession, filling your cards, and hopefully completing lines as they drop.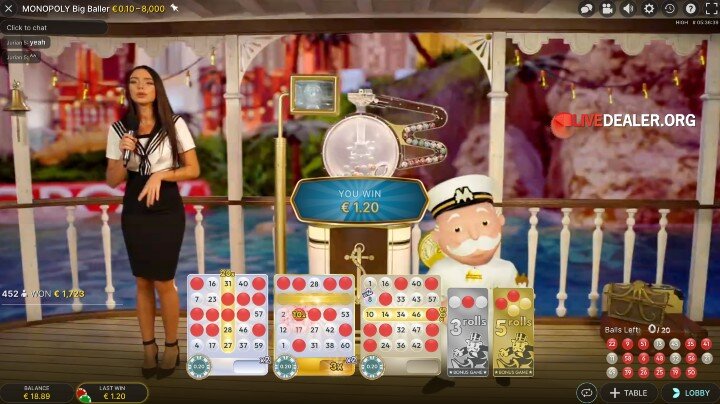 Each completed line (horizontal, vertical or diagonal) pays 3x your bet. This is boosted by any multipliers that are in play, as happened above.
The Bonus Game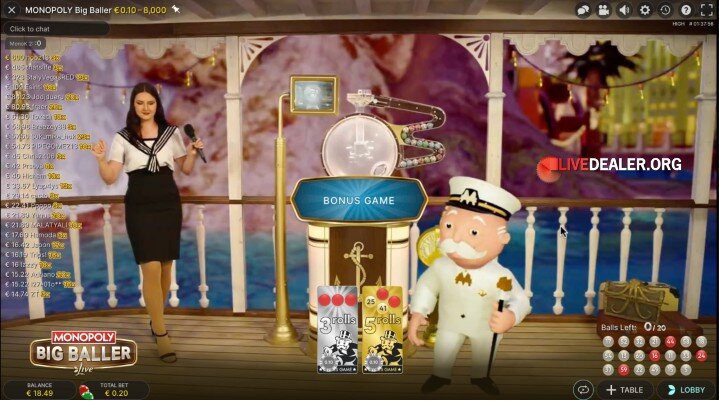 For a shot the bonus game you will need a chip on either the 3 rolls or 5 rolls bet. You can bet on either, or both. You don't have to play any Chance or Free Space cards to take these bets.
You will then win through to the bonus game where:
for 3 rolls, 3 randomly selected numbers are drawn
for 5 rolls, 4 randomly selected numbers are drawn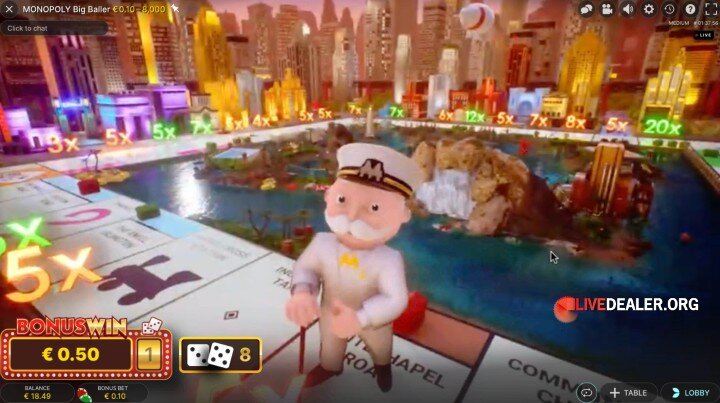 The bonus game sees Mr Monopoly walking the Monopoly board to the roll of 2 dice, accumulating payout multiples along the way. It's a physical, not virtual roll which is something.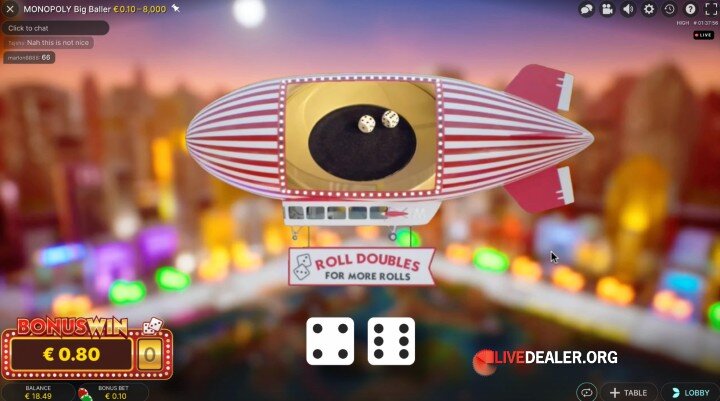 If a 3 rolls win triggered the game, the dice are rolled 3 times. For a 5 rolls win it's 5 times. In the exceptionally rare event that both the 3 rolls and 5 rolls are won, they are played in succession as 2 separate bonus rounds.
That's covers most of what you need to know. For any additional clarity you check the full house rules here.
Theoretical Return
Shouldn't expect too much here. It is a game show after all. One requiring license fees to be recouped to boot.
Return to player rates are:
For Chance and Free Space card bets: 96.10%
For 3 rolls bets: 95.80%
For 5 rolls bets: 95.20%
Who doesn't want to be a big baller? Just not sure this game's the way to get there.
Monopoly Big Baller video action
https://www.livedealer.org/dev/wp-content/uploads/2022/08/MonopolyBigBaller-placebets.jpg
402
720
LD
https://www.livedealer.org/images/Livedealer-logo.png
LD
2022-08-18 07:37:22
2022-08-18 07:37:22
Monopoly Big Baller now Live