Welcome to Treasure Island – another live big money wheel game from Pragmatic Play.
It's Pragmatic's 3rd live big wheel game joining Mega Wheel and Sweet Bonanza Candyland.
Pragmatic describe Treasure Island as, "an immersive game that transports you to a deserted island full of adventures…played by spinning a large 54 sector vertical money wheel, and featuring 6 exciting bonus games".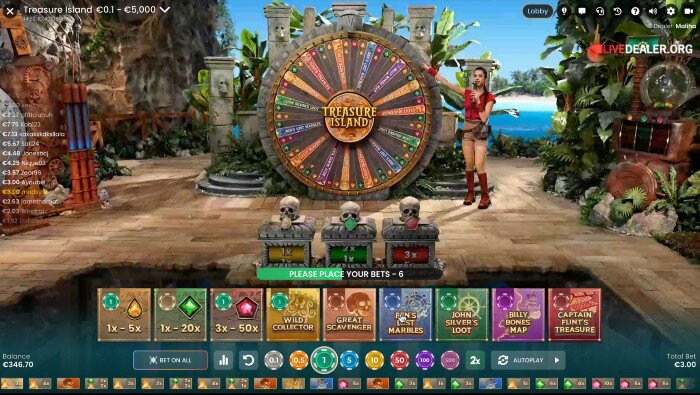 That covers most of the bases really. After all, money wheel games aren't exactly rocket science. Pick your segments, and hope the wheel's flapper comes to rest on your choice for either a set payout or entry in a bonus game. In the latter case, a Treasure Island themed game will determine your payout either by means of RNG magic, or some kind of random selection contraption.
Treasure Island bet options
The gemstones, Topaz (yellow), Emerald (green) and Ruby (red) are your direct payout bets that collectively occupy 39 of the wheel's 54 sectors.
Less prevalent are the Bonus Games:
Wild Collector
Great Scavenger
Ben's Lost Marbles
John Silver's Loot
Billy Bones' Map
Captain Flint's Treasure
All are clearly set out on the game's bet selector.

Note the gemstones specify a payout range rather than a single payout. This is because once bets close, their payout value will be determined by the skull adorned reals in front of the wheel.

In the above game round, it was 1x for Topaz, 2x for Emerald and Ruby came to rest on 5x. Possible outcomes are:
Topaz: 1x to 5x
Emerald: 1x to 20x
Ruby: 3x to 50x
Also, some segments contain 2 gemstones which both pay, as for Ruby and Topaz outcome below, effectively doubling the above ranges.

The top Ruby payout would be the double Ruby segment with the skull multiplier set at 50x for a total 100x payout.
Bet Payouts and Return to Player
Below are the payout ranges for all bets, and their respective theoretical returns – all hovering around the 96.5% range. Wild Collector is the 'value' bet at 96.56%, albeit by a bee's willy.
| Bet | No. Segments | Payout | RTP |
| --- | --- | --- | --- |
| Topaz | 21 | 1-10 : 1 | 96.52% |
| Emerald | 14 | 1-40 : 1 | 96.50% |
| Ruby | 8 | 3-100 : 1 | 96.50% |
| Wild Collector | 3 | 2-900 : 1 | 96.56% |
| Great Scavenger | 4 | 3-450 : 1 | 96.53% |
| John Silver's Loot | 2 | 2-10,000 : 1 | 96.54% |
| Ben's Lost Marbles | 3 | 2-10,000 : 1 | 96.54% |
| Billy Bones' Map | 2 | 5-15,450 : 1 | 96.55% |
| Captain Flint's Treasure | 1 | 10-15,000 : 1 | 96.52% |
Those of you with and eye for detail will have noticed that the the number of segments above totals more than 54. This isn't a mistake – rather a reflection of the fact that some segments contain two gemstones.
Treasure Island Bonus Games
There are 6 Bonus Games in all. Or 4 Bonus Games and 2 Bonus Features is you're being pedantic.  The difference, in case anyone cares: the features are quicker and less elaborate that the bonus games.
Regardless, they all have the same aim…to arrive at a payout/multiplier figure. For all but one, this is done in an RNG fashion (ie computer generated). The one game where outcomes are driven by a physical contraption (lottery ball machine) is John Silver's Loot pictured below.

The Billy Bones' Map bonus game, shown below comes with the highest possible payout at 15,450 : 1.

If you want to read more about the each of the bonus games, you can check the full house rules.
Our thoughts on Treasure Island
Beginning on a positive note there isn't a standout bad bet on this game, with nothing returning less than 96.5%. Of course it can also be said that there isn't a standout good bet.
Where this leaves you will depend a lot on whether or not you're a fan of big money wheel games. We know plenty of you are. To this cohort, Treasure Island will tick a lot of boxes.
To this reviewer, the biggest highlight of an hour or so's play which started at a balance around €350 and ended around €270, was presenter Maliha's commentary of her own cracking voice…
"Voice crack…all good. My voice be cracking like I'm Justin Beiber in puberty"  
https://www.livedealer.org/dev/wp-content/uploads/2023/11/TreasureIsland-gemstonepayouts.jpg
393
700
LD
https://www.livedealer.org/images/Livedealer-logo.png
LD
2023-11-16 03:42:20
2023-11-16 03:45:01
Treasure Island Live from Pragmatic Play