Last month we did a post on live casino games you could play on your iPad.  The upshot of that post was that the list of casinos and games you could play on iPad was sadly very short, owing to a pretty simple equation:
iPad = No (Adobe) Flash Player  = No live casino games
But there is now an iPad application that changes this equation – a fact pointed out by a reader (thanks again Ed from Ireland).
iSwifter was developed by a bunch of techies who were sick of not being able to play Flash games or view the web in all it's Flash enabled glory on their iPads.  You'll find it in your iPad App-store and once downloaded (free for limited version, $5.50 for full version) you are able to browse the internet via iSwifter's browser interface which gives you full Flash access.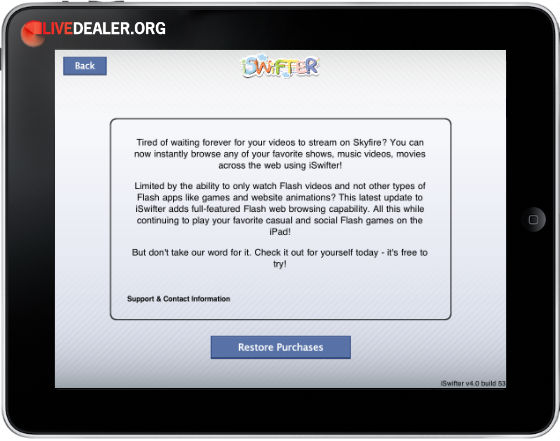 iSwifter tested on live casino games
Armed with this new little piece of tech whiz-bangery the next step was to of course to try it out at a few live casinos and see if it was actually possible to play their games.
Test 1 – Unibet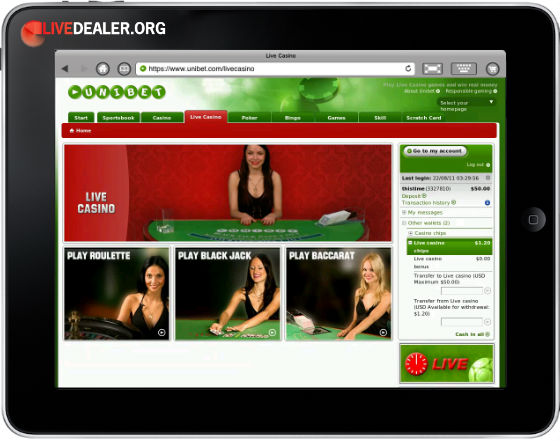 The first thing I noticed when Unibet's live casino page opened was the Flash animation.  See the girl at the table with the red background? If you visited this page with your normal iPad browser you wouldn't.  Tick one for iSwifter. No problems logging in either.
Now for the real test…loading a game. I tap one of the live game launch buttons with my finger and rather than getting the 'Sorry, you don't have the required Flash Player' error message, I am greeted by the Unibet live casino lobby.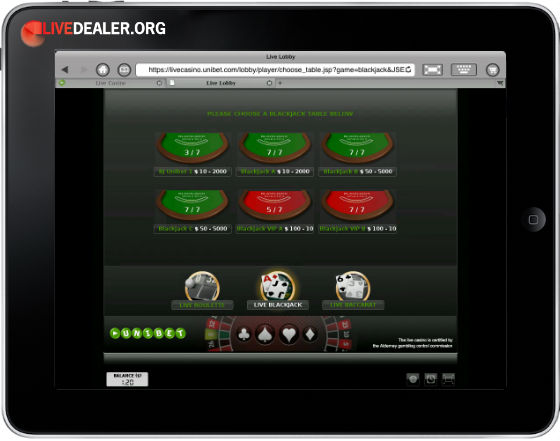 I select Unibet's dedicated live blackjack table (top left) …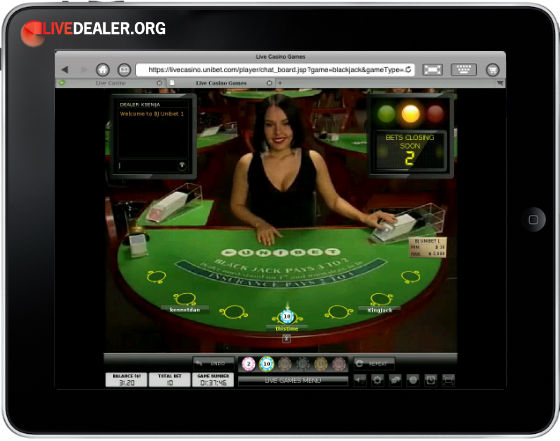 I take a seat and place a bet which is simple finger tap to select your chip and then a second tap in your bet box to place that chip bet.
It's that easy. In fact the touch screen functionality of iPad makes the games very playable and I found myself playing through an entire shoe before I remembered I had to test out some other casinos.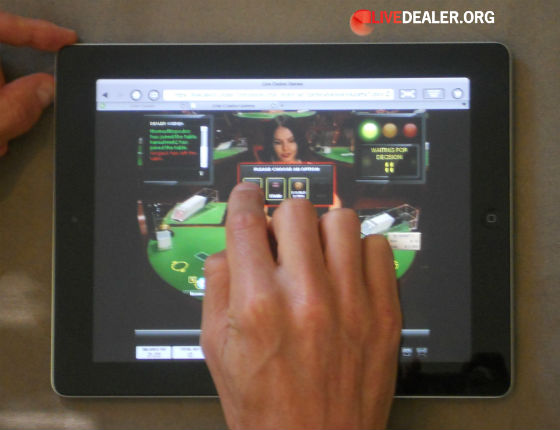 Now for the limitations.
I was playing from an already registered and funded account.  I did try and deposit funds (using VISA) into my account via iPad/iSwifter but the transaction didn't process for some reason.  I immediately checked to make sure the problem wasn't a bank/casino issue by depositing using my PC and the transaction processed immediately.
Test 2 – William Hill (Vegas)
This is William Hill's Evolution Gaming powered live casino (ie same software as Unibet).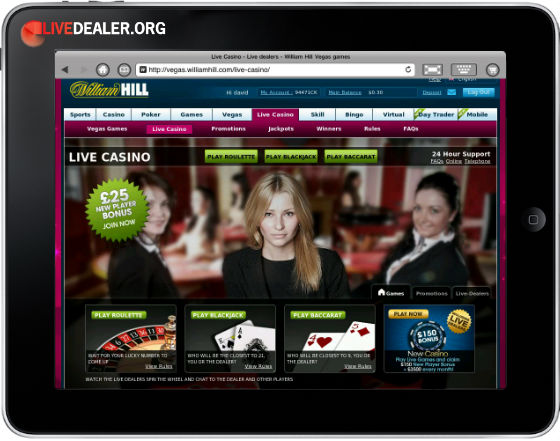 Again, from an already registered and funded account I encountered no problems accessing and playing the live games.
Again, depositing funds via iPad/iSwifter was an issue.
Test 3 – William Hill
This is William Hill's Playtech powered live casino which is playable from the same registered account as William Hill Vegas.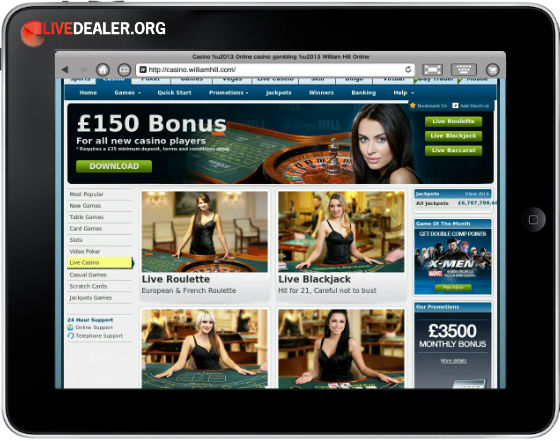 Already logged in I launched a game of live blackjack and encountered the below error message which says 'Sorry, we do not accept real money bets from your jurisdiction'. Curious, given I am certain that both William Hill and Playtech have no issues taking bets from my legal jurisdiction.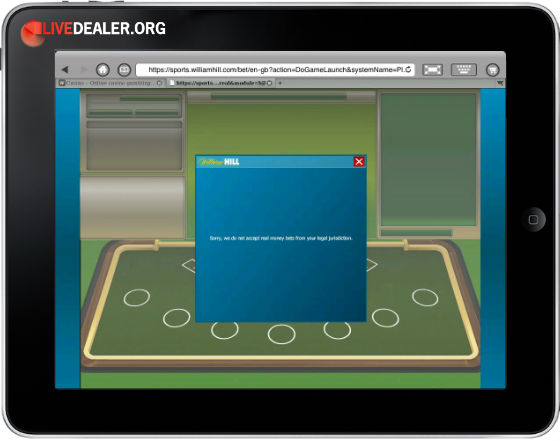 Test 4 & 5 – BetFred and bet365
Identical jurisdiction error messages were received at both of these casinos.  It seems that accessing the games via iSwifter trips the Playtech GEO-block system and it thinks you have a United States IP address.
Summary
You definitely can play live casino games on your iPad, and it's really quite good fun.
Which games?…all offered by Evolution Gaming (live blackjack, European roulette, French roulette, baccarat).
Which casinos?…those powered by Evolution Gaming (may be some exceptions…didn't test them all).
Any issues?…you may run into problems depositing funds into your casino account via iPad/iSwifter. Playing using an already funded account works fine.
You definitely can't play at casinos powered by Playtech (for the time being anyway, although this could change very soon).
What about all the other live casinos?…didn't have time to check them all out – that can be your job!

Update – A number of casinos now offer purpose built live roulette for iPad and live blackjack and baccarat are on their way.
https://www.livedealer.org/images/Livedealer-logo.png
0
0
LD
https://www.livedealer.org/images/Livedealer-logo.png
LD
2011-08-23 03:49:33
2011-08-23 03:49:33
Playing live roulette, blackjack, baccarat on your ipad