Other than the customary Halloween celebrations October was relatively shock free in terms of new games and features. So I've took the opportunity to comment on a few things that have slipped through over the last few months.
Halloween
As a rule of thumb the big casinos love any excuse for a promotion. Although the degree of enthusiasm and effort tends to vary, and from studio to studio. Some casinos even seemingly take the moral high ground and do nothing at all with dealers actually having to remove hats and so on before entering a private tables area. Halloween being a good case in point.
888 live casino were quick off the marks at Evolution. Releasing hordes of undead, witches and pumpkins on players a week before the actual night.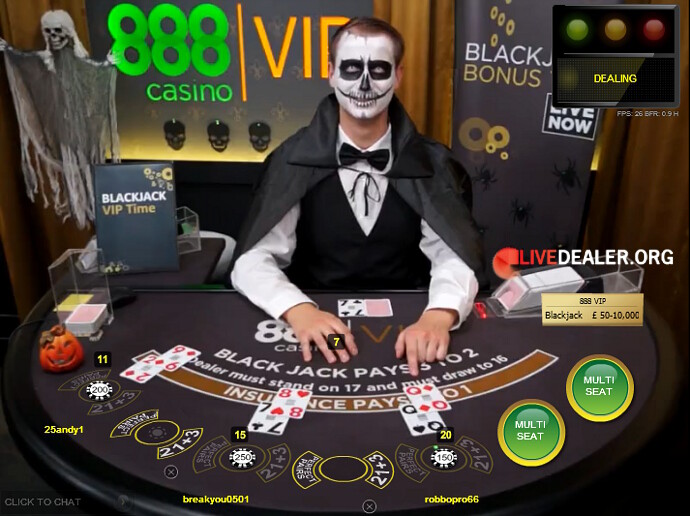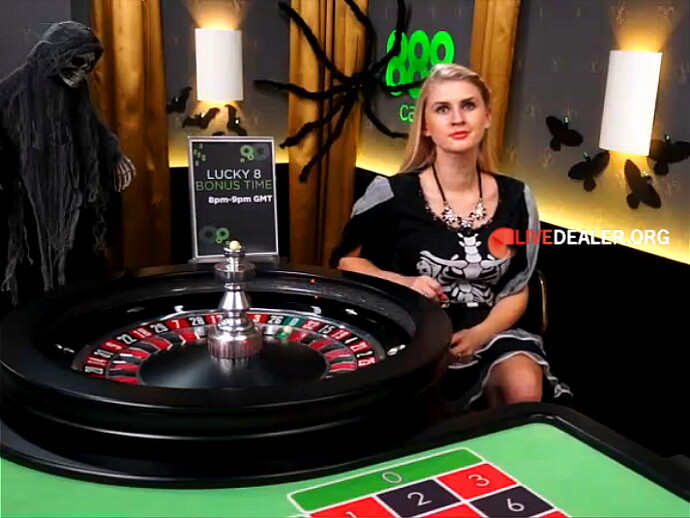 Sister casino 777 was devoid of Halloween, but those red & black dot neck scarfs give me the heebie-jeebies anyhow.
Playtech's Euro studio female dealers wore their regular minimalist Halloween headgear. With the male dealers in orange ties … scary stuff indeed. The old Playtech pumpkins were brought out of the witches broom cupboard and dusted off to decorate the tables.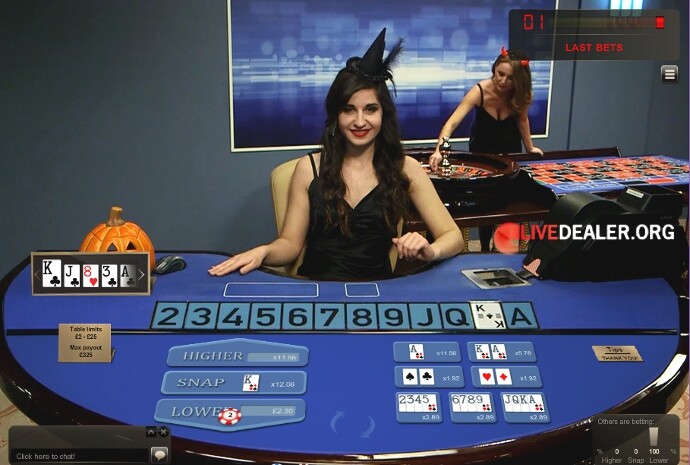 The recently launched Hi-Lo game is now available to CORAL casino players.
Private tables belonging to Winner and Sky Casino at Playtech once again had dealers sans headgear, no orange ties, and not a pumpkin in sight.
Bet365 mixed up an extra special Halloween potion of 3 themed private tables complete with Playtech dealers in makeup.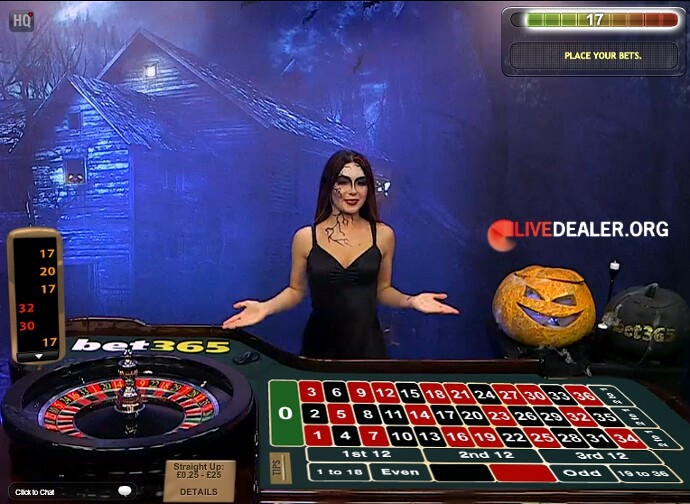 The Spooky Roulette, Monster Blackjack and Vampire Blackjack tables were open in addition to bet365's regular private tables.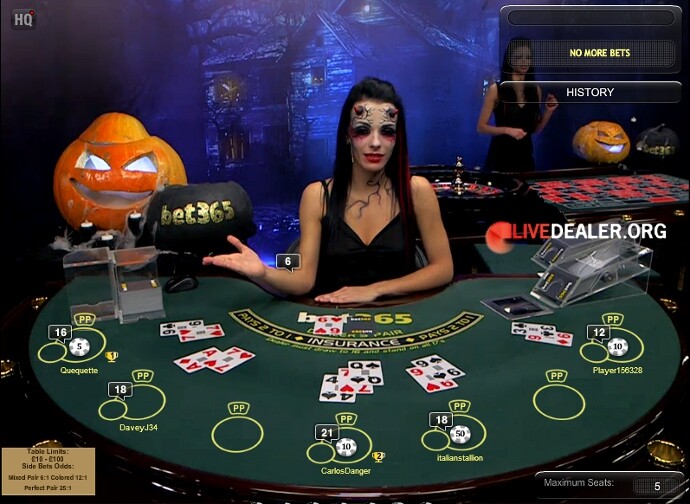 Evolution general floor tables had no such decorations, dealer hats nor coloured ties. Nevertheless, on the whole, the best live casino promotions, decorations and costumes are usually to be found at Evolution's dedicated private table areas such as 888's.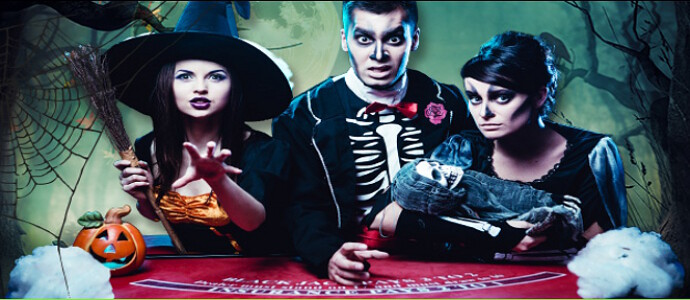 As to be expected, William Hill's private area at Evolution went big on Halloween including lots of cobwebs. But I'm still brooding over Hosts Anna and Vladimir mass player chat blocks in January without any warnings. So there's no new pictures of dealers in costume. If you look at last year's blog you get the idea how big they push a promotion theme.
I was amused at the start of the month when William Hill pit boss Andre asked me if I would write another piece about the Vegas-Genie tables. I told him why it wasn't on the cards because of past treatment. No offence intended Andre, but what goes around comes around.
---
Number 8 seat at Playtech
This is no Halloween trick or treat mischief. Baccarat players at Playtech's Euro studio may have been left wondering recently if their eyes are playing tricks on them. Playtech's regular layout baccarat tables still only have 7 seat positions, but curiously there's now a seat number 8.
So what the devil is going on. Well there's a very simple answer if you understand Asian culture, and consequentially a possible partial explanation why the studio bosses don't seem to be able to understand a shift in player behaviour (more on that below).
Ever since Playtech made the announcement of its Dual Network feature more European casinos have offered Playtech's Asia studio tables and vice versa. With more Asian players frequenting the European studio.
LD once remarked in the forum,
Always wondered why an 8 seat table hasn't been introduced? Seat number 8 would have a certain appeal to plenty of baccarat players I suspect.
Number 8 is considered lucky in Chinese culture. The word for "eight" (八) pronounced bā sounds similar to the word which means "prosper" or "wealth" (發).
In a nutshell, Asian players love baccarat. Playtech saw merit in creating a seat number 8 with minimal effort or change to their current layout by simply renumbering the seats and ditching an unlucky number.
As LD elsewhere pointed out,
In the eyes of the Chinese, 4 is generally disliked by people just as 13 is in the western world. This is because Four is pronounced Si in Chinese, the same as 死 (death).
And so seat 4 was consigned to Playtech history! mWahahaha, but not everywhere, not just yet…..
---
You are so quiet today players
Chances are, if you are a Playtech casino player you've heard the Euro dealers remark "how quiet players are today", or words to that effect. It's become something of a de facto standard comment , especially at the roulette tables which traditionally always had chatty players.
Playtech used to be almost infamous for the number of non-playing spirits haunting the tables daily and keeping the dealers entertained.
Privately dealers will admit how boring the days are if no players are talking to them. Given the sheer number of players at the roulette tables it's understandable why the dealers seem perplexed by the lack of conversation.
Naturally they are ever mindful of their salary and CSR staff watching over them from their remote offices. Dealers are instructed to engage players in conversation and this year they've had workshops on how to be entertaining.
I certainly feel there are less player conversations at Playtech tables compared with a few years ago. It's open to speculation the reasons behind this, but I do wonder if the studio bosses just look at player numbers at the tables and whether they comprehend what's changed.
My theory, for what it's worth, is that the influx of Asian players and casinos switching from the Evolution platform to Playtech masked the exit of longstanding regular chatty players from the studio. Not forgetting players from countries such as Canada, Australia and so on that were blocked.
So while player numbers may look healthy enough, player demographic has changed.
Asian players are known not to be talkative to dealers. Likewise, Evolution players traditionally were less talkative to dealers. I remember sitting at Sky Vegas and Ladbrokes private tables at Evolution and seeing players pour scorn on any player who dared talk to dealers anything non game related. When Paddy Power switched to Playtech from Evolution many Paddy players were complaining of slow games and all the dealer chat.
At Evolution dealers are graded and paid by how fast they deal cards, so why waste time in general conversation. Admittedly that's over simplifying the situation and recently Evolution is noticeably changing its philosophy towards dealers engaging players in conversation.
So what's happened to Playtech's numerous chatty players?. Obviously some just leave over time.
From my own experiences and talking to other players I would say there's a feeling of disillusionment and apathy towards Playtech and its dealers.
Players lost many popular dealers en masse with the creation of Italian tables. Other dealers moved on to non dealing positions or left the studio.
The opening of all the new private areas means players unaware of such tables don't see favourite dealers, and even if you know about the private areas it's a hassle logging into them every 30 mins looking for dealers. A far cry from a few years ago when you could mark your favourite dealer to be notified whenever they were dealing.
If you want to talk to dealers, Playtech is still hard to beat in terms of friendly dealers. But it's more of a trek nowadays than it ever was finding favourite dealers.
---
The evolution of Playtech
Besides the more obvious new tables and features there have been a significant number of changes at Playtech over the last year.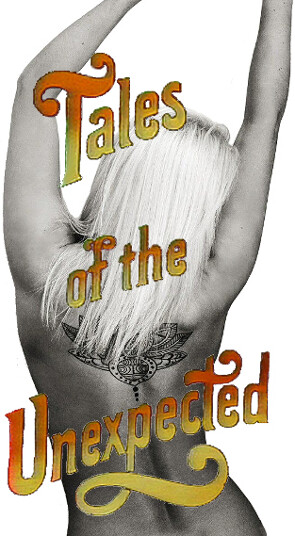 Chat rules changed for dealers, and continue to be relaxed. Game procedures changed a couple of months ago when card burning was dropped.
In October they relaxed the rules regarding dealer appearance, allowing dealers to have visible tattoos. It's not as if they were unblemished angelic heavenly creatures before, but tattoos were for the most part hidden away on dealers backs and so on, or with a convenient sticking plaster covering artwork.
All these changes combined give the overall impression that Playtech is transforming into something more akin to Evolution Gaming with its more relaxed rules and no fire hazards from constantly burning cards.
No doubt changes were set in motion once Playtech bought into the company that runs the Riga studio. But there's also an extra ingredient in the melting pot now. Playtech have a new pit boss who previously worked at Evolution. It's almost like the chicken and egg question … which came first, the Evolution pit boss or the transformation spell?
Knowing of the new pit boss it comes as no surprise to hear whispers of a Party blackjack table coming to Playtech, a Russian roulette table, and a new different Prestige Roulette table. Just how many Evolution blueprints and secrets did he bring with him?
Personally I wouldn't mind if he brought the blueprints for the Three Card Poker table, but lets keep the nicer looking Playtech tables.
Although when you see all the electrical gubbins under the table surface I'm sure some paranoid players will feel vindicated in their belief of casino mischief afoot ;).
---
https://www.livedealer.org/dev/wp-content/uploads/2015/10/Fest_oct-ALT.png
330
360
Unclefester
https://www.livedealer.org/images/Livedealer-logo.png
Unclefester
2015-11-02 19:16:40
2018-05-27 17:05:39
Fester's Findings - October 2015