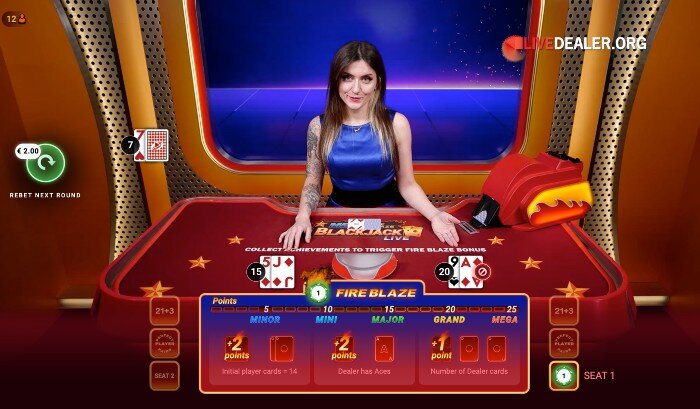 Mega Fire Blaze Blackjack is the latest and greatest game show from Playtech. It joins their Mega Fire Blaze Roulette table which launched late 2021 and is still running.
Like the roulette version, Mega Fire Blaze Blackjack takes the traditional namesake game and adds a bonus round giving players a shot at some big payouts.
Let's break it down.
How do you play Mega Fire Blaze Blackjack?
There are essentially 2 parts to this game, represented by the 2 main bet types:
the 'main game' for want of a better term, is a regular blackjack game.
the Fire Blaze bonus game.
The Main Game
The dealer deals 2 player hands (from an 8 deck shoe shuffle machine). You can play either or both by placing your bet at SEAT1 and/or SEAT2.
The hands are dealt in one-to-many format, so each can be played by many players. Your hand, as dictated by your hit/stand/split/double decisions based on the physical cards dealt, is represented to you virtually.
'Normal' blackjack payouts apply here – even money for a regular win, 3:2 for Blackjack. House rules are largely consistent with Playtech's other live blackjack tables, and a similar theoretical return applies.
You simply play out your hand as prompted, hoping to be beat the dealer to 21. Although my chances on SEAT1 below aren't looking good.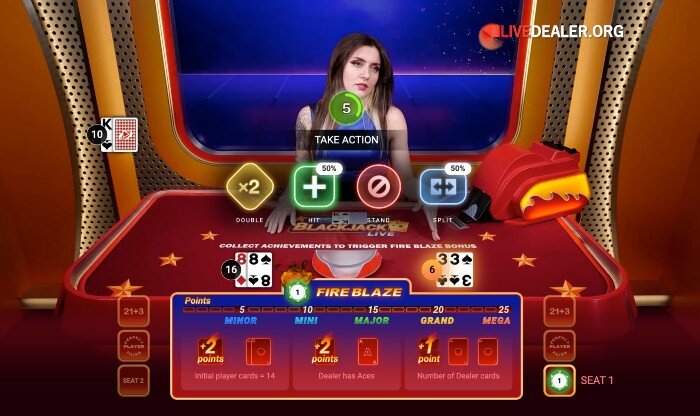 But if you're just wanting to play regular blackjack, you shouldn't be at this table. There are plenty of others for this. On this table your blackjack game will be regularly interrupted by bonus games. Not to mention all the other visual and audio distractions that tend to accompany game show type live games.
The Fire Blaze Bonus Game
The Fire Blaze Bonus game is what you're at this table for.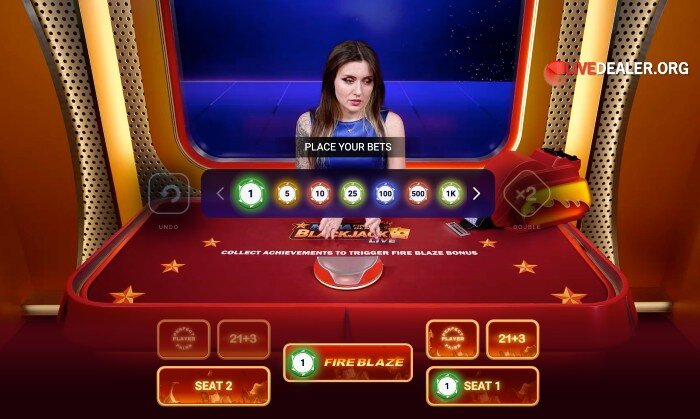 A chip on the Fire Blaze bet selector gets you in the running. You'll need a bet on the main game first to be able to do this.
Now you are hoping for the Fire Blaze bonus game to be triggered, which depends on the cards dealt that round. Certain combinations ('achievements') to the player and dealer positions earn points. If enough points are scored a bonus game is triggered.
The achievements that earn points:
2 points for initial card total 14 to either player hand,
another 6 points for 14 total to both,
2 points for 1st Ace to dealer
another 6 points for 2nd Aces to dealer
1 point if dealer draws 4th card
another 7 points if dealer draws 5th card
another 12 points if dealer draws 6th card
Higher points = bigger bonus game
The more points generated by the deal, the higher the level of bonus game that is triggered, as follows:
5 points = MINOR Fire Blaze bonus game
10 points = MINI Fire Blaze bonus game
15 points = MAJOR Fire Blaze bonus game
20 points = GRAND Fire Blaze bonus game
25 points = MEGA Fire Blaze bonus game
Higher level games generate a higher payout. For example, a MAJOR game can win you up to 400x your Fire Blaze bet. A MEGA game can win you up to 1,000x.
The below round managed to trigger a MEGA Fire Blaze bonus game. Note my SEAT1 main game bet is lost. No matter. All that is needed to take part in the bonus game is a Fire Blaze bet – the main game outcome is irrelevant.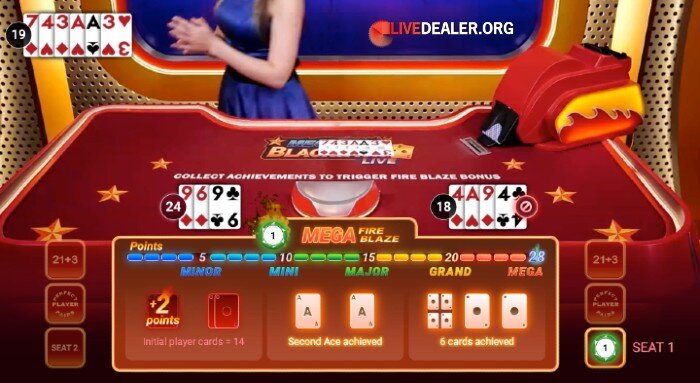 A rare 25+ points achieved (the celebration is real), thanks largely to the dealer's 7 card, 2 Ace hand.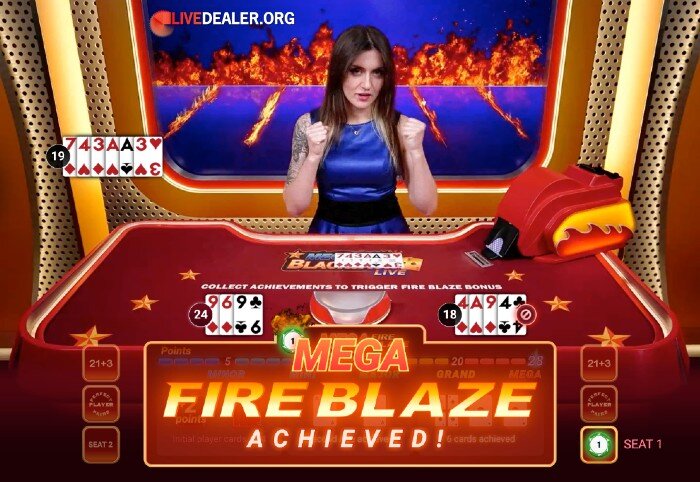 Once the bonus round starts you have nothing to do other than hope that the final multiplier is a big one! We're completely in the realm of computer generated graphics and outcomes here.
Higher game levels drop more multipliers and offer the chance of a higher final multiplier.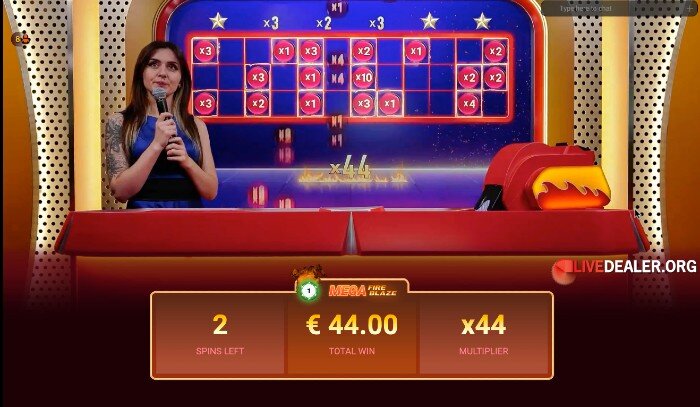 This one ended with a not too shabby 145x payout – €145 for a €1 bet!
Needless to say, MEGA games aren't common.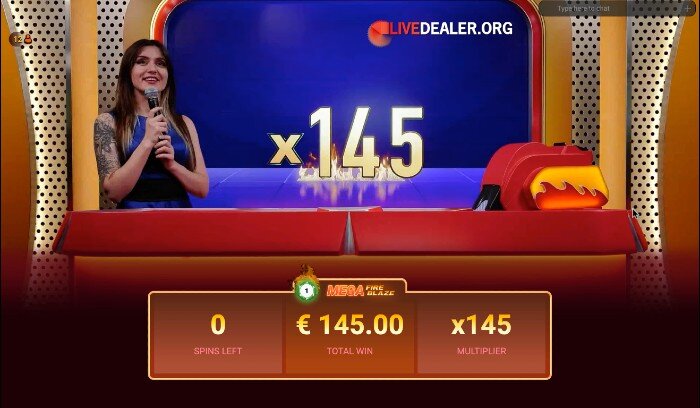 Payouts
Main game payouts are as per standard blackjack.
Payouts on the bonus games vary substantially with 999 to 1 being the top possible return on the MEGA game.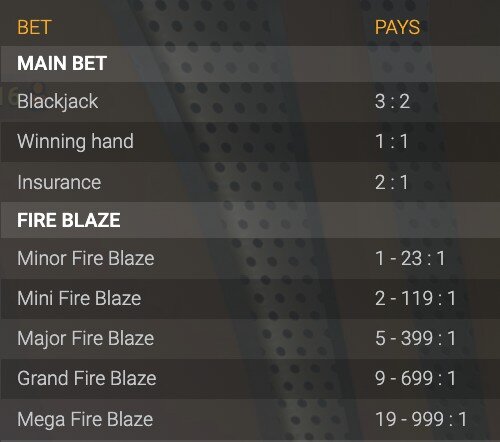 Ironically, the only way you're going to make your cash last on this table is playing the main game. Despite the lure of big payouts, the Fire Blaze bonus games offer poor returns in the long run.
RTP rates are:
Main Game: 99.55% (played optimally of course)
Fire Blaze Bonus Game: 97.47%
Side bets  (Didn't bother discussing these. Not new and never a good bet)
Pairs: 95.90%
21+3: 96.30%
Full House Rules
Video action – including MEGA Fire Blaze bonus win
https://www.livedealer.org/dev/wp-content/uploads/2023/02/MegaFireBlazeBlackjack.jpg
409
700
LD
https://www.livedealer.org/images/Livedealer-logo.png
LD
2023-02-02 22:03:21
2023-02-28 16:40:24
Mega Fire Blaze Blackjack from Playtech