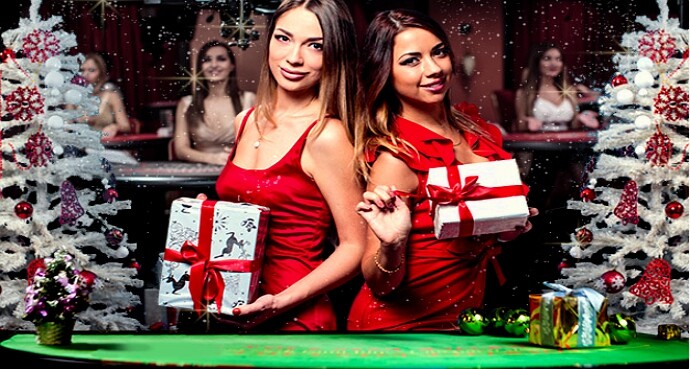 Being the festive season, what treats did the casinos bestow on players for the month of December.
Christmassy tables
Of all the casinos in December bet365 should probably be congratulated most for opening extra Christmas themed tables. The 3 extra private bet365 tables were looking very festive with dealers in seasonal elf and Mrs Claus outfits complete with a wintery backdrop wall, trees and so on.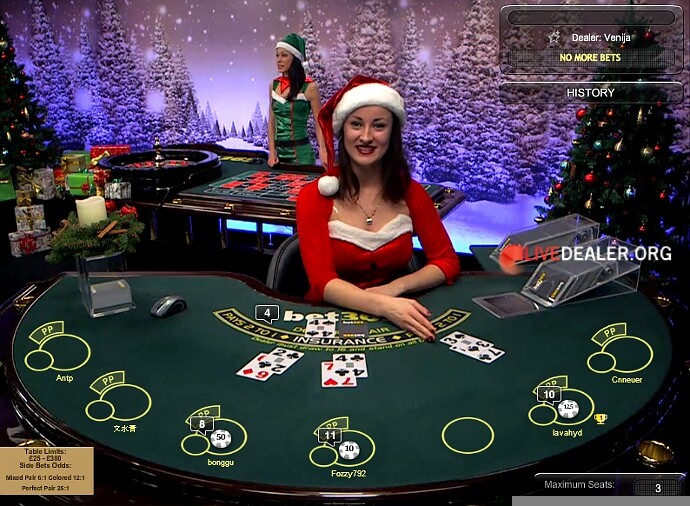 PokerStars private tables at Evolution were also looking very nice. The dealers dresses were the icing on the Christmas cake.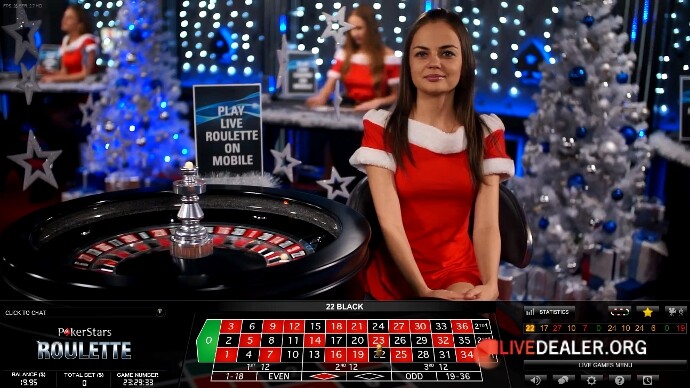 Less decorations in William Hill's new Macau area, but the Immersive Lite roulette wheel now comes in gold with dragon motif.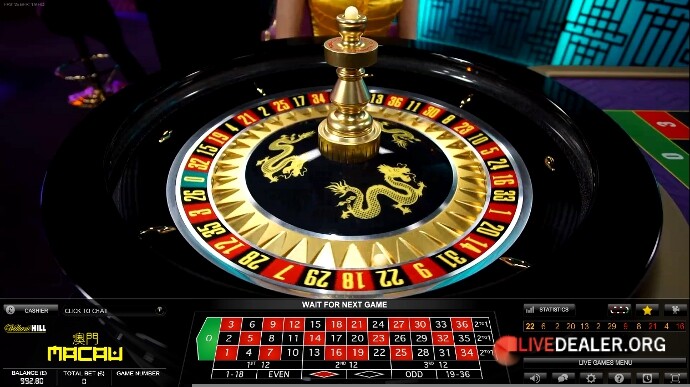 ---
Extra Betfair blackjack tables

Just in time for Christmas Betfair added 2 more private blackjack to its growing table list. The extra tables are centre stage in the expanded live casino lobby. Unlike the bet365 seasonal tables, these tables are to be somewhat more permanent.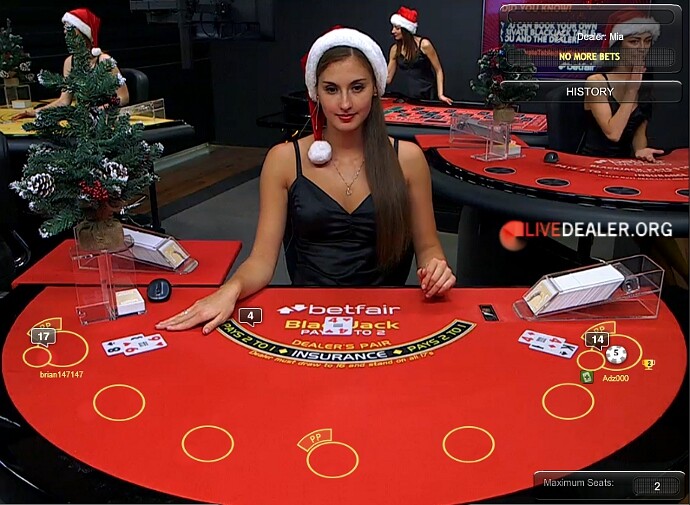 Currently the new tables open daily at 17:00 GMT.
Thankfully the additional tables are available to regular players, as opposed to the mustard VIP table which can prove elusive to some players coupled with unhelpful customer support. According to LD,
Hmmm couldn't get a seat at the old mustard VIP table.
Unless you're living in Canada. In which case no live tables will be available following the announcement from Betfair
that another Playtech casino is exiting the country.
---
Baccarat squeeze at Evolution
Shortly after William Hill opened its new Macau themed area, Evolution Gaming launched its new format Baccarat Squeeze table in Hill's Macau area.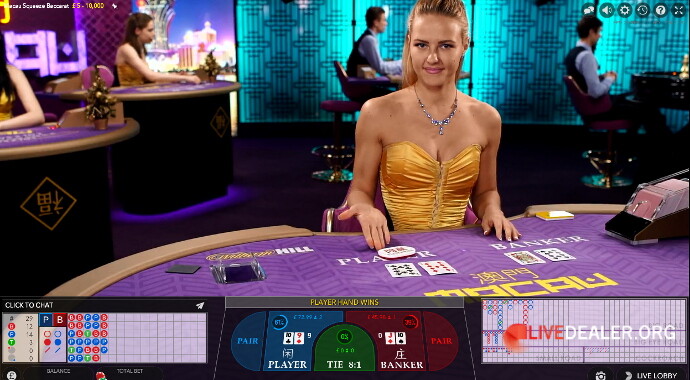 The new baccarat is an immersive experience complete with 17 HD cameras catching all the action from a multitude of angles and close-ups of the card squeeze. In case you thought it was some mistake, yes I really did say 17 cameras … that's more than the total number of cameras at some dealer studios!
Other casino players who are partial to baccarat will be pleased to hear Evolution are opening new improved generic tables from the start of 2016.
Genting Casino are also in the running to get a similar baccarat table in its highly anticipated new private area.
Personally I'm waiting for Evolution to launch an Immersive-Party-Baccarat-Squeeze table. With the dealer championing the Banker hand and the co-presenter supporting the Player hand. Or maybe I'm not ;).
---
Game of the month, again
For the second month running I've enjoyed playing the new Caribbean Stud Poker table from Evolution's Riga studio. As LD said in the forum:
Every pic you post of Caribbean Stud you seem to be winning. Must be enjoying the game Fester!
In reality of course I've not won every game, but if you are willing to risk the dealer not qualifying then it is possible to keep a relatively healthy casino balance while you are waiting for a good winning payout hand to arrive.
To further add to the excitement and potential payout Evolution have added the first of its promised side bets for the table. The new '5+1 BONUS' sidebet involves the player cards and the dealer's first card to create a five-card poker hand. There's even no need to CALL if your hand is looking weak to collect your payout on the side bet.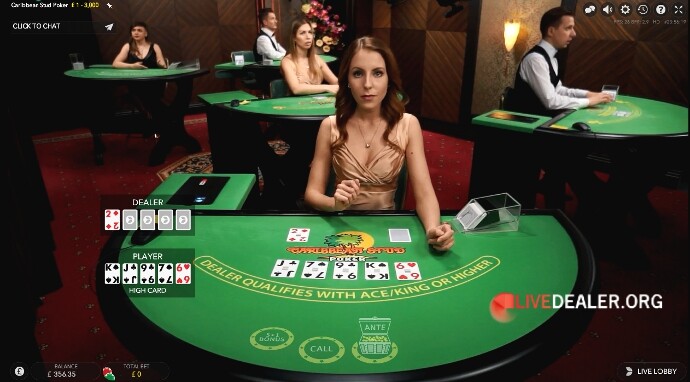 In addition to the new side bet, the ANTE bet table graphic has been altered to a chest of coins for more Caribbean pirate loot connotations presumably. VIP dealers at the table were also wearing their new gold dresses. Although talking to dealers, not many players had noticed or commentated on the subtle change in dress.
When the Caribbean Stud Poker table was launched it was a William Hill exclusive. More casinos are expected to join the table from the start of 2016. At which point William Hill are likely to offer their own private Caribbean table (subject to confirmation).
---
Live (clickable) lobby
More Playtech casinos now have a live lobby of their private tables, rather than simply the generic tables. Albeit some haven't made use of the clickable element of the Playtech feature.

Bet365, Coral, Gala and Ladbrokes private lobbies were all live in December.
---
Prime blackjack table
777 casino obviously decided what players most wanted for Christmas was more private tables.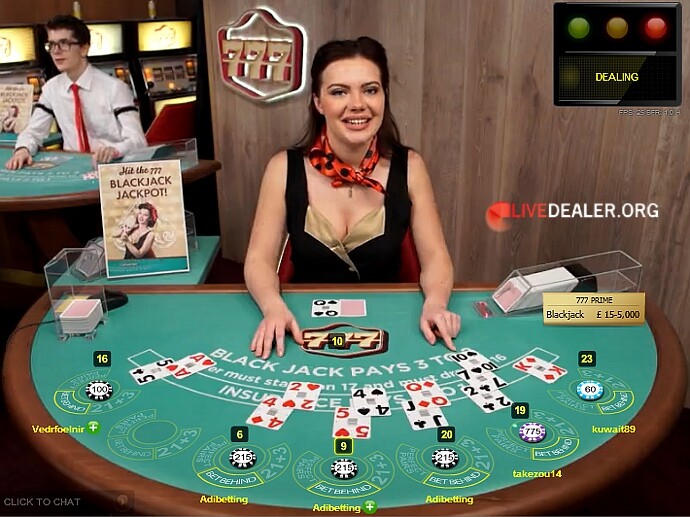 Early December eventually saw the opening of an extra blackjack table in 777's retro themed enclave at Evolution. No festive decorations or hats though …. I'm sure such things existed circa 1960's America :?.
---
Unibet blackjack tables
Another casino giving the gift of new tables was Unibet. There are casinos who have more private tables, but you'd be hard pushed to find a European casino with more varied language tables than Unibet. They've now opened new Swedish and Danish private blackjack tables. These adding to the existing English and Dutch private blackjack tables plus several language roulettes.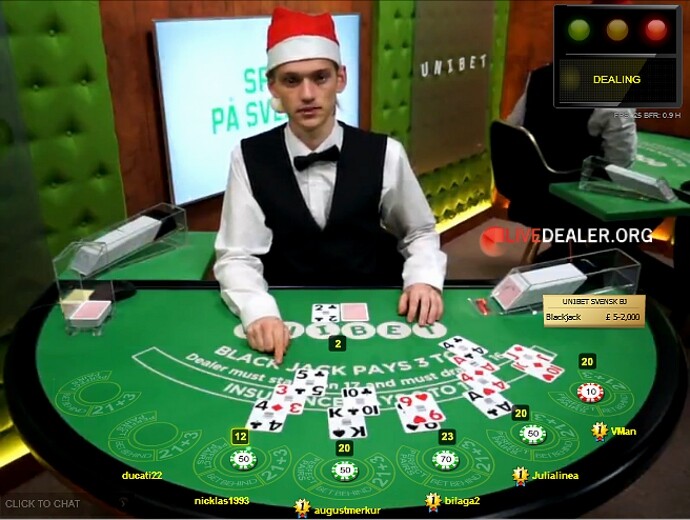 Clearly Unibet's Christmas budget also extended to some red hats, but only for the language tables.
---
iPad Apps
If you were lucky enough to receive a brand new iPad for Christmas you may want to try some of the latest live dealer casino Apps.
The latest update to bet365's App features the Hi-Lo table from Playtech.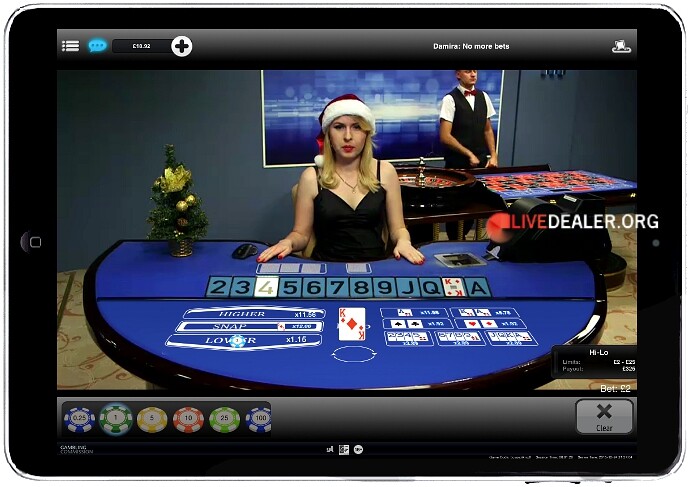 If Hi-Lo is your game you should also consider CORAL casino's iPad App. It has both the generic Hi-Lo table and their private Hi-Lo table. As opposed to the majority of Playtech casinos which don't even have the game on PC.
On the other hand, if poker is your mobile game of choice then you need to be playing at Evolution powered casinos. Currently you won't find live Casino Hold'em from the likes of Playtech on iPad.
Full Tilt's latest poker and casino App features live dealer games including all the private tables available to PC players. The App runs as smoothly as we've come to expect at Livedealer.org from Evolution casinos. Some players may also prefer the option of using the App rather than having to use Full Tilt's download client software on PC.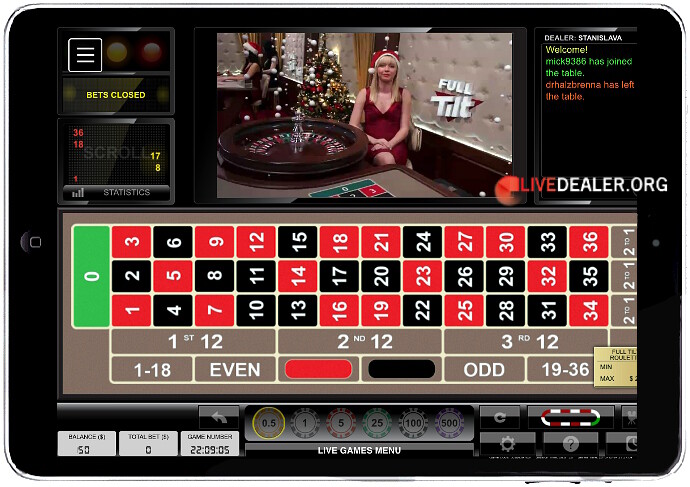 The new Caribbean Stud Poker table and side bet is already playable on William Hill's iPad App. That's a whole lot quicker than the Three Card Poker table(s) which curiously still aren't available on Evolution casino Apps.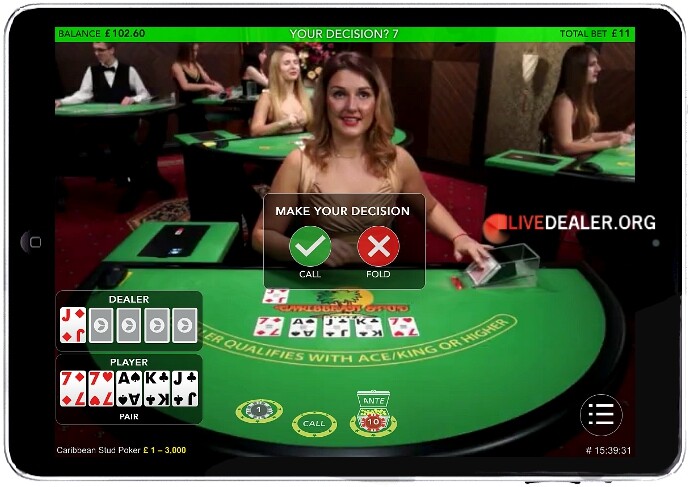 ---
Have a Happy New Year
https://www.livedealer.org/dev/wp-content/uploads/2015/12/Dec2015.png
331
359
Unclefester
https://www.livedealer.org/images/Livedealer-logo.png
Unclefester
2015-12-30 19:50:48
2015-12-30 19:50:48
Fester's Findings - December 2015