Wow! It sure was a busy month at Playtech. New tables aplenty in November, and a new live game from Evolution.
Fester's game of the month
Evolution Gaming launched another live poker variant to join the existing Casino Hold'em and Three Card Poker tables. The new Caribbean Stud Poker table is a simple five-card poker game played against the house/banker.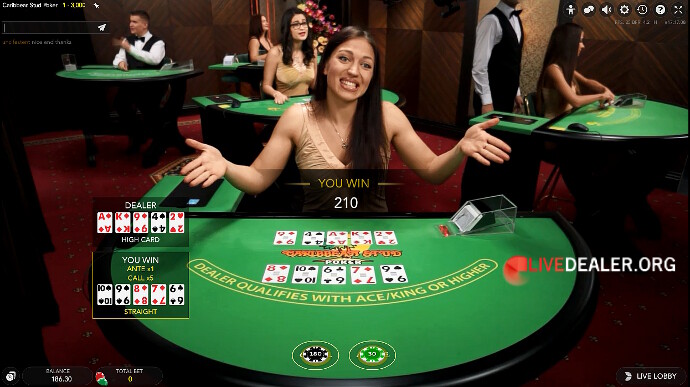 The table uses Evolution's new user interface, replacing the old 'traffic lights' layout that is beginning to look rather dated. Actually that's something that I commentated upon when I visited Evolution's UK office almost a year ago. But I suppose I can't really claim credit for.
Currently there's no side bet playing on PC, but according to the press release there will be, including a Progressive Jackpot side bet.
I've certainly enjoyed playing the new table since launch and the new interface looks good. Unfortunately I can't spend all my casino time relaxing on this Caribbean tropical paradise and I should spend some time with my favourite dealer, whoever that beautiful jewel in my eye maybe.
Caribbean Stud Poker is playable at William Hill. The table will be rolled out across more Evolution casinos from December.
---
Prestige roulette
Back in September's blog I raised the question if it was possible to have too many roulette tables. More specifically I was thinking why open more, near identical tables in a studio that offer nothing new to players.
This month Playtech opened several new, and in part, different roulette tables. Although their arrival was not exactly the biggest surprise ever to regular readers of Fester's Findings.
Prestige Roulette launched early in the month to a rather limited audience.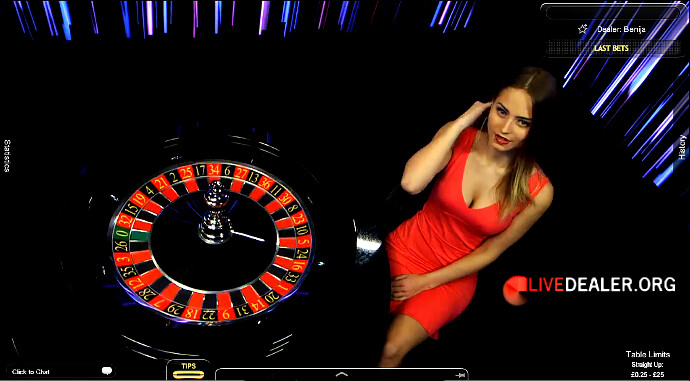 Initially the table was only available on mobile casino Apps. Perhaps that is understandable given the new presentation format of the table. With the studio wanting to give dealers time to find their feet so to speak, adjusting to the format. Well polished black shoes no doubt being an instruction to dealers, especially as players now get to see more of the dealer from the multi-camera roulette table.
A later Playtech press release championed the launch of table,
While the ball spins in expectation of a big win, the tension is heightened with multiple in-game camera angles, revenue-enhancing quick-fire betting rounds, and an instant replay of the previous game win.
What they didn't say, and everybody knows is that it's a copy of Evolution's award winning Immersive Roulette table. Albeit with a few tweaks. There's no background music or electronic numbers board on Playtech's Prestige table.
Basically the table could be thought of as slighty stripped down Immersive Roulette, but not quite Immersive Lite.
On the positive side the Prestige dealers have a more comfortable looking chair from the start. Rather than the back breaking stool Immersive dealers were required to perch on for many months. Perhaps the new Playtech pit boss brought that acquired wisdom with him when he moved from Evolution.
Despite the lack of music I wouldn't recommend the neon-lit table for serious roulette players. The Prestige dealers in their new dresses are seemingly required to keep talking on any subject irrespective of any players actually joining in the conversation. Although that does also come across as the latest studio wide directive, rather than simply asking players questions all the time.
Prestige roulette currently opens daily at 5pm GMT and is available from bet365, Jackpot247 & Super Casino on PC.
One final thought regarding dealer Cookie (not her real studio nickname) asking me several times what I thought of the table, then saying she wasn't interested in whatever I wrote here rather smacks of the old studio hypocrisy of not really caring about player opinions, only wanting positive praise in the chat. I had hoped the studio had moved on nowadays and was more in listening mode.
---
Gala exclusive tables
The private Gala blackjack table at Playtech has been on a long journey this year. Moving to a plain blue table amid the studio floor. Relabelled that over used casino word 'Exclusive' to accommodate Coral casino players. Then returning to a more familiar location minus the exquisite table surface and branding.
Finally it seems the epic journey is over for 2015 with the launch of a new Gala casino private area comprising of blackjack and roulette tables.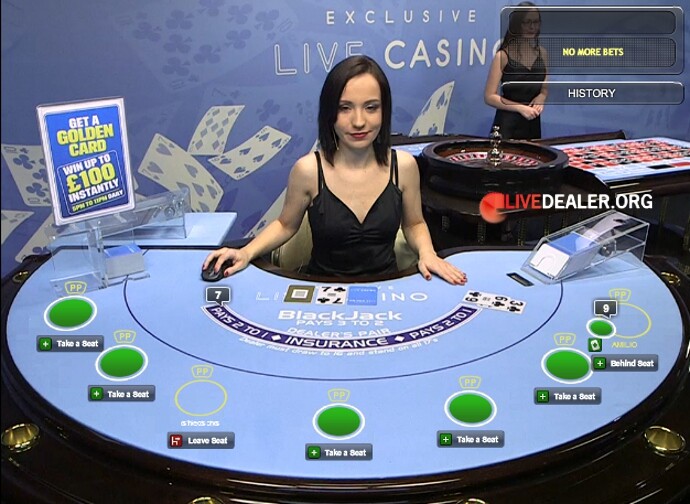 The Exclusive branded tables are too bright for my liking, but that's not a first for the Playtech studio.
---
Coral private area
Gala's sister casino CORAL likewise launched a new private area at the Playtech studio. Coral's offering is substantially bigger, and more impressive with dealers in new red dresses. Plus there's no need for sunglasses.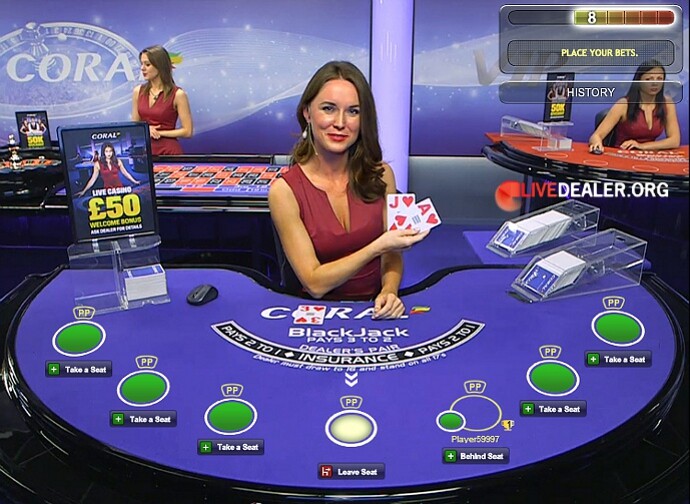 Private tables consist of roulette, blackjack (including VIP) and the recently launched Playtech game Hi-Lo.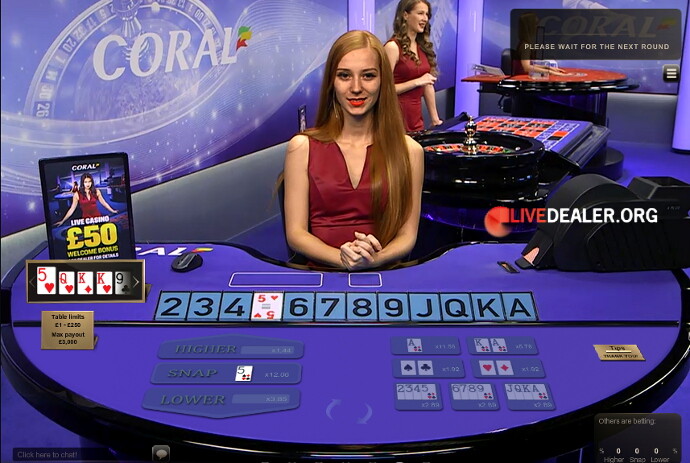 ---
Russian roulette
Another new arrival at Playtech was a Russian language roulette table, and like the Prestige table not the best kept secret ever.
The Russian table is where the old Cleopatra Italian roulette table used to be. To avoid any player confusion the studio have helpfully added a Russian flag to the table. They've also replaced the painting behind the dealer with another one of those famous Playtech paintings featuring black bears to help Russian players feel at home.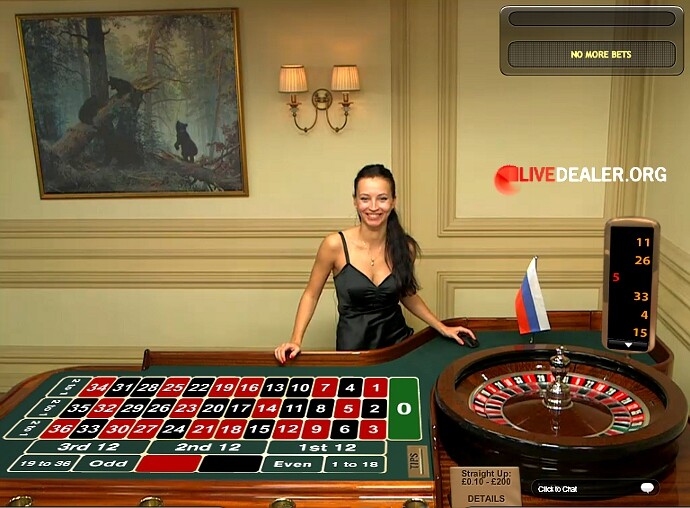 Maybe the flag on the table is also there to remind the dealers to speak in Russian, not English or Italian? 😀
Unlike the previous Italian table there was no need to give the studio dealers a hasty 3 month crash course Russian for Dummies (or whatever) before putting them on the table. Simply because as any regular Playtech player will know, so many of the dealers are Russian and that Latvian dealers also know Russian.
The table is available at a wide selection of Playtech casinos, including somewhat curiously casinos who don't allow Russian players.
---
London roulette makeover
Playtech's London roulette table has been open for quite some time in the Euro studio. London in name, but most definitely located in Riga. With the only real difference to distinguish it from the other studio tables being the use of British sourced dealers.
The dealers natural fluidity in speaking English is a nice change. Although such nuances are probably lost on players whose first language isn't English.
This month Playtech gave the table a substantial makeover, and new home in the studio. Complete with iconic ornaments of a red bus, telephone box, mail box, and so on for the extra British authenticity.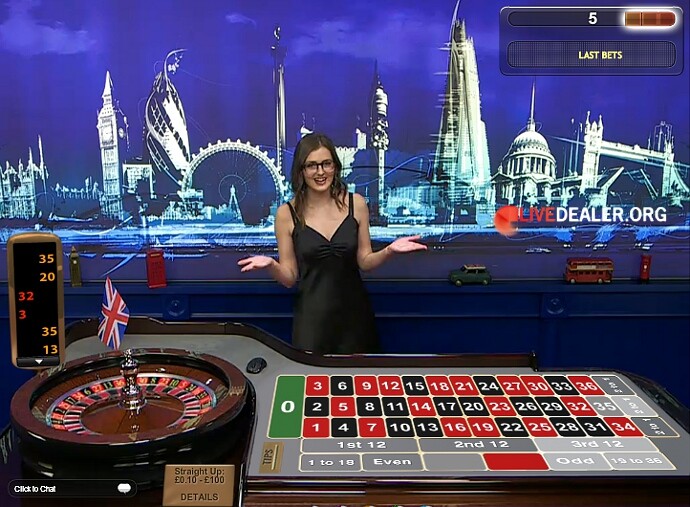 ---
William Hill Macau
Believe it or not William Hill have opened more private tables in Evolution's Riga studio. Well you should believe it because it's true and was forecast in the forum.
The new Macau themed area swung open its colourful casino doors at the end of November.
Tables comprise of an Immersive Lite roulette and three blackjacks all bearing the Chinese lucky number 8. There's also a Macau baccarat table, although that's a slight of hand involving renaming the previous Salle Privée table.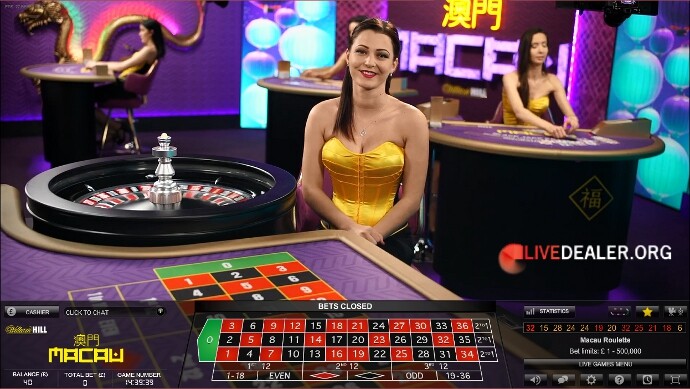 As LD said..
Gold dragons (and dresses), splashes of red, 8s everywhere.
how can you possibly lose?
---
Next month
Be prepared for the annual Christmas merriment, numerous promotions and red hats across the casinos.
---
https://www.livedealer.org/dev/wp-content/uploads/2015/11/FF_nov.png
330
358
Unclefester
https://www.livedealer.org/images/Livedealer-logo.png
Unclefester
2015-11-29 01:48:26
2015-11-29 01:48:26
Fester's Findings - November 2015